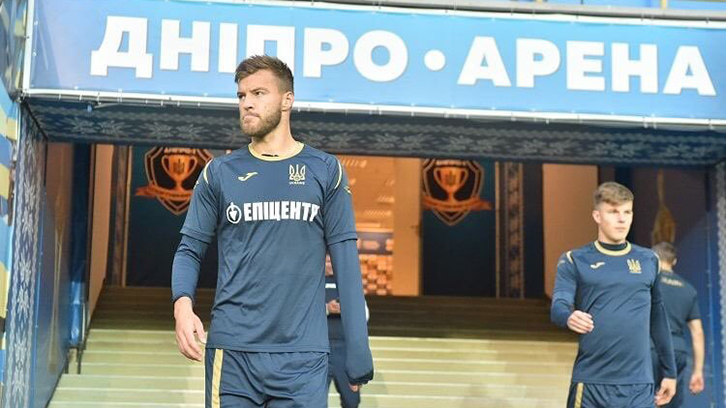 Andriy Yarmolenko believes Ukraine still have a long way to go before qualification for the UEFA Euro 2020 finals is assured.
The forward, who was making his first international appearance in a year for Andriy Shevchenko's side following a serious Achilles injury, started Saturday's 3-0 victory against Lithuania at LFF Stadium.
While Yarmolenko didn't make it onto the scoresheet, he was pleased with his overall contribution as Ukraine dominated with goals from Oleksandr Zinchenko, Marlos and Ruslan Malinovsky.
Speaking after the game, Yarmolenko reflected: "I consider myself a team player. I didn't score, but the team won, so all is well. 
"I tried, I worked hard. So far, I am just getting into shape, and I understand that I am not yet in optimal condition because I have missed a lot of time due to a serious injury."
The result leaves Ukraine in control of their own destiny at the top of Group B, eight points clear of nearest challengers Portugal, having played two games more than their rivals.
While Yarmolenko is pleased with his national team's form – so far unbeaten Ukraine have won four of their five qualifiers, scoring eleven and conceding only once – he and his teammates are determined to maintain such high standards right through the campaign.
I wouldn't say [we've nearly qualified]. We cannot afford to relax... we have to move from game to game, and not look at our opponents

Andriy Yarmolenko
"I wouldn't say [we've nearly qualified]," he said. "We cannot afford to relax. Even if we play well in the home match with Lithuania [next month], nobody will relax.
"We have to move from game to game, and not look at our opponents. Right now we are playing some good football, and we need to continue in the same spirit."
Ukraine were backed by a boisterous crowd in Vilnius this weekend, and Yarmolenko believes the side will be able to count on similar levels of support as they look towards their next test – a friendly match at home to Nigeria tomorrow evening at Dnipro-Arena.
He recalled: "How could we play half-hearted when so many fans come to support us in away matches? Before the match, when we were entering the stadium, we saw how many of our fans were on the streets. 
"We were even more surprised when we went to warm up and saw how many were in the stands! Thanks again to them.
"I am sure that we will play with our full commitment against Nigeria as we will be supported by those fans – it's all for them. I've missed playing for Ukraine and the Ukrainian fans."
Following the visit of The Super Eagles tomorrow, Ukraine's next qualifier is against Lithuania again at home on 11 October – three days before what is likely to prove a crucial tie against Portugal in Kiev.