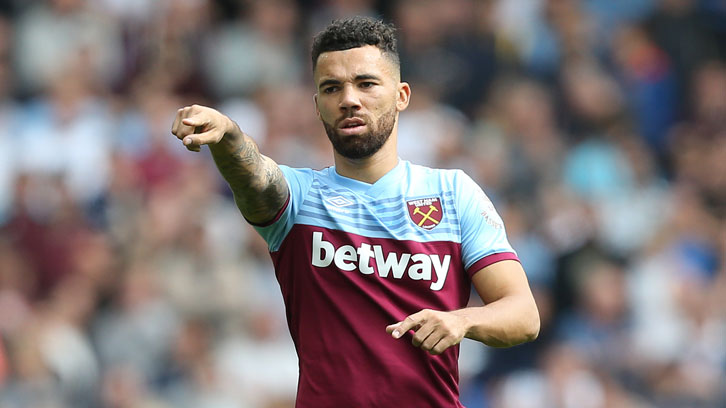 Ryan Fredericks has played his part in West Ham United's encouraging start to the 2019/20 season.
The right-back has started all four Premier League matches, helping the Hammers to bounce back from an opening-day defeat by Manchester City with a draw at Brighton & Hove Albion and victories over Watford and Norwich City.
The No24 took time out after another demanding training session at Rush Green to discuss the opening month of the campaign, his own form and the behaviour of his 'best friend' Declan Rice!
So, we're a month into the season, with seven Premier League points on the board and through to the Carabao Cup third round, so how would you sum it up so far?
"It's really positive and the lads are feeling positive. We had a chance right at the end of the Brighton game to win that too, which would have made for a near-perfect start for us. We always knew the first game against Manchester City was going to be a tough one, but we've played well and played well in spells in every game, even Man City.
"As the games have gone on, we've defended better and better and finally we got our first clean sheet against Norwich."
That clean sheet must have given everyone a real boost?
"Yes, that's the thing, because it's not just the back five who have to defend, it's a whole team performance. If you defend with four or five players then you'll concede three or four goals in every game, that's common knowledge, but I think we need to give credit to the boys up front and the wingers, because they started all our defensive actions by pressing high and being aggressive and they took a lot of weight off our shoulders.
"It was a well-deserved clean sheet against a free-flowing attacking team in Norwich."
Arthur Masuaku said after the game that he had spoken to Felipe Anderson before the game about how best to attack and defend as a pair. Did you do likewise with Andriy Yarmolenko and Robert Snodgrass?
"Yarmo and Snoddy know the position well and they never leave me too exposed. When I am exposed, I've got the pace to cover certain areas, so I normally do OK, but it's important to have that defensive support when you're playing against world-class wingers and attacking full-backs, and that's what they give me every week."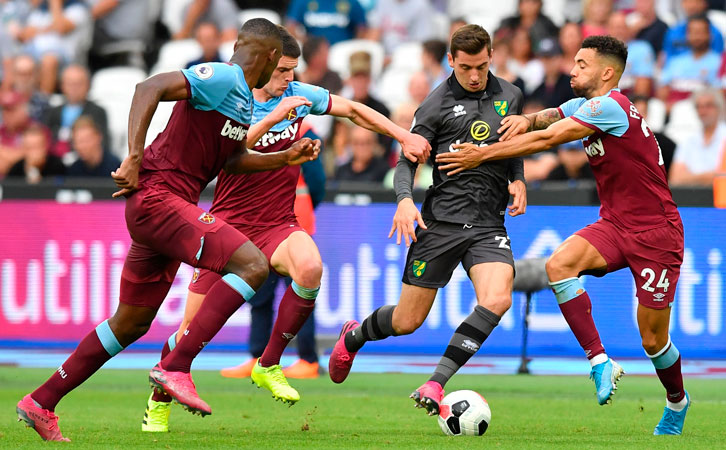 You seemed to really grow in confidence in that Norwich game?
"I think we started a bit sloppy in the first ten minutes, but as soon as we moved into gear, some of the attacking play we produced from everyone, not just attackers but the full-backs and midfielders, was a delight to play in.
"When we open teams up like that nearly every occasion we go forward, it builds confidence and shows what we can do week-in, week-out.
"Personally, I was happy with my performance. I started out a bit ropy, but I grew into the game and hopefully I can put in a lot more performances like that this season."
People forget you're only 20-odd games into your Premier League career…
"Yes, and there are still a lot of things I need to learn and improve upon. Last season, I was in and out and played a lot of games against the bigger teams, so I had no choice but to learn on the job and not take your mistakes into the next game.
"I'm happy with the way I'm playing at the moment and the manager is keeping me in the team which is the main thing, but I think there is still a lot more to come than what I've been showing at the start of the season."
How has training been so far during the international break?
"It's been really tough. I think people get the perception that the international lads go away and we're just out there playing head tennis or taking it easy, but that's definitely not the case.
"The hardest sessions were the ones at the end of last week. The manager has drilled us into us that we've started well, but we still have loads of work to do.
"We don't want to be inconsistent, win a few games, then lose a few games and end up in the same position as last season. We really want to push on this year and the manager makes it clear that we need to be on it in every session. Training is intense, but this is what he wants and it's what we want.
"We built a good base in pre-season with tough sessions and tough games and I think we came into the season in a good place fitness-wise, so we can't take it easy. We're playing in the most demanding league in the world, so we can't take our foot off the gas as it's hard to catch back up."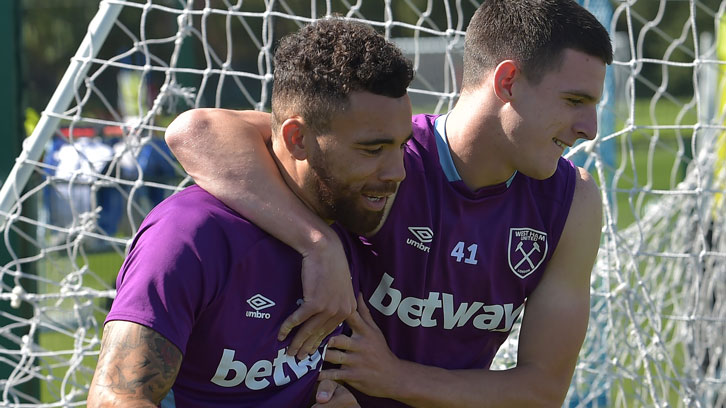 Finally, what about all these media interviews Declan Rice has been giving, telling the world Mason Mount, and not you, is his best mate?!
"I've seen all the interviews Dec has been giving about being best friends with Mason Mount and I'll be pulling him up on that when he comes running back to me! I'll be giving him the cold shoulder!
"There is no loyalty these days. It's like when a guy leaves his partner because he thinks the grass is greener on the other side, then comes running back. I'll have to think about it over the next couple of days how I am going to accept him back into my life.
"There will be no love triangle going on. I'm not getting myself involved in that. I feel like I'm on Love Island at the moment and they've gone out on a date and I've been left in Casa Amor! I'll be having strong words!"