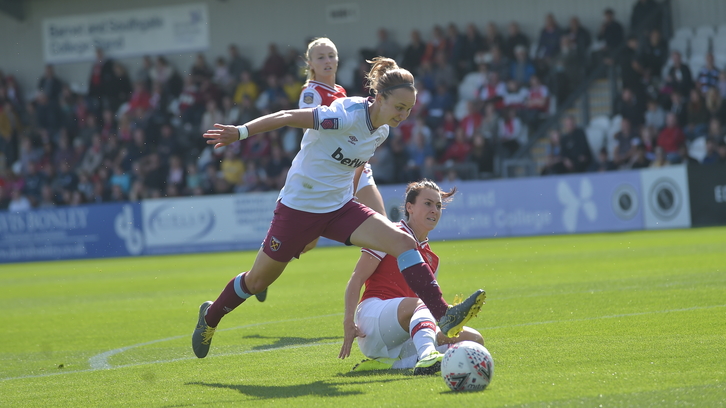 West Ham United's 2019/20 season-opener ended in a 2-1 defeat despite a spirited effort at reigning champions Arsenal. 
The Gunners took a two-goal advantage in at half-time courtesy of Beth Mead and Jill Roord, but the Irons struck back with a deserved finish by Martha Thomas. 
Adriana Leon and Kenza Dali also hit the post, with the Hammers also seeing other chances go close.
An equal start saw West Ham show their intent in the third minute. Summer signing Martha Thomas bursts into space and created a big opportunity for the Irons, while Kate McCabe fired wide for Arsenal just a moment later. 
Kate Longhurst then met a cross into the Gunners box, turning just wide at the near post, while Kenza Dali saw a sumptuous curling effort sail narrowly wide of the far post just minutes later. 
Dali's miss may have proved crucial, with the home side taking the advantage only a minute later. Beth Mead turned and struck from distance, burying an effort into the far corner on 14 minutes.
Thomas continued to be West Ham's main threat, bringing down a Dali cross and shooting wide before aiming a first-time effort at the Arsenal net. Both times, the ball failed to hit the target, but West Ham's intent was clear.
Leonie Maier turned a shot just over for Arsenal while Tessel Middag had a shot saved by Manuela Zinsberger, after Longhurst pulled a cross back into the Dutch international's path.
Despite the Irons' best efforts, the clinical home side made their second chance count. Roord was found in the middle of the penalty area, placing the ball into the net past Courtney Brosnan.
With the Hammers two goals down at half-time, a big 45 minutes was needed for Matt Beard's side, and the Hammers pushed back, with Adriana Leon hitting the bar. 
Just before the hour mark, Thomas got the goal she deserved, halving the deficit. Erin Simon played a delightful cross, which the No9 clinically headed into the bottom corner.
Brosnan then tipped over a Williamson header that looked destined for the goal, while Jordan Nobbs fired an effort on goal that somehow missed the target, despite the willing of the home crowd to see the ball hit the net.
West Ham were awarded a free-kick with ten minutes on the clock, which Dali struck. The effort was strong, and a slight deflection off an Arsenal defender wrong-footed Zingsberger, with the ball crashing into the woodwork.
With extra time declared, another free-kick was awarded. Dali again stepped up, but this time the effort was well-saved, as Zinsberger tipped the ball onto the cross-bar.
Arsenal: Zinsberger; Maier (Quinn 90), Schnaderbeck (Nobbs 67), Beattie, McCabe; Williamson, Little (c), Roord, Evans, Mead; Van de Donk
Subs not used: Peyraud-Magnin, Mitchell, Grant, Filis 
Goals: Mead 14, Roord 41
West Ham United: Brosnan; Simon (Redisch Kvamme 72), Flaherty (c), Vetterlein, Baunach; Middag (Galabadaarachchi 57), Cho, Dali; Leon (Lehmann 66), Thomas, Longhurst
Subs not used: Moorhouse, Hendrix, Kiszkis
Goals: Thomas 59