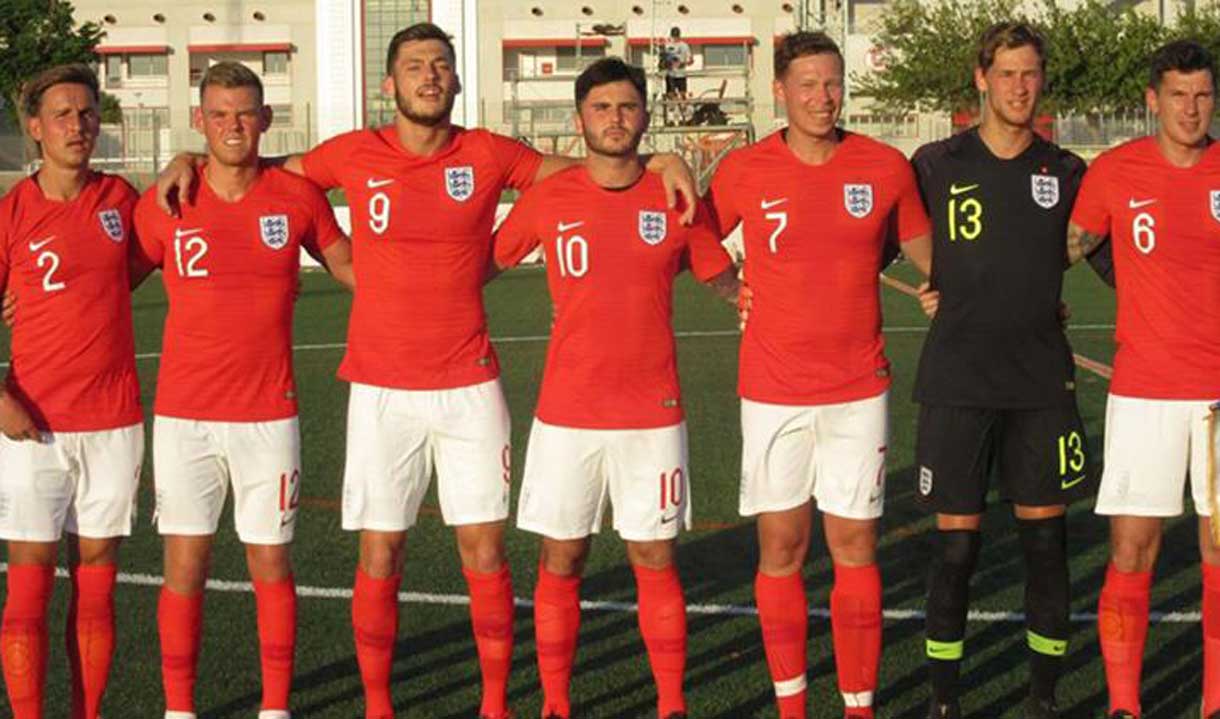 West Ham United and World Cups go together like Claret and Blue.
After Bobby Moore, Martin Peters and Geoff Hurst inspired England to glory on home turf in 1966, the likes of Trevor Brooking, Alvin Martin, Trevor Sinclair, Cho So-hyun and Jane Ross, among others, have all represented the Hammers at the finals.
In July, it was the turn of West Ham United Foundation Pan-Disability session player Reegan McMillan, who was part of the England squad at the International Federation of Cerebral Palsy Football (IFCPF) World Cup in Seville, Spain.
Cerebral Palsy is a movement disorder caused by abnormal development or damage to the parts of the brain that control movement, balance, and posture.
At the World Cup, goalkeeper McMillan helped the Three Lions to reach the semi-finals at the seven-a-side tournament, defeating Japan and the United States along the way, before losing to Brazil in a third-place play-off.
The 21-year-old from Essex, who counts former Hammer Joe Hart as one of his role models, said: "Ever since I was young my dream was to always become a footballer, every time someone said what do you want to be when you grow up I always had the same answer, I wanted to be a footballer. 
"Did I ever think that I'd get to play for my country at a World Cup? To be honest no I didn't, I could never have thought it would lead me this far and I'd be where I am today just coming back from the World Cup in Seville where we managed to finish fourth." 
After starting football at the age of six, Reegan took a break at eleven, having fallen out of love for the game due to classification changes faced by Cerebral Palsy players.
Thanks to family, friends and coaches he returned to the game at 16 when he was spotted by the then England U19 Cerebral Palsy coach, Lyndon Lynch.
McMillan was selected by Lynch for the 2015 CPISRA World Games in Nottingham, where England finished third before joining is coach for the Pan-Disability sessions at Barking Abbey School.
"I train with them every Saturday and thoroughly enjoy it," he said. "I want to carry on learning from the coaches at West Ham Foundation, who help me work on the areas that I need to improve on and refine my strengths.
"It means the world to be able to say that I've played for England and competed many times for my country. It's every young lad's dream and I'm so grateful for the opportunity. To go to Spain and see the level the other countries are at it inspired me to work harder and be more competitive. The future is bright and we want to kick on from here."
Foundation Community Sports Officer, Yacine Rabia, said: "Reegan has worked really hard to get to where he is today and has had to overcome many challenges along the way. 
"He and his brother, Reece, are talented footballers and we are delighted that Reegan has been able to reach this level and gain such an incredible experience."
To find out more about the Foundation's inclusive training sessions, email [email protected]