Interviews
Angelo Ogbonna: Whether you are black, Asian or whatever, you should be proud
As West Ham United support the Premier League's No Room for Racism campaign, Angelo Ogbonna is in a unique position to comment.
The defender's parents emigrated from the West African country of Nigeria to Italy in the 1980s, before the player himself was born, settling in the town of Cassino in the southern province of Frosinone.
Ogbonna grew up as one of the few black children in the town, but both he and his parents felt it was important for him to embrace both the culture of his ancestors, and the culture of the country of his birth.
He joined local football club Nuovo Cassino before moving 500 miles north west to Turin in 2002, at the age of 14, to join the Academy of Serie A club Torino. There, he made more than 150 first-team appearances, was made captain and, in November 2011, became a full Italy international.
For Ogbonna, the decision to play for Italy, and not Nigeria, was a natural one, and had nothing to do with the colour of his skin. Eight years on, he has 13 senior caps and has represented his country at two major tournaments.
In 2013, the defender joined Italy's biggest club, Juventus, where he won two Serie A titles and reached the UEFA Champions League final, before swapping Italy for England two years later, when he moved to West Ham.
Both before and after his transfer to east London, Ogbonna has travelled far and wide, for both work and pleasure, and relishes every opportunity to embrace new and fresh experiences.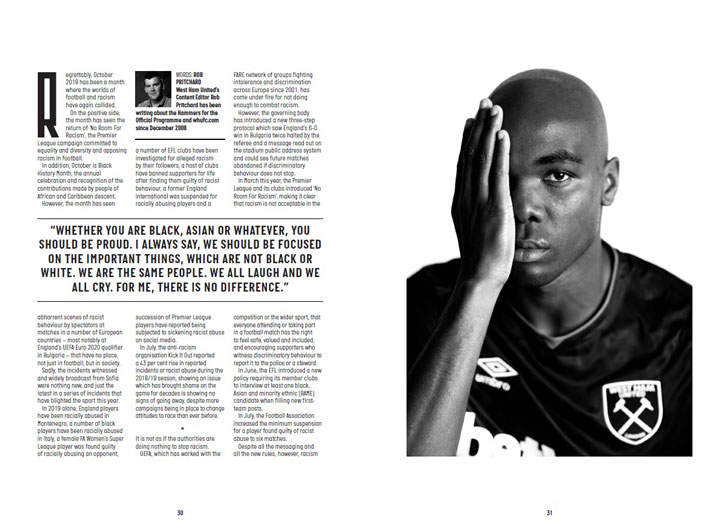 "For me, I'm very, very proud to be a black man in 2019," he confirmed in an interview published in full in Saturday's Official Programme for the Premier League visit of Sheffield United. "People can talk about a lot of things, and be racist, but you must understand that you cannot change your destiny.
"There is a lot of ignorance, racism and discrimination, whatever you want to call it. In Italy, there a lot of issues, both racial and regional, but these people are just trying to find excuses and to blame someone for not being good enough themselves. They just want to put you down.
"As black people, we are held back by our past, because in our past we were slaves and that can never be forgotten and never leave our minds. However, actions can be taken to change things.
"I grew up with Nigerian parents, but I chose to play for the Italian national team because I felt that was right.
"Whether you are black, Asian or whatever, you should be proud. I always say, we should be focused on the important things, which are not black or white. We are the same people. We all laugh and we all cry. For me, there is no difference."
As black people, we are held back by our past, because in our past we were slaves and that can never be forgotten and never leave our minds. However, actions can be taken to change things

Angelo Ogbonna
Ogbonna dons the cover of issue six of West Ham United's 116-page Official Programme – Hammer – for the 2019/20 season.
The eye-catching publication sees the Club make a move away from the traditional format to produce a football magazine that will maintain supporters' interest long after the final whistle.
With cutting-edge design, exclusive interviews, attention-grabbing opinions and eye-catching photographs, plus the regular news, columns and statistics and insightful content from across all areas of the Club, Hammer is the definitive Claret and Blue publication for West Ham fans.
Priced at just £3.50, Hammer is also the best-value matchday magazine anywhere in the Premier League. Issue six for Saturday's Premier League meeting with Sheffield United is available to order now online.
The only way to guarantee every issue is delivered straight to your door is by signing up for a seasonal subscription!
Whether you are planning to be at the match, watch at home or are simply a loyal West Ham fan or collector, the easiest way to get your copy each week is to subscribe. The deal includes all home Premier League and FA Cup home fixtures, so subscribe now!
Prices start at just £110 for UK delivery, and they can be shipped worldwide regardless of where you follow Manuel Pellegrini's men from.
Subscriptions can be bought via ProgrammeMaster's online store now here, or over the phone at 020 7121 5000.
Digital Programmes
If you can't make it to the ground, you can still flick through the programme on a matchday by subscribing to our digital version via the West Ham United official programme app.
Once you download the app from the AppStore or Google Play you can snap up a seasonal subscription for only £24.99, which will automatically be downloaded to your device 24 hours before kick-off. Individual copies can also be bought for £1.99.
These digital programmes can be read on any digital device, such as phones, iPads and tablets as well as desktop computers and laptops.