West Ham United stars Aaron Cresswell and Joe Powell were at the University of East London recently to tie their experiences as top-tier players into two West Ham United Foundation degrees.
Attending the University's SportsDock facility in Beckton as ambassadors for the Players' Project, Cresswell and Powell met students on the FdSc Community Sports Management and BSc Sports Coaching and Performance programmes.
Celebrating the close ties between West Ham and the Foundation's degree streams, the two players participated in an on-court football and basketball session with the students, during which time they communicated feedback in a range of styles.
The two players then analysed the impact of this feedback in a classroom-based session, where themes of resilience and determination within elite sport were explored.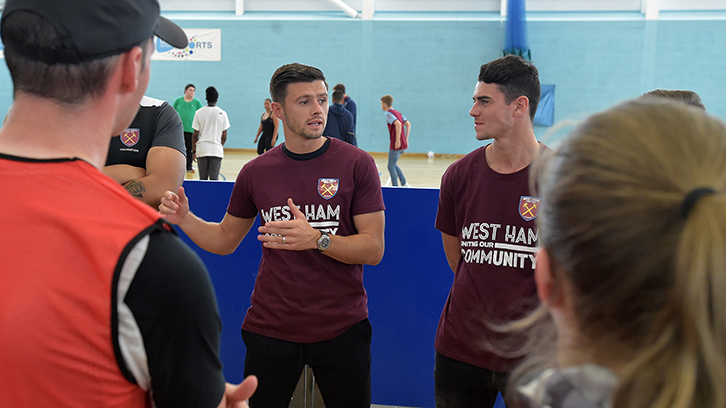 Cresswell and Powell's visit to UEL comes six months after Lukasz Fabianski and Robert Snodgrass also attended as part of the Players' Project – West Ham's community scheme dedicated to changing lives in the local area.
"It's great for us to give back to the community through the Players' Project," Cresswell said. "It's bringing people together, and certainly the projects that West Ham United Foundation do are fantastic.
"In one exercise we were talking about feedback. Sometimes it doesn't go your way, but you can't give up - you've always got to stick with it, and that's what we're building today, building the students' resilience."
Powell added: "I think having the ability to pick yourself up is a big thing, but having friends around you, your teammates, the environment you get from University or from football, plays a big part in it.
"Going into a new place, a new team, or perhaps a new University like some of these guys are doing, relationships are key. I'm pretty sure the students will get along well, especially with the sports they're participating in; they'll get bonding, and hopefully form some new friendships as well."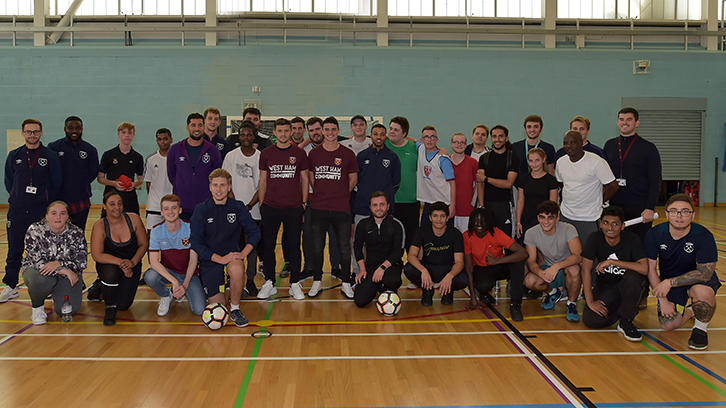 The West Ham United Foundation have been offering educational programmes for five years now in partnership with UEL. 
The three-year BSc in Sports Coaching and Performance and two-year FdSc Community Sports Management foundation degree both offer unique opportunities to garner hands-on experience in close cooperation with an elite sporting brand.
"They're two degrees in completely different areas of sport, but both work closely with West Ham United Football Club and the Foundation," Andrew Griffiths, Higher Education Manager, explained.
"Our students can go out and get work experience and learn about the culture of West Ham United, but also work with highly qualified professionals, gain experience, and build their CVs, confidence and skillsets up enough to then go and get jobs."
Elliott Webb, a second-year student at UEL on the Sports Coaching and Performance course, enjoyed one such opportunity in his first year of study: "In Austria we helped with the United World Games. We were sort of setting up and supervising, but being coaches, we couldn't help ourselves to not coach as well! I'll remember it for the rest of my lifetime."
Moses Gomes-Santos, an alumnus of the Community Sports Management degree, also cites the same as his highlight of the course: "It was just incredible meeting other people from far across the world. West Ham gave us that opportunity."
Dominic Edward, Higher Education Officer & Lecturer who oversees the new BSc Sports Coaching and Performance programme, said: "There aren't any other programmes that I'm aware of in the UK that are as strongly linked to a football club, to an organisation, outside of the University. That enables us to provide different opportunities that other courses can't match."
For more information, or to apply for either of the programmes, visit the UEL website or contact Andrew Griffiths.