West Ham United women's coaching team showed their support for Breast Cancer Now and Breast Cancer Awareness Month by spraying their hair pink for Sunday's match with Tottenham Hotspur. 
Led by head coach Matt Beard, the entire backroom team for the Barclays FA Women's Super League side put a vibrant pink colour in their hair in order to join the team in raising awareness for breast cancer. 
Beard, assistant coach Paul McHugh and the coaching team could be seen sporting their temporary new colour in the home Rush Green Stadium dug-out on Sunday, while first team stars Alisha Lehmann and Kate Longhurst were among the players also to get involved in the fun. 
For Beard, a father of a young daughter and uncle to his nieces, it was important for the entire Club to back Breast Cancer Now and Breast Cancer Awareness Month.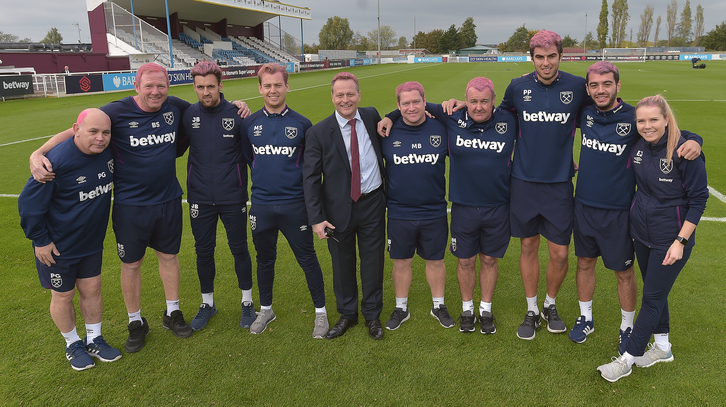 "I've got a daughter and nieces, and we've all got mothers and grandmothers, so it's important for us to be a part of this campaign," the head coach said. "We're really proud to be a part of this. 
"We said, once we decided that the team would wear the shirt, that the staff should do something too. This is our way of giving back and raising awareness and also have a bit of fun with it as well. To spray your hair pink for the day is a laugh and hopefully we can raise some awareness too."
West Ham United have continued to back Breast Cancer Awareness Month with the women's team wearing a limited-edition pink shirt, while collection buckets were present at Sunday's Continental League Cup clash with Spurs. 
Beard was proud to have his entire team involved in Sunday's awareness-raising efforts and thanked everyone at West Ham United for backing the cause.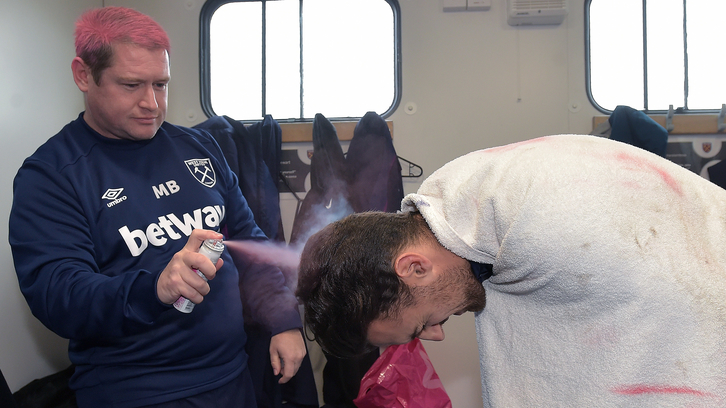 He added: "We wanted to support our girls and the Club in the Breast Cancer Awareness Campaign which we've been doing throughout October. 
"I think it's vitally important that we support our team in the stuff they've been doing. This is our way of thanking them for the awareness they're creating around breast cancer."
CHECKING FOR BREAST CANCER – IT'S A SIMPLE AS TLC
Touch your breasts: can you feel anything unusual?
Look for changes: does anything look different?
Check any changes with your GP
If you're worried about breast health or breast cancer you can speak to a Breast Cancer Now care nurse for free by calling 0808 800 6000, or visit breastcancernow.org.