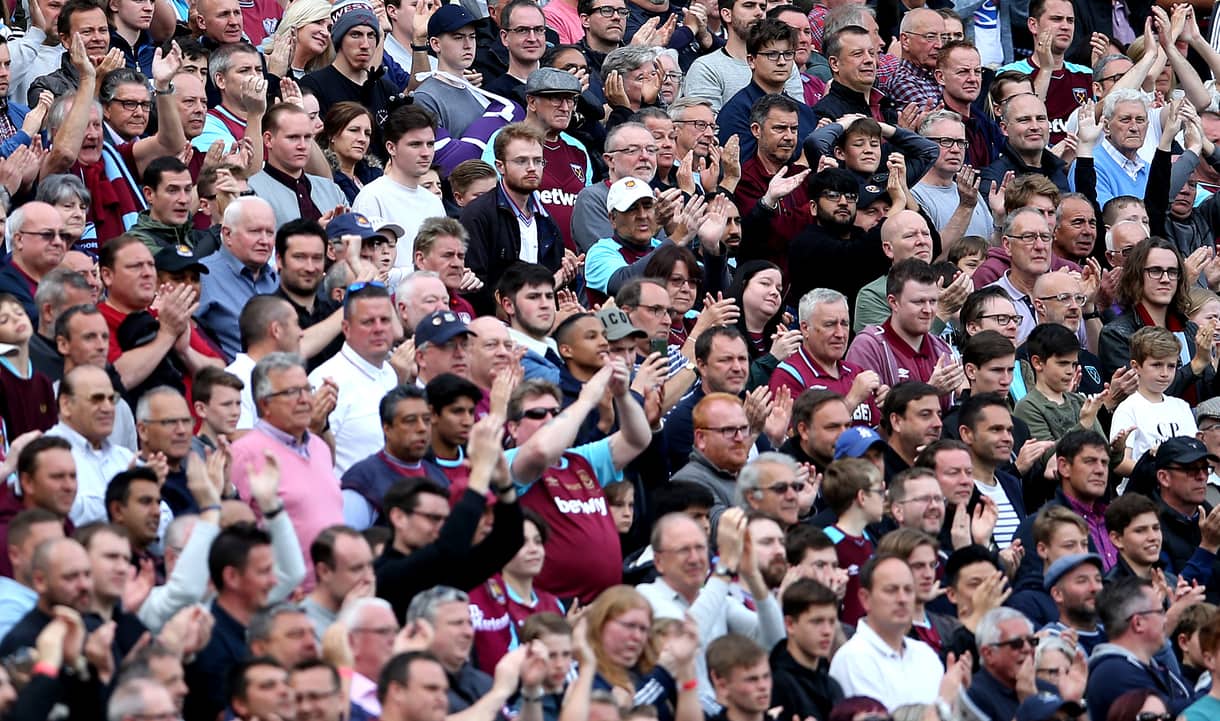 The West Ham United Official Supporters' Board (OSB) held its first meeting of the 2019/20 season at London Stadium earlier this month.
The OSB, now in its second season, offers the best possible representation for our wide and diverse fanbase.  It provides supporters with an opportunity to challenge and influence what happens at the Club and this has led to the OSB trying to drive a strategy of continuous improvement of the fan experience.
October's meeting allowed the 17 supporter representatives to discuss key points with senior figures at the Club, including Vice-Chairman Karren Brady, along with representatives from London Stadium, Delaware North Catering and the Metropolitan Police. The Vice-Chairman outlined the progress made on the seating configurations in the North and South Stands at London Stadium, while the group covered topics ranging from Stadium Wi-Fi to the Club's 125th anniversary celebrations in 2020 and the Champions statue.
Updates were given from the Supporters' Board's eight sub-group meetings, which included the kit design consultation, enabling supporters to meet and share their ideas with Club partners Umbro to influence the home and away kit designs for the 2020/21 season.
Members of the OSB and wider fanbase also met with our catering partners Delaware North to tour the facilities and taste test new products, resulting in the OSB holding a Twitter poll to find out our fans favourite pie fillings. The winning pies Steak and Ale, Chicken Balti, Cheese and Onion Pasty (v) and a Thai Red slice (vegan), will be sourced and ready for our next home match v Sheffield United.
In the most recent OSB meeting, DNC have committed to reviewing the option to provide a cheaper lager on matchdays. Both the Matchday Entertainment and Safety and Operations Sub-groups held in the close season allowed supporters from across our fanbase to share their views on the Club's pre-match and half-time entertainment programmes, and for this season we introduced new pitchside competitions; more content focused on new player signings; and replaced Beat the Batak with a new football themed half-time competitions. 
Ticketing Sub-Group update
Following feedback from supporters at the Ticketing Subgroup, the Club has taken the decision to explore some immediate policy changes with regard to away ticketing. The Club will always look to provide the fairest system across the board for all supporters and we have taken all feedback into consideration. However, we acknowledge that it is an impossible task to please everybody, with demand for tickets far exceeding supply, and with supporters belonging to different membership schemes, holding a variety of priority points totals, and ultimately, varying levels of access to away tickets. The Club is keen to recognise those loyal supporters who regularly travel away from home to support the team, as well as our 10,000 Junior Season Ticket Holders, who are eager to begin that same journey, and to have an opportunity to show their great support for West Ham United on the road.
Away tickets – Return mechanism
The Club is unaware of an existing official away ticket exchange policy across the Premier League, however, following feedback at the OSB meeting we are proposing to trial a policy that will enable Away Season and Match Ticket Holders to return a ticket, should they no longer be able to make the game.
There will of course be some terms and a full process around the return of tickets, as the Club needs to ensure the system is fair and that the ticket will be used by another supporter who has applied for a ticket through official Club channels. We would not be able to guarantee a refund until the ticket is allocated to another supporter. Any returned tickets will be made available to supporters who qualify for the next priority window, e.g. if tickets sell out to Season Ticket Holders with 10+ Priority Points, supporters who have more than ten points will be able to apply for a ticket.
If tickets reach the ballot stage, any unsuccessful applicants who have applied in the ballot will be given the opportunity to purchase a ticket. It is important to note that we are at the liberty of the host club when selling and allocating tickets for our away matches and there are Terms and Conditions and Premier League Regulations that apply. A full proposal, including an accompanying FAQ, will be shared with the OSB Ticketing Subgroup for comment before commencing the trial.
Ballot system – Sliding scale based on allocation of tickets
The Club will be implementing a scaled ballot system and we welcomed the idea at the Ticketing Subgroup meeting. The new system looks to recognise our longstanding away supporters and our younger generation of fans and will come into effect for our away match v Chelsea onwards.
| | |
| --- | --- |
| % of tickets for ballot |    When allocation is |
| 10% |    3,000 |
| 7% |    2500-2999 |
| 5% |    2000-2499 |
| No ballot |    Under 2,000 |
Priority Points – Ensuring match attendance
We often receive feedback suggesting that some supporters purchase away tickets to maintain their Priority Points tally, with no intention of attending the match. The Club has committed to requesting the turnstile entry data from all host clubs to review match attendance and any supporters found not to be using their ticket for a match will have their Priority Point for that particular match removed. We will also be contacting supporters who belong to other groups amongst the away ticket allocation if they do not use their ticket to remind them that there is a trial process in place to return their ticket, should they not be able to attend the game.
Updates on the progress of actions
| | |
| --- | --- |
| Action | Update on progress |
| Club to confirm timeline for concession ticket upgrades available online | The Club currently estimates that concessions will be available online in December 2019. |
| Explore feasibility of a bonus Priority Points system, and which games this would be applied to | With demand for tickets already exceeding supply, this would be very difficult to measure criteria and it would not be easy to deliver given our supporters live in various locations across the country. This has the potential to cause some unrest amongst supporters, so we feel it would not be wise to progress this action further. |
| Create proposal on scaled ballot process and review ballot system for limited allocation games | The Club will be implementing a scaled ballot and we welcomed the idea at the Ticketing Subgroup meeting |
| OSB to provide feedback on improving the Ticket Exchange | Ongoing. |
| Review offers on ticket upgrades for evening games | Under review. We will provide an update in due course. |
| Consult with OSB on ticket pricing for 20/21 | Confirmed at the OSB meeting on Wednesday 8 October that we will consult with the OSB prior to release for ticket prices for 2020/21 season. |
| Communications to be issued regarding family area | The Club is reviewing the location of the new family area in order to provide enhanced offering and experience to families and juniors. The Club is currently considering feedback provided by supporters at the OSB meeting and will respond as soon as possible. |
| Review feasibility of changing concession bands from U16 to U18 | Our Under-16 prices are the cheapest in the country and we also have a concession rate that extends well beyond 18 acknowledging that many are in education until 21. We also keen to ensure that all of those young supporters who may not be in formal education are not unduly or unfairly penalised. We will however take this information on board and discuss with the OSB prior to the release of ticket prices for the 2020/21 season. |
| Review Club Cash user journey and deadline | Like other Clubs/businesses who use gift cards etc there are just too many issues around rolling on balances and allowing funds to accumulate. Most people use this against their renewal so it invariably gets redeemed and if supporters earn Club Cash after they have renewed this does get carried over. Club Cash is also carried over for Supporters who have two-year band 5 tickets. |
| Consult with OSB on the new Season Ticket Waiting List plans | We will continue to consult with the OSB prior to release of the new Season Ticket Waiting List process. Further detail will be shared in due course. |
For a full rundown of the Official Supporters' Board October meeting, minutes are available by clicking here.
To find out more about the OSB, visit our dedicated Official Supporters' Board FAQ section on Hammers Help or email [email protected]