West Ham United's thrilling match with Tottenham Hotspur might have ended in a penalty shootout defeat on Sunday, but for one Hammer, the FA Women's Continental League Cup game will live long in the memory.
With the Irons trailing in the clash at Rush Green Stadium, head coach Matt Beard turned to his bench and sent on 16-year-old Wiktoria Kiszkis, giving the Academy graduate her debut in Claret and Blue. 
After West Ham went 2-0 down thanks to Josie Green's deflected strike, teenager Kiszkis played her role excellently in helping the home side battle back to two goals apiece, as Martha Thomas slotted home on 90 minutes before Kenza Dali struck a sweet free-kick in added time. 
With her first official showing for the Hammers under her belt, Kiszkis is naturally excited about the future, and is already anticipating her next opportunity.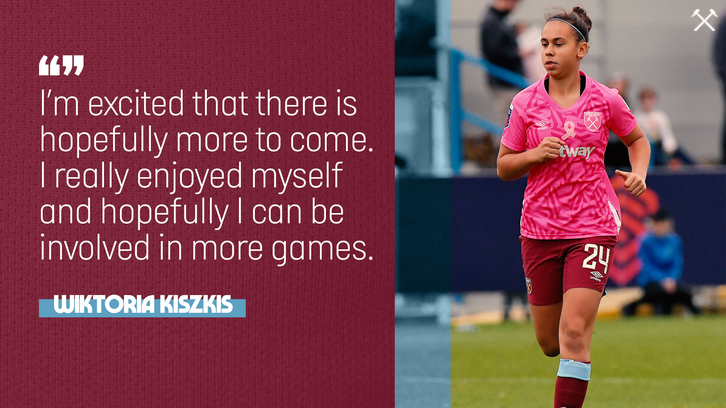 "For me personally, I'm very happy to get my first official performance," she told West Ham TV. "And I'm really proud that we able to get the game back to 2-2. We were just unlucky to lose on penalties."
Beard was certainly pleased with what the youngster offered his side following her 77th-minute introduction. Speaking in his own post-match interview, the head coach said: "Wiktoria has really impressed me during pre-season and in training. I think, physically, she can cope at this level. 
"In the Academy and the national team, she finds it easy in her age group. I think she's come on and done well. She created herself a good opportunity and she is going to be a very good player in the future."
Unfortunately, West Ham would still lose Sunday's match on penalties. In keeping with the Continental League Cup rules, all draws end with a penalty shoot-out with the winning team taking away an extra point. Spurs would grab that second, crucial point, winning 4-2 on spot kicks. 
Kiszkis, speaking with a maturity far beyond her young years, believes she and her teammates can take significant positives away from the match, such as the character shown to get the game level in the first place.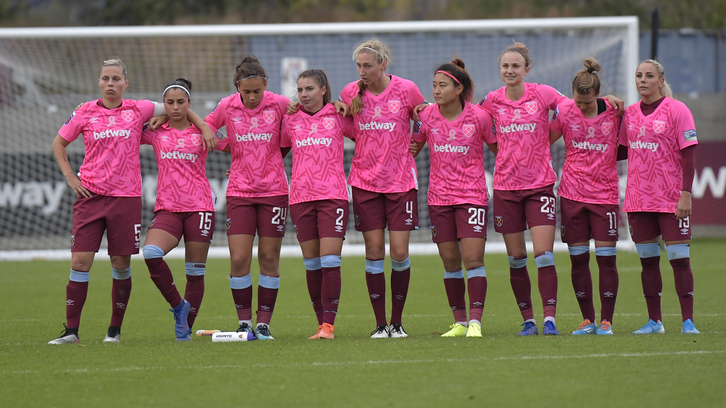 As for West Ham's newest first-team player, she is just looking forward to the chance to step out in the Claret and Blue once again.
She continued: "There are some real positives to take. After we got the first goal, our heads got up again. With the free-kick, we got the chance, and we took it, and bought the game back to 2-2. 
"It was just a shame in the end, but we can't say anything bad about it really because we brought it back and got the point. 
"I'm very happy with my role, and I'm excited that there is hopefully more to come. Matt and the coaches wanted me to come on and try to change the game. I really enjoyed myself and hopefully I can be involved in more. I'm looking forward to the season to come."