Manuel Pellegrini admitted his West Ham United deserved nothing from Saturday's 2-0 Premier League defeat at Everton.
The Hammers were second-best at Goodison Park, where goals in either half from Bernard and Gylfi Sigurdsson secured a welcome home win for Marco Silva's side.
And Irons manager Pellegrini conceded that the Toffees, who kicked-off the day inside the bottom three, had simply worked harder for the three points than his own side.
Everton ran as if every ball was the last one of their lives and we couldn't be able to try to play in a different way and find the same level as them

Manuel Pellegrini
"I'm disappointed because I think we didn't have a good performance. We knew before the game that it was a very tough game in a difficult stadium and the position of Everton reflected how much they needed these points," he reflected. "They ran and they fought for the 95 minutes and they deserved the win.
"If I remember the last game we played here in this stadium, we came in the same position as Everton were before the game, losing four games in a row, so that is something that allowed them to demand more from their players and that's what they did.
"When you are in the situation that Everton found themselves in, maybe you have more energy. In this same stadium, we came to play them after four defeats and we beat them 3-1. It seemed our team ran double them, but today was different and they ran as if every ball was the last one of their lives and we couldn't be able to try to play in a different way and find the same level as them."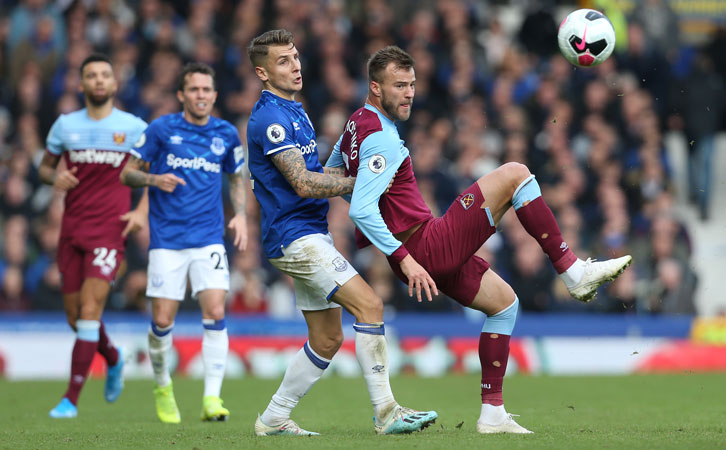 Pellegrini opted to leave Andriy Yarmolenko on the bench, citing the Ukrainian's recent return from a long-term injury and his exerts for his country during the recent international break, but refused to blame his absence from the starting eleven for his team's second straight Premier League defeat.
"I think it was not good Andriy to play three games in a week after being injured for so long," he explained. "He played two games for his national squad so we kept him on the bench for the first 45 minutes, but I don't think that was the only reason we lost this game."
West Ham, who have now missed consecutive opportunities to climb into the Premier League's top three, return to London Stadium to host newly-promoted Sheffield United and Newcastle United over the next two weekends.
And Pellegrini is hopeful his team can rediscover the form that has already seen them beat Manchester United and Norwich City on home turf this season.
"As I spoke with the players, the result we are missing is the result against Crystal Palace at home. The result against Everton you can lose the game because it is always a very difficult stadium to win points at, but I was not happy with the performance more than I was not happy with the score.
"Now, we have to play two games at home and I hope we can recover the same level of performance as before and get the victories."