Manuel Pellegrini believes his West Ham United team owe it to the Claret & Blue Army to continue playing their expansive brand of football.
The Hammers head to Everton on Saturday looking to get back to winning ways and the manager says they will confront the challenge head on, playing on the front foot from the off.
He is delighted that the team is showing his philosophy on the pitch and he believes that will continue to push them in the right direction.
Playing the West Ham Way
This style of football we're playing I'm very pleased with. We scored a beautiful goal against Crystal Palace and we are always trying to score, trying to play the most amount of the game in the opposite half. We are the team in most games having more shots on target, so I think especially for our fans we are selling them a product that is trying to be attractive football.
The players are happy, I'm happy - it's more difficult maybe as it's easier to defend with eight or nine players near our box and make two or three counter attacks to try to score.
But it's not the way I like to play football. I think the fans deserve the attractive football we are doing and we will continue that line, winning or losing.
You must trust as much you can in the way you think is the best to play. I think we had a big test last season when we lost the first four games, but we didn't change our tactical system or mentality.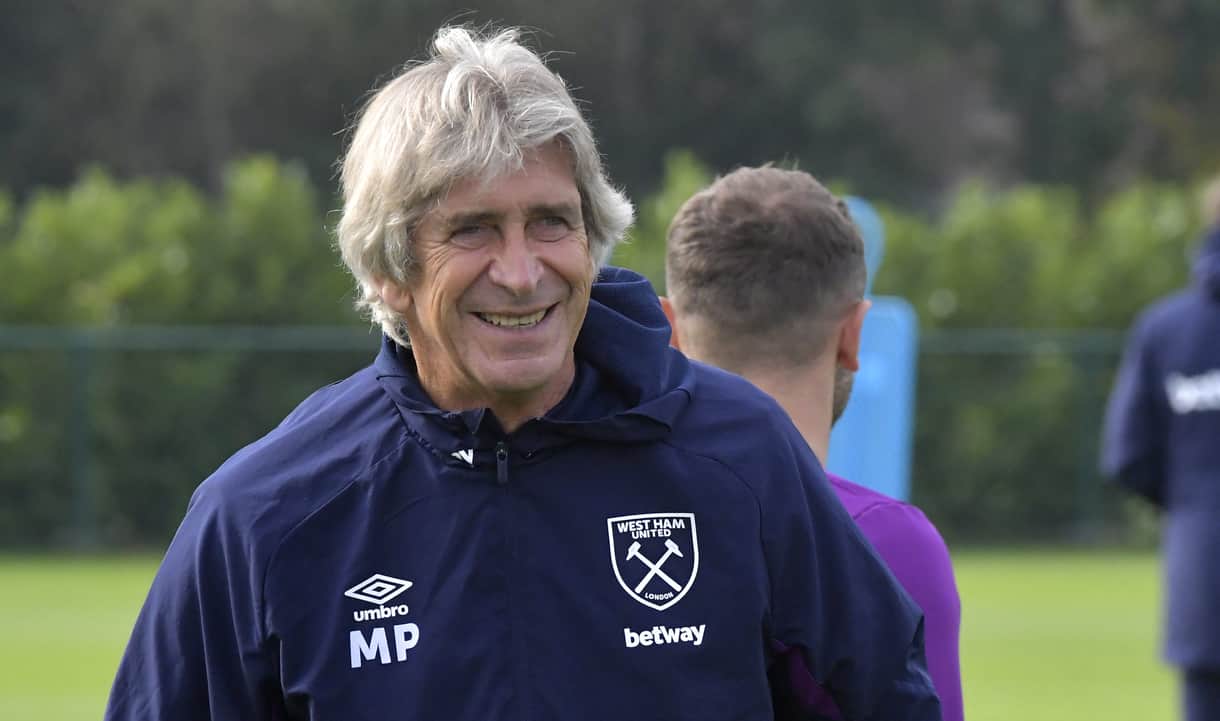 Everton may be struggling, but they will provide a real test
Everton is always a difficult team to play at Goodison Park and they have very good players. Last season we beat them there 3-1 in a moment that we were similar to they are now. But that was a different season and games are always different. I am absolutely sure that we are going to find an Everton with a high pace, trying to recover as soon as they can from the bad results they have had.
It will be a very difficult game, it doesn't matter if they are winning or losing their last games.
I don't divide the games into where you think you can have points and when you think you can't add points. Every game is different. Last season we lost two games that maybe you think you can beat them at home, against Wolverhampton and Bournemouth, but then we beat Manchester United and Arsenal. 
We must bounce back from the Palace defeat
Every time that you lose you must be concerned, but I think the Palace game was one that we didn't deserve to lose. We had more opportunities than them, they had just two set pieces. We missed some goals, but that is football too - you need to be concentrated on set pieces. Of course we need to create as much as we can and have a great finish.
We lost those points and now we must recover them playing against Everton. 
We don't need an international break to assess where we are, we are always doing that. We have already played eight games this season.- it's not too many games but more than 20 percent of the league - so we need to be clear about what we are doing well and what we are doing wrong.
We need to continue being ambitious with a winning mentality and we know that we have very strong teams in the league and we must trust that we are able to fight with all of them.