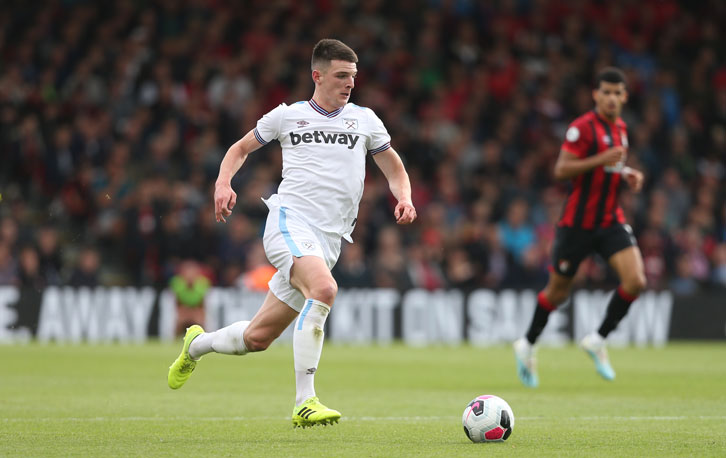 Declan Rice's career has been on the rise ever since he joined West Ham United at the age of 14.
Six years on, the talented deep-lying midfielder is closing in on 100 senior appearances for the Hammers and is a member of Gareth Southgate's England squad.
As he prepares for a UEFA Euro 2020 Group A qualifier in Bulgaria on Monday evening, the young star sat down with the national media to talk about his life, his career and his future hopes and dreams.
You're not 21 until January 2020, but you're starting for England, so do you feel like you've got your place secured now?
"I don't feel like a regular yet. I've started five of the six games I've played in, which shows I'm doing well and the manager likes me, but the main thing is that we've got good competition in the squad and other players who can play in my position in Harry Winks, Fabian Delph and Eric Dier.
"Everyone is going to be looking to the summer and will want to be starting as one of those eleven players so I need to keep my head down, keep working, keep getting better and make sure that the manager can't leave me out because, like I said, competition is strong and everyone wants the shirt."
The team has changed so much since the World Cup semi-finals, so is everyone aware they cannot rest at all?
"Yes, definitely. If you look at some of the big names that have been left out of this squad, it shows you've got to be on your game constantly at your club because Gareth [Southgate], Steve [Round] and Les Reed are at the games all the time, watching and reporting. It's not just a given you're in the England squad, so when you go back to your club you've got to be at the top of your game because it's not just a given you're going to get into the England squad.
"You're here because it's a massive achievement and also because you're good enough. Every time you do come here, you need to give 100 per cent.
"There are a lot of players in the squad, 25 this time, so everyone is fighting for that spot, training every day and that's all we can do. The manager has to pick the side and he's left big names out and you know you have to be on your game every day."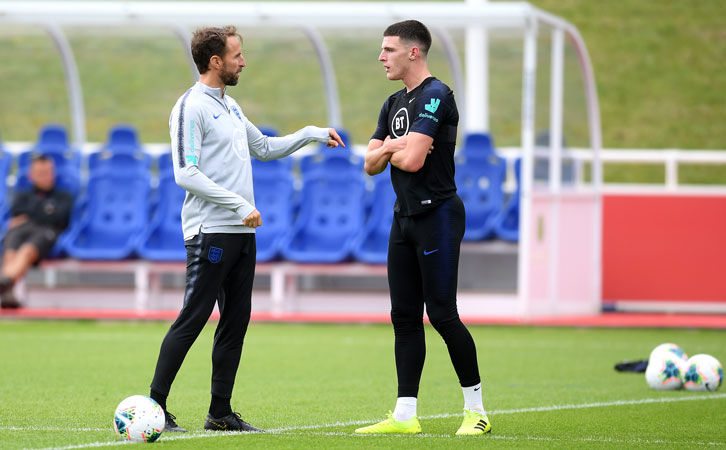 Do you feel you're being watched every minute of every day and does that put pressure on you?
"No, I don't feel under pressure at all as I'm playing in front of 60,000 every week at West Ham. I don't really feel pressure but obviously, when you know the England manager is coming to watch, you know you have to play well.
"Obviously you're with him for a week to ten days during the international break and he sees you every day, but it's different when he's coming to watch and isn't the manager."
Looking at the Chelsea class of 2015, which you were part of alongside your childhood friend Mason Mount, did you always think at the time that you had a chance to be in the England squad together one day?
"We always said we'd all play together again somehow. My family said it, his family said it and we both said it, but I didn't think it would be for England, no!
"Like I said, you would never have thought we'd have been together again. If we did, you'd have thought it would be at club level somewhere along the lines, but for it to be for England is probably the most special thing that can happen in football.
"To be playing together since we were seven or eight-years-old to playing together for the seniors, it's special for me and special for Mase."
Could you have the same impact as the Class of '92 or West Ham's Class of the late '90s for England at a major tournament?
"If you look at the tournament that's coming up in the summer, Euro 2020, we've got three group games at home and the semi-finals and final are at home, so it's pretty much like a home tournament. By then we are all going to be more experienced, and we're going better players. That Chelsea group of 2015, hopefully everyone is in and around the squad and that buzz and that thrill will be in all of us to want to go out there and perform at the highest level and win something for England again like they did in 1966."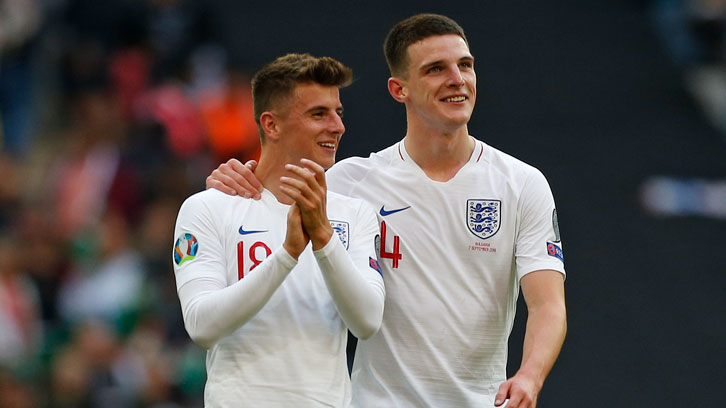 You were released by Chelsea, then had to rebuild your career as a schoolboy, so how did that shape you as a person and a player?
"I've had to deal with a lot at a young age, being released, then moving away when I was 14 and going from seeing my Mum and Dad every day to seeing them twice a week for about two years. I was homesick and actually thought about quitting at one stage when I was 15 or 16, in year ten, and I was really struggling.
"I thought about travelling in by train every day, but I stuck at it I stayed in the club house and began enjoying it a bit more. I was allowed to go out a bit more, as we got more freedom.
"I just tried to give 100 per cent every time I trained and went on the pitch and it all started to go well."
David Moyes was quite hard on you after one game against Arsenal back in April 2018, so was that difficult to take, or has it actually helped you?
"You know what, he was right to hammer me, because I remember the game. It was one-all and I ducked for the ball and it's gone in the back of the net. It was one of my early league starts [his tenth] and he absolutely grilled me in front of the lads. I sat there and took it all in.
"Looking back on it now, you need those moments, maybe a shake-up and knowing you have to get better. I made that mistake against Arsenal and it was a reality check. I knew there was so much to improve on.
"I got left out for a couple of games, then I came back in and played the final few games of the season. Moysey grilled me, but it was the right thing to do because I needed to be told."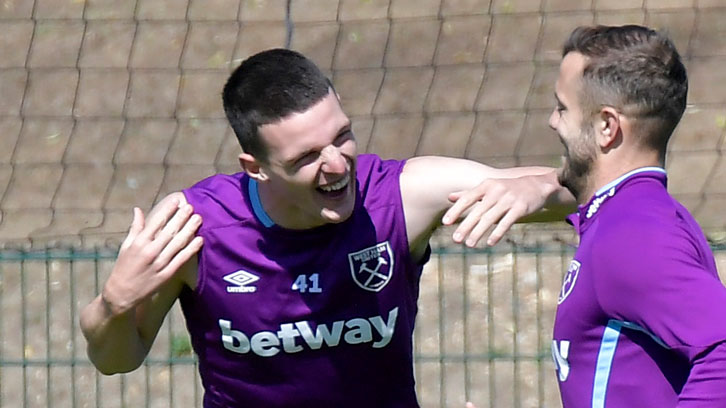 How much help has Jack Wilshere been for you, having gone through the same experiences?
"Me and Jack has been a surprise friendship. We get on so well, we're like best friends really. I go round to his house and we go for coffee together.
"He's been hindered by injuries, if you look at his career, but his quality cannot be taken away from him. He's a top player and even to be training with him is crazy because I grew up watching Jack Wilshere putting in performances on Match of the Day and against Lionel Messi in the Champions League in 2010, when he was only a kid. Sometimes I have to pinch myself.
"Jack has been great for me as have the other senior lads in the side."
Do Jack's own experiences mean you want to live every moment of your own career?
"Yes, I totally agree. If Jack hadn't been injured, he'd have had so many caps, probably 20 or 30 more, so for sure, you can't be missing out on England duty because they don't come around a lot. I don't want to miss out on them. I want to stay injury-free and play as many games as possible.
"For every player, it's the pinnacle to pull on the shirt, play at Wembley and it's my aim to earn as many caps as possible. If you step on the pitch and give 100 per cent every time, then you'll be remembered for everything that you've done."
Having also played at centre-back, do you feel you offer something that other players don't in your position?
"You could say that, yes. Where I have played at centre-half, for sure I've got a defender's mindset where other midfielders might not get into positions to intercept the ball, read the game and make the tackle.
"Maybe that's why Gareth plays me in there because I have a defensive mind, sat in front of back four. I won't do a crazy run, do a stepover and play a through ball. My game is pretty simple, I break up the play, intercept and give the ball to keep it ticking over.
"I think a lot of people complain and say he only plays passes that way but I think it's a bigger job. It doesn't look pleasing on the eye but on the pitch, for me, I've got a big job on my hands."
How do you see your future at club level?
"I signed a five-year contract with West Ham last year until 2024. For me, this is the best place to be right now under a manager in Manuel [Pellegrini] who believes in me, gave me my chance and plays me every week. I think West Ham is the best place for me, with the teammates I have around me.
"I'm improving every week and what better person to have around me than Mark Noble? He talks to me all the time about what I can improve on. Being with him on the pitch, he is such an influence on me and helps me out.
"I'm just focused on West Ham and doing my best for them and making the fans happy."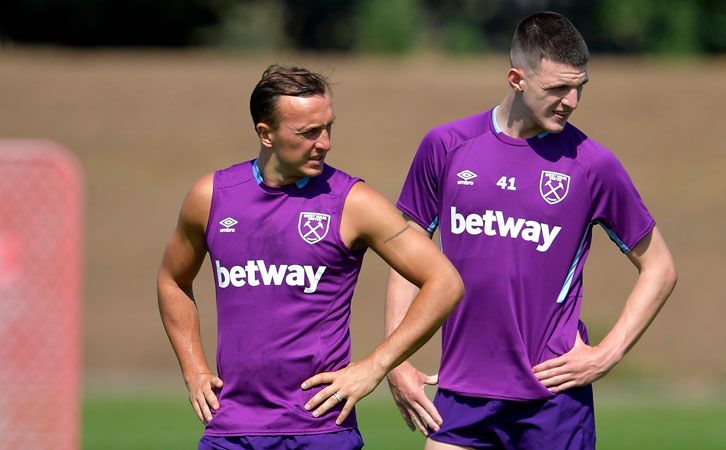 Mark Noble seems like the perfect person to keep you focused?
"He is always onto me if I make a mistake in training, telling me what I've done wrong. He knows I've got the quality to do it right, so he tells me when I've done it wrong.
"That's what is good about Nobes. We've got such a great friendship, but on the pitch when I've done it wrong, he tells me how to do it right.
"When you look at the last generation, he's been so unlucky not to play for England. He's 32 and he's probably playing the best football of his career, and he's been superb for us at the end of last season and the start of this.
"He's probably gutted he's missed out, but he's so happy to see me do well and he's been texting me this week. He was delighted when I made my debut and I had the No16 shirt on, which he wears, so he messaged me saying I was nicking his number! He's so proud of me and that's great!"
Is England talked about West Ham, where there is so much England tradition with Moore, Hurst and Peters?
"The Academy has just been renovated and there are pictures all around of Bobby, Sir Geoff, Trevor Brooking. Obviously I'm the latest one to play for England and I know people are proud of me.
"When I go over there sometimes they are so proud of me and they have a little laugh and say 'Euro 2020, you've got to bring it home' and they say Bobby Moore won the World Cup!.
"You notice how much of a big player Bobby Moore was for England, for West Ham and maybe I can be the next one…"