West Ham United's Anthony Scully has been named Premier League 2 Player of the Month for September.
The 20-year-old has been in lethal form up front for the Hammers' Under-23s side, netting eight pivotal goals across the month as his side won all five of their fixtures to go top of Premier League 2 Division 2.
Having begun the season as a midfielder, the young Irishman scored on his first start as a No9 and hasn't looked back since, shooting to the top of the division's goalscoring charts.
"It's a brilliant achievement," Scully said of the award. "There were a lot of good players up for it, so I'm really happy to have come out and won it.
"I've changed position to up front, and I'm loving it, it's been really enjoyable. It's been a good month, and hopefully I'll just carry it on and do the same next month!
"When I first joined West Ham, when I was 12, I played as a striker. It's felt natural moving back, to be honest. All my chances and goals have been from inside the box; I'm the striker and I need to get chances to score, and I've had those from the other lads who are playing, so it's been perfect!"
While the Republic of Ireland U19 international's previous season was largely frustrated by injury, Scully has more than made up for lost time so far this campaign under new management at the Academy of Football.
West Ham Under-23s are unbeaten in the league so far this season, winning six of their seven Premier League 2 Division 2 fixtures, and Scully credits this excellent form to the work the team and Academy management are putting in at Chadwell Heath and Rush Green.
"The way we're playing this year, it's all coming from the training pitch," Scully said. "Everybody's loving training at the moment and loving playing - the atmosphere is great.
"It all comes back to what we do with Dmitri [Halajko] and Steve [Potts] on the training pitch. Since Ricky [Martin]'s come in, he, Dmitri and Steve, not just for the team, but also for me personally, have been a massive help - they've been everything."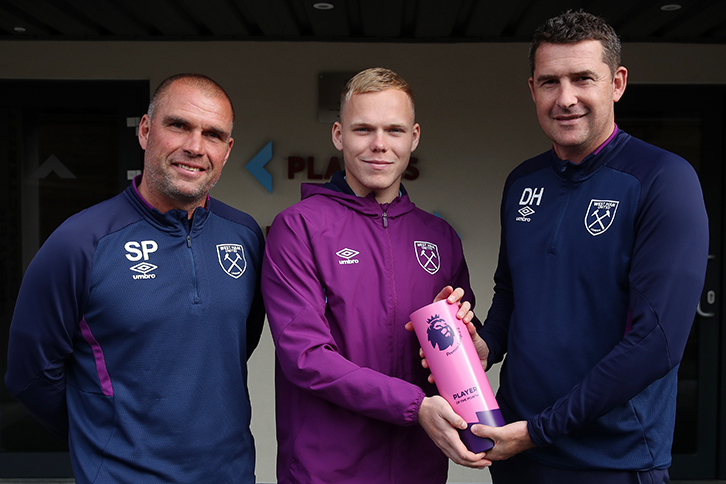 Scully was nominated for the Premier League 2 Player of the Month award alongside players from Arsenal, Everton, Leicester City, Manchester United, Newcastle United, Reading and Southampton.
He becomes the first Hammer to win the honour since Declan Rice in October 2017 – and, as the popular midfielder would, Scully hopes to continue to take his opportunities as they arrive.
"When you join West Ham, that's your aim: to make it in the Premier League, and play for West Ham there," he said.
"This is a great achievement, but I have to keep going. I have to keep working hard, keep playing well, and hopefully I'll get an opportunity over with the first-team to impress - and then hopefully I'll take that."
Under-23s Lead Coach Dmitri Halajko added: "It's much deserved. Anthony's form couldn't have been much better over the month. 
"The goals that he's scored, the way that he's led the line, the consistency that he's given towards the team, he's been phenomenal. He's a big member of the squad, and a big part of everything that we do."