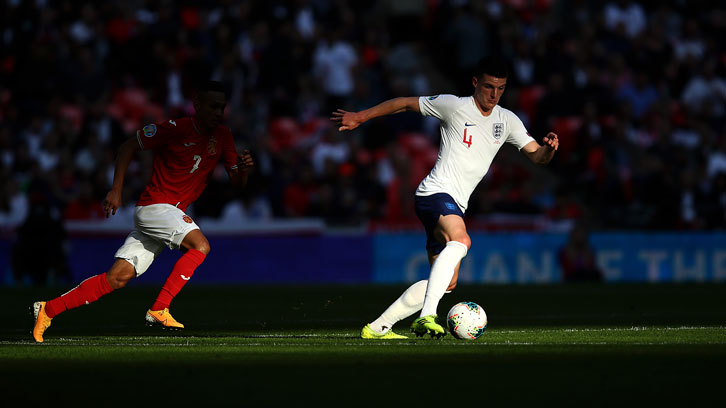 On Friday evening, Declan Rice will again almost certainly anchor England's midfield in an important UEFA Euro 2020 qualifier against Czech Republic in Prague.
Since switching his international allegiance to the Three Lions in the spring, the 20-year-old has featured in five of a possible six matches under Gareth Southgate, starting four of them.
The West Ham United deep-lying midfielder's performances have drawn praise from Southgate, his club manager Manuel Pellegrini, teammates, pundits and supporters alike.
At present, in this moment, he is the best holding midfielder of England

Manuel Pellegrini
"He's progressing every game that he plays, because he is progressing every training session," Pellegrini said in a recent press conference. "He's always trying to learn, he's always trying to improve, he always listens.
"He is a player that I would say is going to have a brilliant future, but his present is as well. At present, in this moment, he is the best holding midfielder of England."
Speaking on the BBC's Football Daily podcast, Michail Antonio ranked Rice behind only two Premier League title winners – Manchester City's Fernandinho, and Chelsea's N'Golo Kante – in his specialised position.
It is a position that requires a range of skills – athleticism, strength, technical ability, awareness, anticipation, passing, tackling, positioning and aerial prowess among them.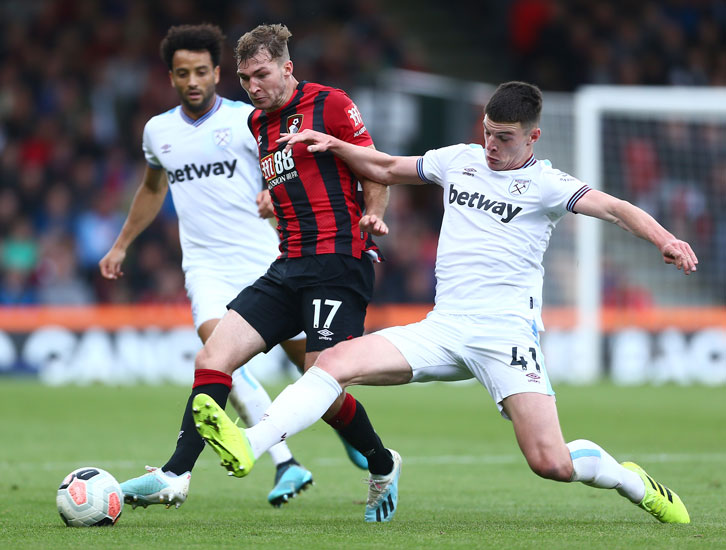 So, how does Rice stack up against his Premier League contemporaries? The numbers suggest very well indeed.
Let's start with passing, because if you cannot ensure the ball reaches a teammate, there is little point in winning it back for your team in the first place!
Of all the deep-lying midfielders who have played regularly in the opening eight rounds of the Premier League season, only Manchester City's Rodrigo and Tottenham Hotspur's Harry Winks have better pass-completion rates than Rice's 89.5 per cent.
Fernandinho has completed 93.5 per cent of his passes, but the Brazilian has been playing at centre-back for Manchester City this season, while Kante has completed just 74.8 per cent of his attempted passes in four appearances for Chelsea.
While an ability to pass accurately, with either foot, over any distance, is invaluable to a deep-lying midfielder, the player's greatest value to his team is his ability to win the ball back, either in a tackle, by intercepting a pass or being in the right place to recover possession when the ball runs loose.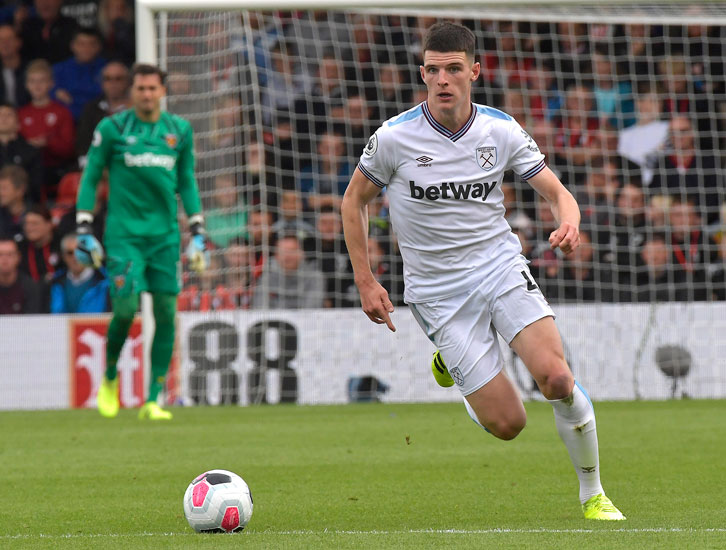 In this facet, Rice is again up there with the best, recovering the ball 64 times in eight appearances – only Chelsea's Jorginho (74), Southampton's Oriel Romeu (71) and Rodrigo (66) have recovered possession more often.
Tackling-wise, you could make an argument that Rice is the best in the Premier League in his position, as he has won 30 of the 41 tackles – or 73 per cent – he has attempted.
Leicester City's Wilfried Ndidi is the most-prolific tackler in the Premier League, having made 35 out of 49 (71 per cent success), with Romeu's 33 out of 47 (70 per cent success) ranking third.
Of course, every tackle attempted runs the risk of committing a foul, and this is where Rice really sets himself apart. In eight appearances and 720 minutes of football, West Ham's No41 has committed just nine fouls. By contrast, Crystal Palace's Luka Milivojevic has conceded 19 free-kicks, Arsenal's Granit Xhaka 18, Manchester United's Scott McTominay 15 and Romeu 14.
So, when you add all that up, you can understand why Pellegrini, Antonio and many more in and around the game believe Declan Rice is, and will be, a top-class deep-lying midfielder for many more years to come.