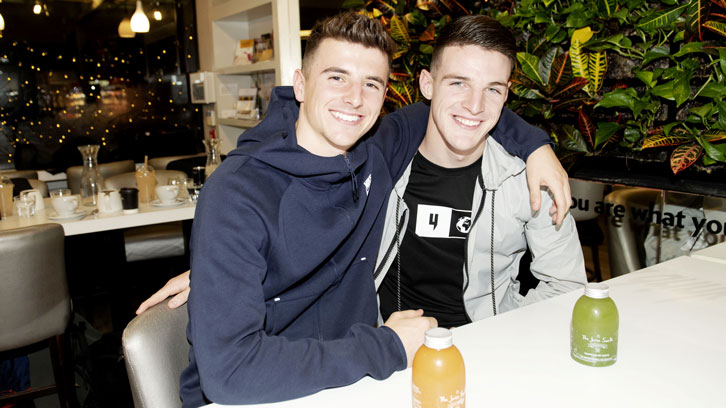 Saturday's Premier League derby at Stamford Bridge will be a special moment for Declan Rice and Mason Mount.
West Ham United star Rice and Chelsea midfielder Mount have been close friends for more than a decade, playing together for the Blues' schoolboy teams before Rice was released and joined the Hammers at the age of 14. Six years on, the duo were reunited in an England shirt earlier this year.
This weekend, they will share the pitch again, albeit on opposing sides. To mark the big occasion, Rice and Mount sat down with the national media to share their unique story of friendship and football.
Where did you first meet?
Declan Rice: "Well, it would have been training with the Under-8s on a Tuesday night. He was there when he was six at Chelsea and I signed when I was eight. It would have been on a Tuesday or Thursday night as that's when we used to train and we were seeing each other four times a week from the age of eight up until we were 14. That's where it all started, running round with the little kids on the Astroturf at Chelsea!"
Why did you hit it off and become such good mates?
Mason Mount: "I'd been there for a year or two already and he came in and when a new person comes in, you want to make them feel welcome, and I feel I probably did that with Dec. We kind of just hit it off straight away and were really close, and obviously it's stayed like that for ages."
DR: "The one thing that probably struck me when I first went to training with him was that the connection was there automatically. We'd get there 20 minutes before and would warm-up together before training, just passing the ball to each other. That connection has always been there and we've always enjoyed playing with each other on the pitch."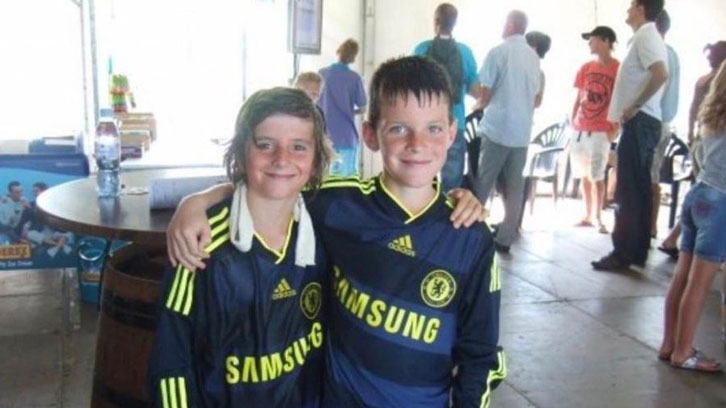 Did that connection help you play well together, too?
MM: "Yeah, we played together in midfield and we were speaking recently about the tournaments we played in together. We had one in Holland and we won it. In the semi-final we played against Anderlecht and there was an unreal player in their team who was supposed to go to Barcelona…"
DR: "We would have been eleven or 12 and there was so much talk about this Anderlecht team with world-class players and we were the underdogs going into the tournament. They were raving about this one kid – I can't remember his name! – and I was with Mason in midfield and we said 'This isn't happening at all!'. The whole talk was that Anderlecht would win it easily but we played like mad men, marked him out of the game, won 2-0 and went on to win the tournament, so we've always had that connection and fought for each other. Where we've been so close as friends, on the pitch we've got that understanding and we always give 100 per cent for each other."
What did you win together?
DR: "What didn't we win! Every tournament we went into, we either won or got to the final. We won in Venlo and Brussels, we won Willem II and won another one in Holland and a couple of Premier League tournaments!"
MM: "I remember the Venlo one. We had a penalty shootout and everyone scored and we had to take them a second time and Dec missed his penalty to win it! It came round to our 'keeper and he scored, then went in goal and saved it, so we won the tournament. His name is Jamie Cumming and he's still with me at Chelsea now."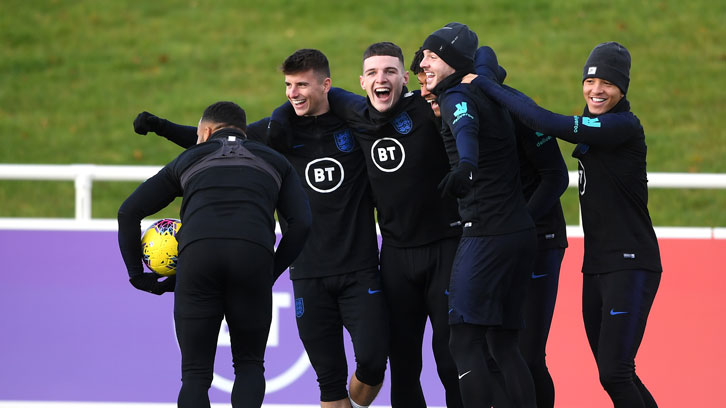 Did you used to spend a lot of time together away from the club, too?
DR: "Yeah, we always used to stay at each other's houses on Saturdays and Sundays. I remember going down to Portsmouth all the time to stay at his and those were the best times for me. He had a trampoline and a football in the back garden, or we'd be on our BMXs riding around the streets! It was the same when he came to me around Kingston. We also went to Laser Quest and went paintballing, but it was hard because we were training five until seven in the evenings and were at school during the day. On Saturdays our Dads would tell us to conserve our energy for the games on Sundays!"
MM: "This is a good story and Dec won't like this one! It's dangerous but I'm going to tell it! I remember going round to his house and his Mum taking us in the car going down the A3. We'd get packed lunches from football, boxes with cous cous and chicken and a little chocolate bar and him being a trouble-maker, we'd both sit in the back, he'd wind the window down and chuck the food out of the window! I was like 'What are you doing?' and his Mum was shouting at him!"
DR: "Luckily enough I've matured since then! I've got a story too. We were playing against Portsmouth and the night before we went out with our families to an arcade and the Rugby World Cup final was on. We always went to sleep early but this World Cup final was on late. We went to sleep late and the next morning we were honking and got absolutely smashed by Portsmouth! My Dad was fuming and told us we should have gone to bed earlier!"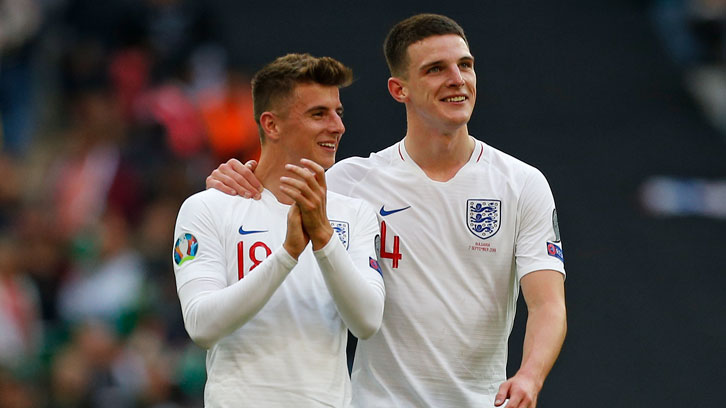 So your families are really close too?
MM: "Yeah, really close. Ever since we were eight-years-old, they've stayed in contact and our Mums are always going out for coffee together."
DR: "I think they're sitting together at the game on Saturday!"
Were you competitive with each other?
DR: "We were always competitive but we always wanted the best for each other and supported each other on the pitch."
MM: "We'd play table tennis against each other and obviously we'd each want to win but on the pitch we'd be there for one another. That story about when we played against Anderlecht, it showed we'd always work that extra mile for each other."
What was it like when you had to go your separate ways at 14, when Declan was released by Chelsea?
DR: "For me, it was really tough because Chelsea was all I knew and all my family knew. I didn't know what would happen, how West Ham would take to me, what the new house would be like that I was moving into, and being away from my family. There were so many different things that were a part of me moving to West Ham that have shaped me into the person I am now. Looking back, it was tough and I hated being away from home, but I got through it in the end. I had a strong mentality and I wanted to succeed and it's made me into the man I am today."
MM: "It was very tough because my best mate, who I'd been with for a long time, [was gone] and our families were very close. My Mum and his Mum were on the phone crying together because it was such a big shock. Neither of us saw it coming, but as soon as it happened, I knew what type of mentality Dec has and I knew it wouldn't break him. I knew he'd bounce back strongly and going to West Ham, going through the ages he did better and better and better and look at him now!"
Why did you get so scared bro? ??? @_DeclanRice pic.twitter.com/ZjR8m5J1JI

— Mason Mount (@masonmount_10) July 3, 2019
OK, let's talk about the video that went viral on social media in the summer, when Mason shocked Dec! What happened?
MM: "We rented a boat for the day and were relaxing and enjoying ourselves in Dubai. It was so hot and he was so red, like a tomato, and was so burnt that he had to go inside. There were two sofas on either side. Within 30 seconds of lying down, he was snoring! He was fully asleep and conked out, so I went over and did what I did, scared him, and as soon as I did it I realised the video I had was the best!"
DR: "When I woke up, he was on the floor in hysterics, literally crying! It was only when we got back to the hotel that I thought 'That video is bad!'. The Women's World Cup was on at the time and I was watching it with my girlfriend. He put the video up and I had left my phone for 15 minutes and when I went back to it, I'd never seen anything blow up like it!"
You've played together again for England this year but on Saturday, you'll come up on opposite sides. How will that feel?
MM: "We've played against each other once before. I didn't remember it, but Dec did…"
DR: "It was a pre-season game for the Under-23s. I remember, we lost 3-1 and he scored a worldy. That happened and now we've got the big game on the weekend in the Premier League, which is everything we'd dreamt of. It's going to be absolutely massive. It's a London derby and massive for the fans and obviously my best friend will be on the pitch, so it's going to be really special. It's going to be a weird experience, but also a really special experience and one we're both going to be buzzing off."