Only football can rapidly transform agony into ecstasy, as goalkeeper David Martin and defender Aaron Cresswell experienced during West Ham United's 1-0 Premier League win over Chelsea on Saturday afternoon.
The Hammers went into Saturday's fixture at fourth-placed Chelsea as underdogs, without a win in their last seven Premier League games – and, as a Club, having last won three points at Stamford Bridge in 2002.
Any recent difficulties were belied, however, by a collective display of heart and endeavour in the Claret and Blue rearguard, best encapsulated by 33-year-old Premier League debutant Martin – son of Irons legend Alvin –  and winning goalscorer Cresswell.
"[My debut] still doesn't feel real yet, but obviously I'm pleased I got through it!" Martin beamed. "I did actually enjoy it in the end, which I didn't think I would do.
"I'm 33 now so I've had a decent career and played quite a few games, but it still can't prepare you for coming into this game. I've been struggling to eat for two days! Cress was laughing at me before for my plate getting taken away because I just couldn't finish my food. 
"For my Dad to see that here, for me to make my debut for a club he played for over 21 years and keep a clean sheet - and get a win for the boys more importantly as well - it's just a fantastic feeling.
"I enjoyed it but now it's about the lads, and being ready for Wednesday [night against Wolves]."
Cresswell was also all smiles after netting his third of the season with a rare right-footed second-half finish.
He added: "I'm absolutely delighted for David. He's got his chance and he's taken it. I couldn't be more proud of him. 
"When he joined the Club, David'll tell you he wasn't expecting to play being third-choice, but he's come in every day and he's been the most hard-working lad we've got. 
"I'm just delighted for him to finally make his Premier League debut and to keep a clean sheet at Stamford Bridge, not many have done that."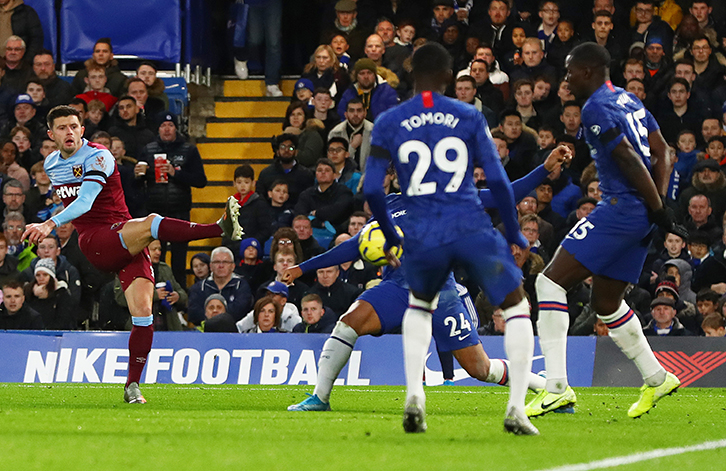 Cresswell's 48th-minute winner came after Fornals fed the onrushing No3 inside the area, the left-back cutting inside before burying a low strike into the bottom corner.
The finish capped a performance defined by stout defending and a collective determination not to let their winning position slip.
"No [I don't practice cutting in on my right]! That was just what I felt at the time," he said. "The right-back was coming across to cut the cross off so I tried to come inside, took a right foot swing at it - and luckily enough it went into the bottom right corner.
"It's pretty obvious that we needed that [clean sheet]. We haven't had a good run in seven or eight games, but that's West Ham: we find it the hard way. We came to Stamford Bridge, by far the underdogs, and got a 1-0 win, a clean sheet – I couldn't be more delighted."
We haven't had a good run in seven or eight games, but that's West Ham: we find it the hard way. We came to Stamford Bridge, by far the underdogs, and got a 1-0 win

Aaron Cresswell
Martin also chimed in with his appreciation of the efforts of his defenders.
"Angelo went down in the first half struggling with his back, and we were getting tired near the end," he admitted. "When you're holding on they've got so many technical players who can cut you open at any time, so you've got to be on your toes. 
"It's good to get through it and I'm so pleased for Cress' [for his goal]. You've got to keep grinding but like I said, I've worked hard for this, so to finally get it and to get the result for the lads and [reward] how hard they've worked, I'm just buzzing really."