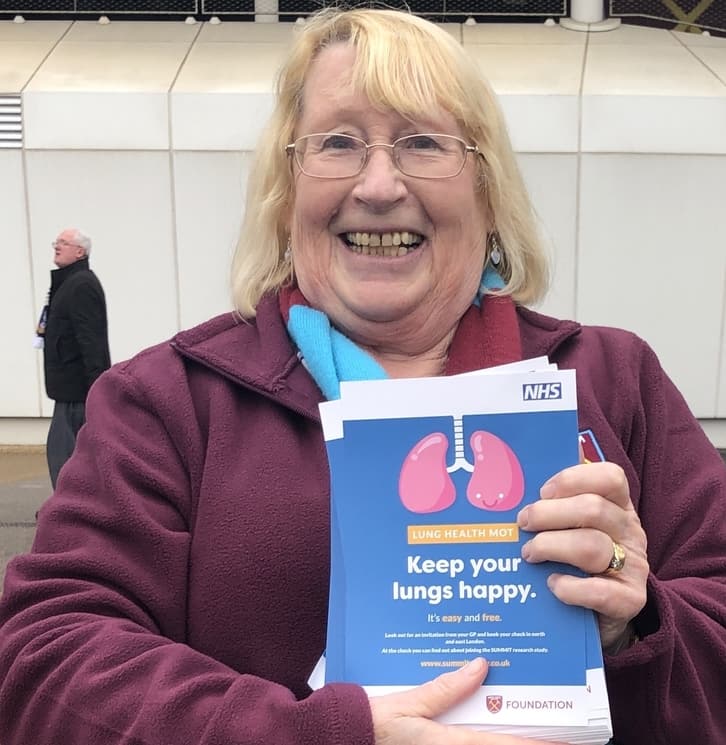 The Any Old Irons supporter group helped to support an important research study taking place in north and east London, when they gave out leaflets about having a lung health MOT at last Saturday's match against Tottenham .
A lung health MOT could be crucial, as Bridget Barker from Hackney, found out in the summer.
"I was feeling absolutely fine and would never have gone to see my GP about anything to do with my lungs. But when I got the invitation for the lung health MOT, I called up for an appointment straight away," says Bridget. "The radiographer saw something on the first scan during the appointment, so a few days later I was called back for another scan. On the Friday it was confirmed that there was cancer and the hospital asked if I could come in for surgery at 7am on the following Monday." 
"Who knows how things would have turned out if it wasn't for the lung health check."  
Bridget's quick response to her lung health MOT invitation may possibly have saved her life.
The cancer on Bridget's lungs was removed using robotic surgery at St Bartholomew's Hospital.  She has not needed any further treatment but will continue to have regular check-ups. 
The lung health MOTs are part of the SUMMIT Study, run by University College London Hospitals NHS Foundation Trust (UCLH) and UCL (University College London). It is the largest ever UK lung cancer screening study.
The Lung Health MOT can spot problems early - often before you notice anything, when treatment could be simpler and more successful. Screening is taking place at units in University College, Mile End, Finchley Memorial, and King George Hospitals. 
The SUMMIT Study is working with local GPs to recruit 25,000 people aged 50-77 in north and east London, who are at higher risk of lung cancer because of their smoking history. They will be asked to take part in early screening. If a patient is eligible, they will also be invited to have a low dose CT scan and provide a blood sample which will support the development of a blood test by GRAIL, a U.S. healthcare company focused on the early detection of cancer. 
If you, a relative or a friend gets a letter from the GP inviting you to have a lung health MOT, call the number in the letter as soon as you can to make an appointment. If you have already had a letter but did not call, it's not too late to book in.
Sam Janes, professor of respiratory medicine at UCL/UCLH and Chief Investigator of the SUMMIT Study, said: "We have now seen almost 7,000 people for lung health checks and have been able to identify conditions, including cancer, which needed action. But we are looking for many more people to take up the offer when they receive the letter from their GP. Responding to the letter is voluntary but as Bridget's story shows, there are important, potentially life-saving reasons to have the lung health check.
 "We're collaborating with over 350 GP practices in north and east London who are sending invitations to registered patients aged 50-77, who fit the criteria for being at higher risk of lung cancer due to their smoking history. For our research into developing a cancer diagnosis blood test it's also very important that we include a range of people from all parts of the community within the SUMMIT Study areas." 
Find out more at www.summitstudy.co.uk