James Collins returned to London Stadium to a hero's welcome on Saturday.
The long-serving defender, known lovingly as 'The Ginger Pele', made 214 whole-hearted appearances for West Ham United across two spells between 2005-18, scoring nine goals and making countless vital clearances, interceptions, tackles and blocks.
Now 36, the former Wales international was joined by his wife and three children as guests of the Club, and took the opportunity to both reflect on his outstanding career in Claret and Blue and reflect Hammers fans for their support.
Welcome back Ginge. How does it feel to be at London Stadium again?
"It's lovely to be back. It's the first time I've brought my family back since I left, so to come back for such a big game seems fitting."
You spent such a long time as a West Ham player, so you must have so many great memories?
"Yes, incredible. I had the time of my life. I arrived in 2005 and then I left for Villa in 2009 and as people know, I didn't really want to leave to go there, but then I came back in [2011] and had six great years. I have so many memories. I obviously saw the change from Upton Park to London Stadium at that time in my career. It's amazing. I still think about this club every day."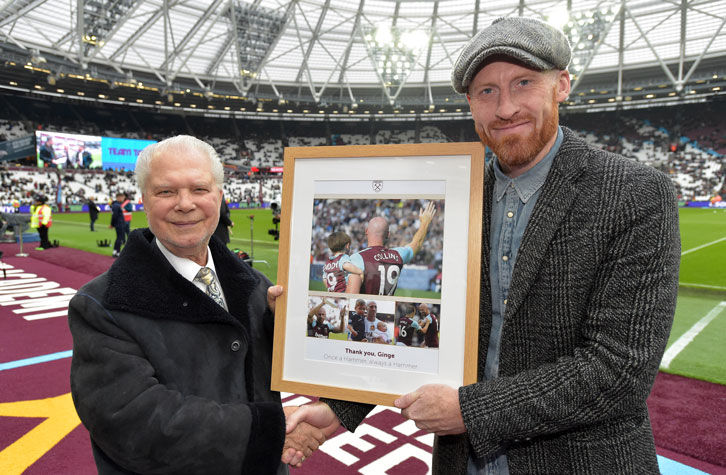 When you were growing up in south Wales, could you ever have imagined becoming a legend in east London?
"No, to be honest. It's still mad now to be honest. Like I said, I think about the club every day. It's given me everything. My family wouldn't be where we are today without this club so it's been a huge part of my life and always will be."
It's now 12-and-a-half years since we completed the 'Great Escape' in the rain at Old Trafford. Would that be the standout moment in your West Ham career or were there others?
"That was 2007 and it was an incredible day. They weren't the best circumstances, obviously, and probably shouldn't stick out as we were staying up and just avoiding relegation, but it was an incredible day and obviously the aftermath was probably more memorable than the actual game."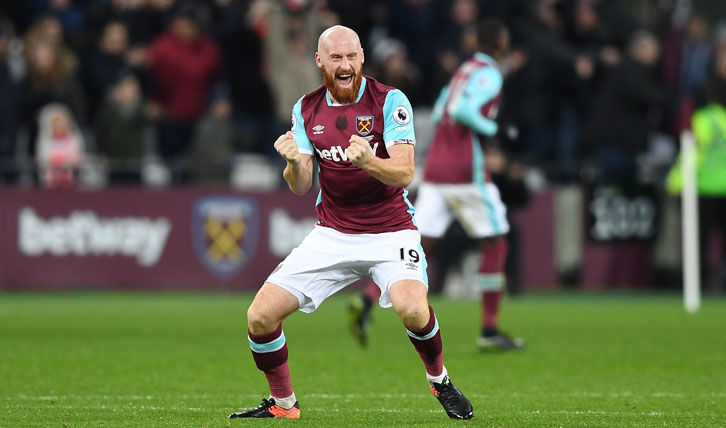 What about your other favourite memories? The final season at the Boleyn Ground? The 2006 FA Cup final?
"You've obviously got to think of the FA Cup final in 2006, which didn't finish as we wanted it to, but it looked like we were going to win it that year. That was the total high and low of playing for West Ham as we thought we'd won it and then obviously we didn't. I've played in some massive games; that 2006/07 season when we stayed up, going to the Emirates and winning 1-0 sticks out, as they had something like 38 shots and we had one and won 1-0! There are loads of games, you know. Every game for this club, I remember and cherish every day."
Nearly 1,000 players have played for West Ham, but not many are held in as high a regard as you are. What does that bond mean to you?
"The bond is incredible. Like I said, this club means everything to me and I thank this club every day for what it's given to me. I can only put it down to the way I played. I know by far I wasn't the best player to play for West Ham, but every time I pulled on that shirt, I gave my all. I don't know if it was the way I was brought up or the way I played football, but I was determined to… You knew me as a player. I actually loved defending and I loved everything about it; heading the ball, tackles, that was what I loved about the game and luckily enough I did it for so long for such a wonderful club."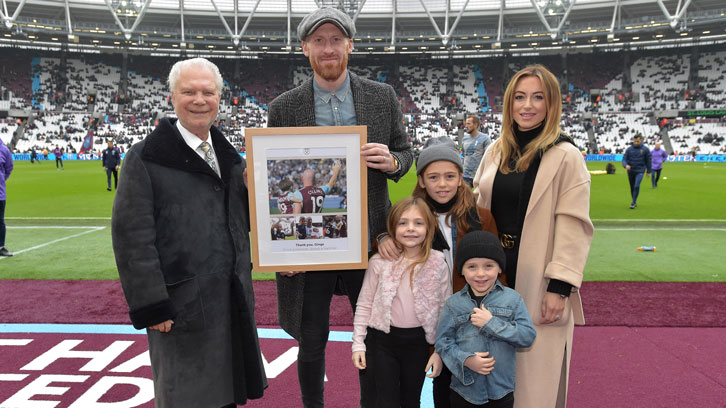 West Ham has not only given you a career, but a life, a wife and three children, who you met while living and playing here…
"It has, since 2005. I was living in Newport, playing for Cardiff City and what this club did for me, Alan Pardew signing me, I can't describe it. Obviously I haven't officially retired but it probably doesn't look like I'll play again, but this is my home now. London is my home, the kids are in school and it's all down to this football club, so it's played a huge part in my life, my kids' lives, my wife's life and it always will be."
Just lastly, what does the future hold for you?
"I've got a few little bits going on! I've got my football academy and I'm working on the telly a lot, doing a few bits and bobs. Obviously Wales getting to the Euros has helped me as there are a few extra gigs going there next summer! At the moment I'm just enjoying my time, playing a lot of golf, enjoying time with my family, doing the school run and doing the things I didn't do for pretty much 20 years. There are lots of opportunities coming my way, so we'll have to see what comes of it."