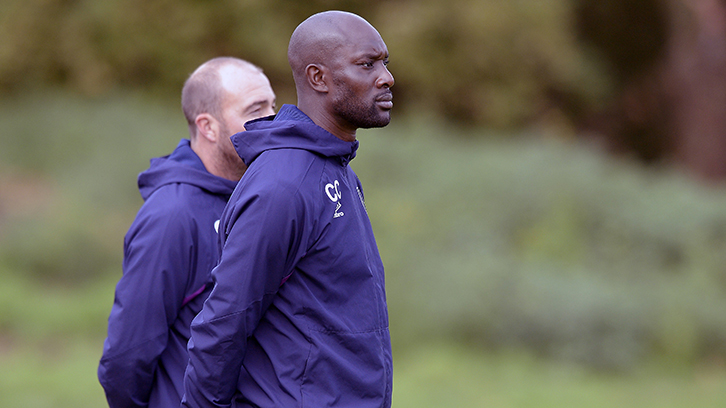 Former West Ham United frontman Carlton Cole is happy to be shaping the next generation of Hammers at the Academy of Football.
The ex-Irons and England centre forward rejoined the Club in a coaching capacity shortly before Christmas last year, and has since amassed an array of experiences supporting various age groups throughout the Academy.
Renowned for his infectious enthusiasm, Cole is happy to have put his memorable nine-year career in Claret and Blue to good use at Chadwell Heath as part of Academy Manager Ricky Martin's new-look coaching set-up.
"I've been with the Club a year now," he explained. "I was originally with the U18s shadowing Mark Phillips and Jack Collison, and then I went up and down the age groups as well to support other coaches. 
"When Ricky Martin came in this summer, he brought to the Club a structure where, in every age group, there's an ex-pro. At every level, we also work closely with [U15s head coach] Harry Watling and his assistant Paul Konchesky, so we all get to bounce ideas off each other.
"In terms of playing, we've obviously got the U18s, which we travel a lot with. We use them to try to encourage the U16s – we tell them 'that's the next step for you', to try and prepare them to be a full-time scholarship or full-time pro footballer. That's the aim at U15s and U16s level, and it's great for me to be a part of that."
 
Our boys are really solid attitude-wise, and I admire how Gerard Prenderville has got everybody in the team playing for each other, the shirt and the badge

Carlton Cole

As well as Konchesky, the structure also includes the likes of former Hammers stars [U23s coach] Steve Potts, [U18s Lead Coach] Kevin Keen and [U14s coach] Zavon Hines.
Such a platform has brought the best of both worlds to Chadwell Heath in terms of developing playing and coaching talent simultaneously, according to Cole.
"I'm working with [Lead U16 coach] Gerard Prenderville this season," Cole continued. "He lets me get really involved with the boys, making sure they understand what it takes to be a professional footballer.
"At the same time, I get to see first-hand how he uses their attitude and skill to get the best out of them. Our boys are really solid attitude-wise, and I admire how Gerard has got everybody in the team playing for each other, the shirt and the badge."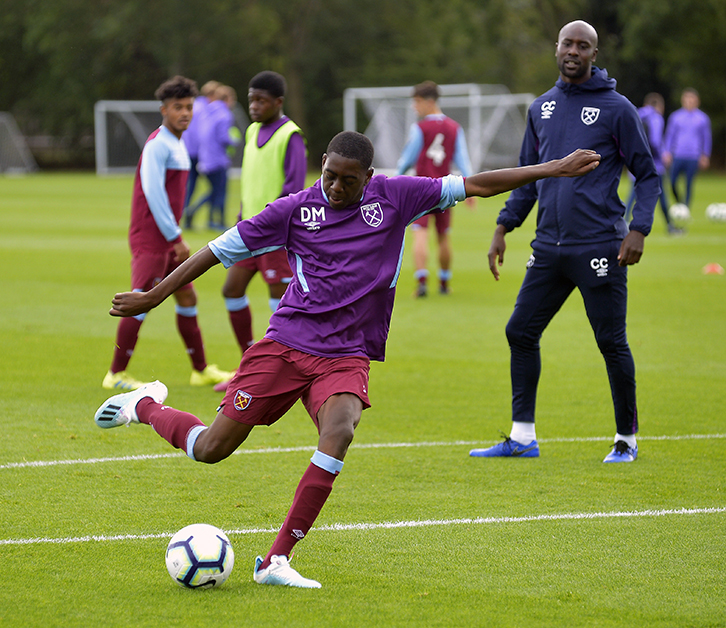 Having notched 68 goals across nine years with the Club, while making seven appearances for his national side under Fabio Capello, Cole has no shortage of top-level experience to share with his young charges.
The coach also travelled with Prenderville to China this summer to spread the West Ham way at the Chinese Super League Cup, the duo each coaching a side in a unique U15s tournament held at the Jiangsu Football Association Complex as part of the Premier League Asia Trophy.
These days, the popular character can often be sighted offering words of wisdom to scholars at Chadwell Heath – and isn't afraid to put his trademark humour to good use.
"I'm so happy to be at this Club in this capacity, working on using my influence and my experience to help the next generation of talent – even though some of them may not know who I am!" he laughed.
"At the same time, they respect that I have a view on the game which might be a little different to some of the coaches that they've been used to, so I try to help as much as I can to make them into better players.
"West Ham's given me the opportunity to sharpen my tools up – to be a better coach and a better man-manager – so I'm very grateful."