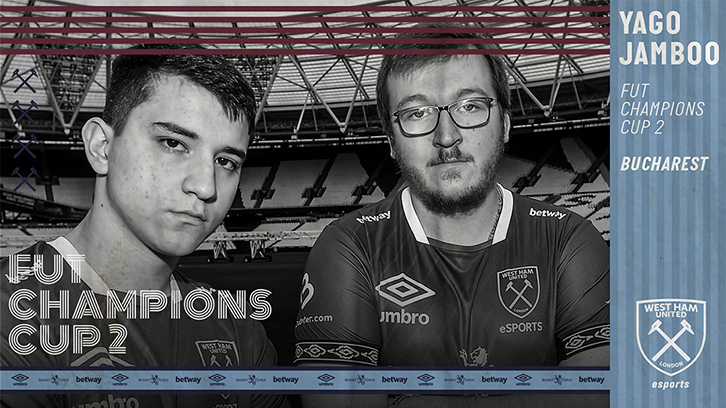 West Ham United eSports players 'Yago' Gabriel Fawaz and Jamie 'Jamboo' Rigden both narrowly lost in the knockout rounds at this weekend's FUT Champions Cup Stage II in Bucharest.
PlayStation4 player Yago went into the second major competition of the 2019/20 FIFA season having finished runner-up at the first a fortnight ago.
He immediately impressed in the Swiss round group stages, winning four of his five games in style, his only defeat coming at the hands of reigning eFIFA World Cup champion MoAuba.
Yago, who first began sporting Claret and Blue this summer, was then pitted against Portugal's Tugo810 in the round of 16, and was unfortunate to fall to a narrow 2-1 defeat over two tightly contested legs.
Xbox representative Jamboo, meanwhile, looked to be on the brink of elimination having lost his two opening group stage games, but battled back to three consecutive wins in stunning fashion – the last two both by resounding scorelines – before falling 3-0 to Msdossary in the last 16.
 
Decent result after both @yagofawaz & @WHU_Jamboo finishing in the top 16 at the #FUTChampions Cup Stage II in Bucharest. Next up: eClub World Cup! ? #westhamesports pic.twitter.com/IOHfUBD0xK

— WestHamEsports (@WestHamEsports) November 24, 2019

Speaking after the tournament, Yago said: "I feel like I played very well, maybe even better than in the last tournament, but unfortunately I lost in the first knock-out round this time.
"Now, with the experience I have got throughout both FCC1 & FCC2, I believe I will be in a good place to qualify for the other tournaments as well. I've showed the world that I'm a good player and I believe I can continue to play at this level."
Jamboo added: "I was really happy with my performance for the most part. To go 0-2 and then have the determination to come back and get out of Swiss in style was impressive. There was no shame in losing to a world-class player like MSDossary. It's a learning experience, and I'll be back."
A last-16 finish grants both players 300 precious Global Series points, with just over 2000 required to qualify for the eFIFA World Cup play-offs last year. 
The overall tournament was won by Xbox finalist NR7, beating PlayStation4 winner Crazy 2-0 in the cross-console final.
Four more Champions Cup events are planned for the campaign ahead, with the next Champions Cup Stage scheduled to commence 17 January.
You can see all the results at FUT Champions Cup Stage 2 on the EA SPORTS FIFA website. 
If you're a FIFA player and dream of representing the Hammers this year, remember that you can still register for the ePremier League through the competition's website.
Don't forget to pick up your limited edition 19/20 West Ham United eSports Jersey - made for West Ham gamers everywhere - through our online store.