West Ham United women's team is delighted to confirm that we are now accepting applications to join our Barclays FA Women's Super League (WSL) and Development Academy programmes. 
To register your interest, please click here!
West Ham United's WSL Academy is an FA-accredited, full-time dual career programme which combines education and developing employment options alongside a full football Academy programme.
Furthermore, the West Ham United WSL Academy is pleased to introduce budding applicants to a new development tier strategy, which will insert players at a level depending on their individual ability and potential. This set-up will give each individual the best possible chance of development and progression through the West Ham United Academy pyramid.
Successful applicants to the programme will benefit from a thorough and detailed football course, entwined with the dedication and commitment that has made the West Ham United Academy of Football one of the most recognisable in world football.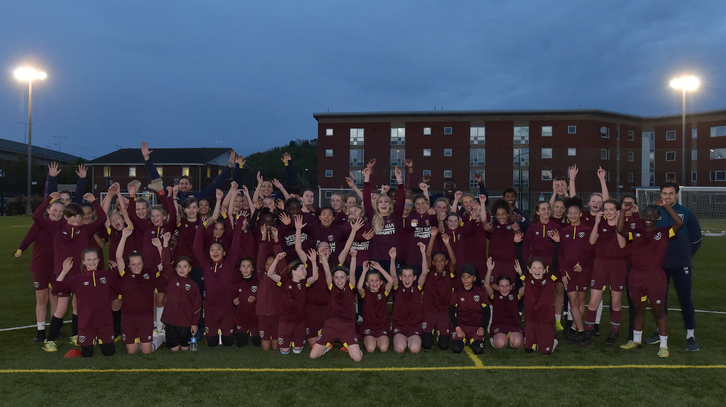 Weekly training sessions will be conducted by West Ham United Academy coaches, while applicants will also enjoy the benefits of a full fixture schedule, recovery sessions, individual and team analysis sessions, private physiotherapy and strength and conditioning and lifestyle support, all designed to mould successful candidates into not just the best footballer they can be, but also the best person.
West Ham United women's team and WSL Academy are partnered with Chobham Academy in providing a progressed and intrinsic education programme for each of our young players.
Based in the home of West Ham United, in Stratford, Chobham Academy offers a variety of educational programmes, including A-levels, BTEC, CTEC, or combined courses. Like all at the West Ham United WSL Academy, Chobham Academy is relentless in the pursuit of holistically developing individuals to be at their very best.
In order for an application to the West Ham United WSL Academy to be considered, the applicant must be at least 16-years-old prior to 1 September 2020.
Possible trial dates are listed below and, once a trial date has been selected, applicants will receive email confirmation including venue address and the time of the trial.
Trial dates
Wednesday 11 March 2020
Sunday 3 May 2020
Please note that trial dates are subject to change and, due to expected demand, applicants are permitted to attend only one trial.
To register your interest for a West Ham United WSL Academy trial, please follow the link here and fill out all the required information!