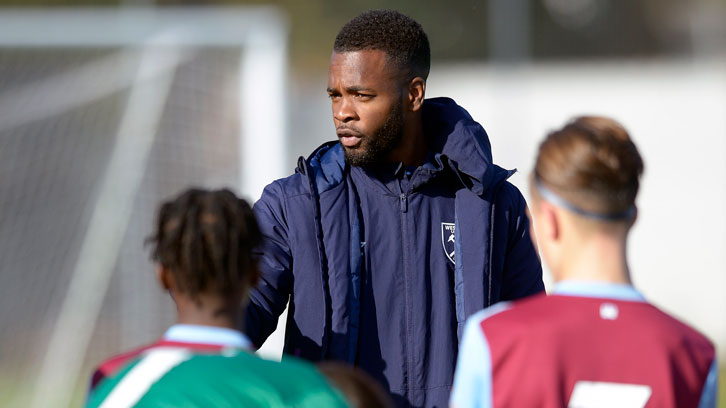 "I didn't realise it was ten years ago – I'm getting old!" chuckled West Ham United's former forward Zavon Hines, recalling his famous last-gasp winner against Aston Villa at the Boleyn Ground.
The Academy of Football graduate exploded into the first-team picture just over a decade ago now, netting on his debut in a League Cup win over Macclesfield Town.
The following season, 2009/10, the then-20-year-old Hines became a more regular fixture in the squad, scoring in a victory over Millwall before that memorable night against Villa.
Sadly, injuries ultimately frustrated Hines' progress, limiting him to just 31 Hammers appearances before he departed in 2011 in search of more regular football.
"I'm originally from Brixton but coming through the Academy made me a West Ham fan through and through," Hines smiled. "Even when I left, I was looking out for their scores, hoping the Club did well."
Fate has a funny way of reuniting old friends.
Following a journeyman career in the Football League, the 30-year-old was sadly forced into retirement following medical advice midway through last season – but his next phone call was not far away.
"It all happened quite quickly," Hines admitted. "When I decided to stop playing, I was speaking to Jack Collison (his former teammate and then-West Ham U16s coach) all the time. He'd been through a similar situation to me, and we kind of grew up together, so he told me to come in to see how Chadwell Heath was again. 
"I wasn't expecting to coach straight away – I'd never thought about it like that – but I've always wanted to help out. 
"I was in and around the Under-18s, and it just reminded me of how it was when I was there as a kid. I enjoyed it so much I came back a few more times, and eventually I decided to try for my coaching badges and take it from there."
I wasn't expecting to coach straight away – I'd never thought about it like that – but I've always wanted to help out

Zavon Hines
West Ham United's new Under-14s coach commenced the next exciting chapter in his career when he re-joined the Academy of Football in July.
Hines works closely at Chadwell Heath with Lauris Coggin, who leads the Under-12s to Under-14s phase of development, and Kalam Mooniaruck, the Academy's Head of Coach Development.
Part of Academy Manager Ricky Martin's new-look set-up, in which former Hammers players imbue young talent with the Club's philosophies, Hines serves as both teacher and apprentice: developing his players, while developing himself as a coach.
"One of the main challenges for me personally has been learning to deal with the players' emotions," Hines admits. "They're kids, so I always have to try to understand them.
"I also need to learn that sometimes, for them, they think they're just going into training – but for me it's a privilege to be at West Ham every single day.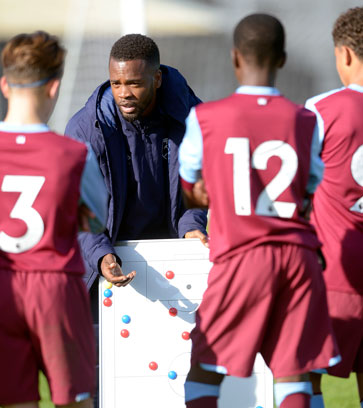 "It's important that I approach them in the right way about it. As players you need to be strong mentally, physically, emotionally, and then your ability will show after that – and that's what we're talking about at the moment."
When asked about the most important lesson he learned at the Academy of Football, Hines pauses to contemplate. His determination to succeed shines through in his answer.
"Your work-rate always has to be there," he said. "When I joined the Academy, I wasn't a lazy player. I always worked hard, but maybe in a selfish kind of way.
"I was made to understand that working for the team is never in vain. There are individuals in every walk of life, but the players who last the longest are hard workers like Mark Noble and James Milner, Lionel Messi and Cristiano Ronaldo.
"They're all team players. That's the reason they've been at the top for that long – and if you're not consistent like that, you'll slowly fade away."
As for the future, Hines is keen to just take his new role one day at a time.
"It brings back good memories when I'm at Chadwell Heath," he smiles. "I look back at the board of Academy graduates and see my name there and when I made my debut. 
"Hopefully that reminds the kids that it is actually doable. Hopefully they'll take at least one per cent of what I say and use it to their benefit. My main aim is to impact upon them in a positive way as much as possible. 
"I'm loving it. I love being around the place; it's a great environment and a good place to be. West Ham has done a lot for me personally, so if I can help the Club in any way possible, I'll do that."