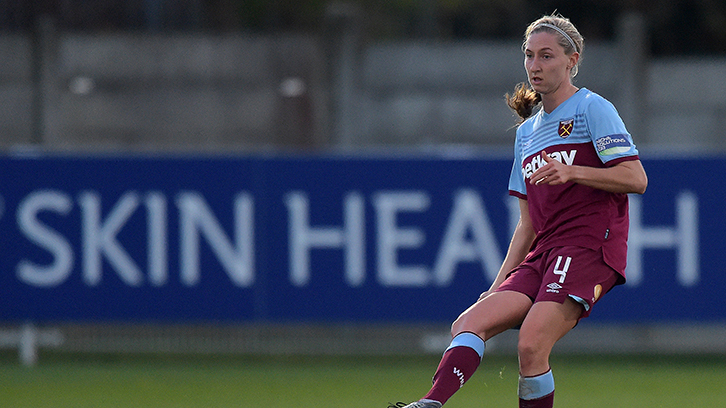 West Ham United defender Brooke Hendrix feels her side ultimately ran out of steam on Sunday afternoon, as they slipped to a late 3-2 defeat against Reading.
The American centre-back impressed in a three-woman defence for much of the match, with the Hammers looking good value for the 2-0 lead they had built up after 65 minutes.
As the game ticked into its final quarter of an hour, however, the ten-player visitors proved resurgent, striking three times in eight minutes to snatch a Barclays FA Women's Super League victory at the Rush Green Stadium.
Hendrix believes her side showed plenty of positives in their performance but need to better sustain momentum for the full duration of the match.
"I felt we started out really well and came out flying," she observed. "By half-time we were a goal up and they had ten players, and it looked good for us. Even at the start of the second half I thought we looked alright, but then we just let it slip. 
"We were playing off each other well, getting into good positions, working for each other. I think it just got a little frantic towards the end, and that's when we started to lose the momentum we had built up as far as how we wanted to play the game. 
"If we look at the positives, I think we fought hard for a good 65 minutes, and now we've got to build off of that. We know that we can do it, and do it well, in the future."
 
I think we have to learn, and be able to build from it until we can stretch it to a 90-minute game – a full, polished work

Brooke Hendrix

Hendrix lined up at the heart of the Claret and Blue defence along with captain Gilly Flaherty and summer signing Laura Vetterlein.
Sunday's system saw full-backs Cecilie Redisch Kvamme and Katharina Baunach – the opening goalscorer after four minutes – push further forwards to support the attack, and Hendrix was pleased with the approach play the tactics bore.
"I like it – it's given me a chance to get on the pitch as well," she said. "It gives us greater ability to have different types of runs, different types of movement, and I think it's been benefitting us with the personnel that we have.
"I think we have to learn, and be able to build from it until we can stretch it to a 90-minute game – a full, polished work."
The Hammers will be looking to achieve such a display next Sunday afternoon when they host Manchester United – and former West Ham striker Jane Ross – at Rush Green Stadium, and Hendrix is excited at the prospect of going up against her former teammate. 
"It should be good! It's always pretty feisty as well between us two sides," she observed.
"I love Jane Ross – I'm looking forward to seeing her, she's a great player – so we've just got to be ready for that test."