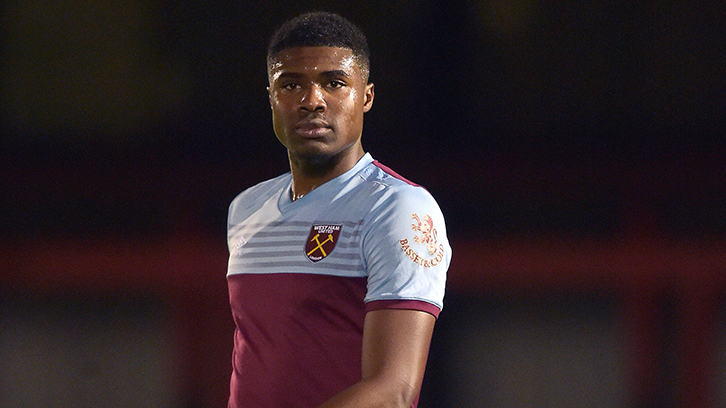 Defender Ben Johnson was delighted to be back in action for West Ham United U23s on Friday night, and is looking forward to progressing this season.
The full-back, who made a memorable first-team debut at Premier League champions Manchester City last season, has been unavailable for selection since early September due to injury.
The 19-year-old played 66 minutes of the U23s' 4-0 victory over Aston Villa U23s, a resounding win which maintained their three-point advantage at the top of Premier League 2 Division 2.
Speaking after the match, an evidently beaming Johnson spoke of his relief to be out on the pitch once more – as well as his high hopes for the months ahead.
"It was a great feeling, a fantastic feeling just to be out there and playing again," he smiled. "I feel more like a footballer again. I just want to kick on now, get more minutes under my belt, keep enjoying the game and relishing training. It feels like the sky's the limit.
"I'm back in training and I want to play more games. I'll need to get full games under my belt and full training sessions again before I'm ready to keep pushing my body. My aim is to get first-team football under my belt this season, so it's just a matter of patience and showing the manager what I can do in these games and in training. 
"I want to show Dmitri [Halajko] and Steve [Potts] and Ricky [Martin] what I can do, and they will pass on that information, so when I get the chance to play with the U23s, I've got to try to be one of the best players out there."
 
I really hope we can keep the run going. It's tough to go a season unbeaten, but I think that we are more than capable

Ben Johnson

Another member of the Hammers' defence on Friday night who was also continuing his recovery from injury was veteran centre-back Winston Reid.
The New Zealand international featured for his country over the course of the international break, adding vital match minutes to the hour he played for the U23s against Wolfsburg 'B' at the end of last month.
Johnson admitted enjoying playing alongside and learning from the 31-year-old defender, who is now in his tenth season with the Club, and also cited his enjoyment at playing alongside his prolific attacking teammates, who registered four goals in a game for the sixth league match in a row.
He said: "With Reid coming back and playing for us, it just gives you that extra ten per cent of confidence that we need because he's played at the top level for a decade now in the Premier League. 
"Just to see him back is great as well. It's good because he's got all the experience and we can just learn from that.
"It's also nice when I can just pass it forwards and see Nathan [Holland], [Anthony] Scully, [Joe] Powelly and [Dan] Kempy go up there and cause havoc. It's great to see, and obviously that builds my confidence as a full-back because I know they're going to retain the ball, so it gives me time to bomb on as well."
The U23s' latest league victory rounded off a hugely successful first half of their Premier League 2 Division 2 season, with ten wins and a single draw from eleven games. That 2-2 draw came at the end of August, with second-placed Manchester United snatching a late equaliser to deny the Hammers a memorable win at Old Trafford.
Johnson hopes his side can further their unbeaten run in the league this season and is excited to see how the rest of the title race will play out.
"I really hope we can keep the run going. It's tough to go a season unbeaten, but I think that we are more than capable," he declared.
"Our main rivals for the league are Manchester United, but I think we should've really beaten them [in August]. I think it really is possible for us to keep the run going."
West Ham United U23s' next league fixture is away at Fulham's Motspur Park on Friday 6 December.