Manager Manuel Pellegrini spoke to the assembled media on Thursday afternoon about all things West Ham United ahead of this weekend's Premier League match against Tottenham Hotspur.
From rebuilding form in the Premier League, to recent developments at their North London opposition, and using the international break to our full advantage, read on for what the boss had to say…
 
Bouncing back in the Premier League
Of course, our recent run was very unexpected. We started the season, and we finished last season, very good. We've been playing well, but for different reasons that we must find why, we didn't continue playing in the same way and we didn't continue winning games. 
Especially against Crystal Palace and maybe Sheffield United at home, we maybe deserved better results, but for different reasons we couldn't win. Those points are maybe the points in this moment that we are missing. With five points more, maybe we are in sixth in the table. 
 
The Premier League this year is very tight. Within three points, you have eight teams. We must try to recover our performance as individual players and as a team. After that, I hope we can return to winning our home games.
 
The visit of Tottenham and their new manager
I think that Tottenham have a very good team with important players that make the difference. You cannot know what is happening if you are outside of Tottenham, but the results aren't what Tottenham have been used to having. 
Now they have another experienced manager in Jose Mourinho, who is always a manager who gives important things to his teams. Everyone has his options to play football in the way they want. 
I think the philosophy of Mauricio Pochettino is not the same as the philosophy of Mourinho, but he's only been in charge of the team for two days. I don't think that he will try to change everything, so probably we will see Tottenham playing a similar way, of course with some touches of what Mourinho thinks football is.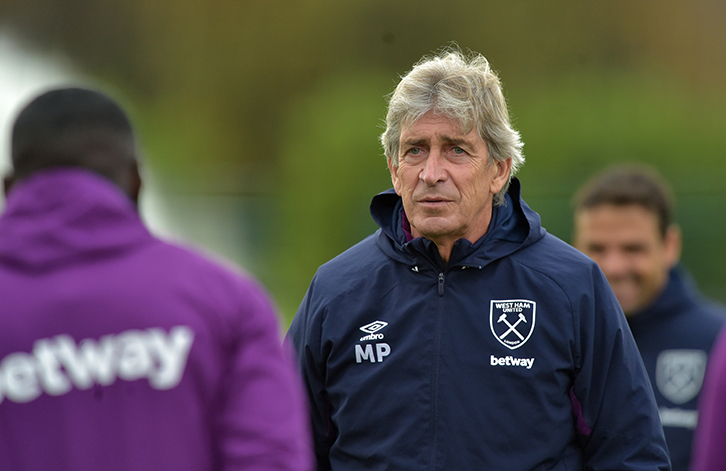 We've made the most of the international break
I trust a lot in the players because I know they have demonstrated a lot of times that they can do it against big teams. 
I think that this international break was good for us, maybe. We had time to talk about things with the players, so I hope that on Saturday, and especially in a derby game – we know that for our fans, it is the most important game of the season – we see the West Ham we saw at the beginning of the season.
I've always said that first you need a good individual performance as a player, and after that you have to have a good performance as a team. The only way to do it is to work on every ball together. When you don't have the ball, try to recover it with high pace. When you have the ball, try to play.
Now, there's another positive energy to try to return to those good results.
 
We work with an ambitious mentality
I think that with 33 years in this profession I know what football is. It was a challenge to come here, and it's a challenge that I want to win, to try to grow one step more with this Club. For me, we try to improve, playing in the way that I like to play football.
The pressure for me is to have a good team that plays good football in the way we have already demonstrated we can. Of course, Tottenham is a special game, but it's not the last game of the season. It's not for me enough to beat Tottenham and try to continue being in 12th, 14th or 15th position in the table – that's not my goal as manager. 
Now we have to play against Tottenham – a special game we'll try to win – but I will continue trying to involve all the club, and the players and myself, in a winning mentality, an ambitious mentality, and try to grow one step more a Club that has 60,000 fans behind it every game.