Lukasz Fabianski is hoping his support and advice will help West Ham United return to winning ways in Saturday's Premier League derby with Tottenham Hotspur.
The goalkeeper, who is currently working his way back to fitness following surgery to mend a torn muscle in his hip, told West Ham TV he has been sharing his experience with his teammates as they seek to end a frustrating six-match run without a victory in the Premier League.
"From my point of view, I would just like to continue to support them in any way possible and be there for them through the difficult times, making sure whatever I can do for them," the No1 confirmed. "I can just try to help them, have a chat about things and just make sure that we can come back in a strong way and turn things around and get some positive results in the next few weeks."
As the last line of defence, goalkeepers are acutely aware that they are under a more intense spotlight than their outfield counterparts; an error made by the man between the posts can directly lead to a goal for the opposition, often overshadowing the other, often impressive, work he has done during the same game.
And, as someone who had to deal with criticism and doubt during the early part of own career at Arsenal, before showing his quality to become one of the finest goalkeepers in the world, Fabianski has a unique understanding of the situation Roberto finds himself in at present.
Especially in a difficult time like now it's very important that we support the team and the group throughout the 90 minutes

Lukasz Fabianski
"Our position is a difficult one because you are always under the spotlight," he confirmed. "Especially when the team is struggling, they always try to look for someone and most of the time they look at the goalkeepers. In Roberto's case, I think he is really trying his best to help the team.
"As a teammate, I always be there if he wants to have a chat with me about things because I have also been through some difficult times in my life. There are times when you don't really want to talk to anyone, and you want to try to figure things out in your own way. There are times when you have good people around you and it's always important to listen to them.
"It's always tricky how to approach difficult times but I am sure he will be an important part of the team in the coming games."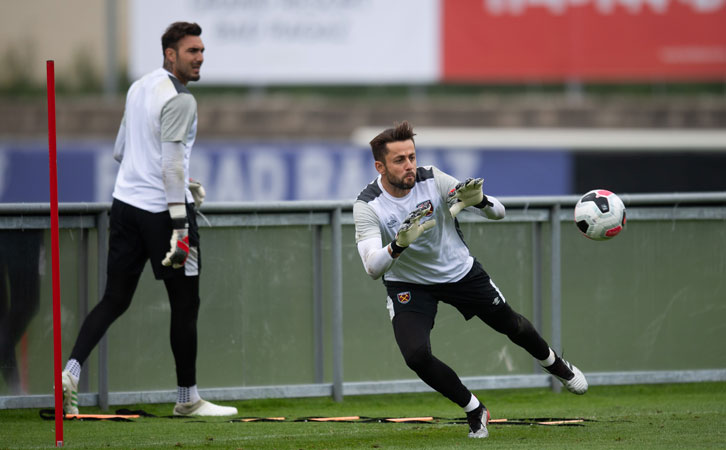 The first of those games comes this Saturday lunchtime, when Tottenham are the visitors to London Stadium for a match that will be played in an intense atmosphere, with both teams eager to win after indifferent periods.
With those circumstances in mind, Fabianski has encouraged the Claret and Blue Army to get behind the Hammers and roar them on to another victory over Jose Mourinho's men.
"My belief, when it comes to supporting and when it comes to fans, [is that we all need to be together]," said the No1. "I understand the frustration and things like that but, from the moment the referee blows the whistle until the last moment, I think, as a fan, as a supporter, as a teammate, we should be right there for them and to cheer them, support them and be right behind them and for the 90 minutes and help in some way by creating an atmosphere that can raise your game.
"That's what I hope to see from the supporters in the coming games. They have an important part to play as well.
"After the final whistle, of course they have the right to express their emotions about the result, positive or negative, and we have to accept that, but especially in a difficult time like now it's very important that we support the team and the group throughout the 90 minutes."
West Ham won six of their 12 London derbies in the Premier League last season, defeating every capital-based opponent they faced at least once, bar Chelsea.
And the popular goalkeeper firmly believes another derby-day win is just the tonic the Hammers need as they head into the busy Christmas and New Year period.
"Looking at last season, we were always able to get the results against those teams – Chelsea, Arsenal and Tottenham – so I think we have shown already in our recent history that we can do it," he observed.
"Hopefully that will be the turning point for us and we're going to pick up some more points, hopefully a few more wins, and that will put us back in a good place in the Premier League."