As you might expect, Lukasz Fabianski is fully focused on making sure his rehabilitation is a total success.
The Hammer of the Year is working his way back to fitness after undergoing a procedure to repair the hip muscle he tore in the Premier League fixture at AFC Bournemouth on 28 September.
Now six weeks post-surgery, the goalkeeper told West Ham TV he is ready to take the next step forward along the road to recovery, but he will understandably not put his long-term future at risk by rushing his return to action.
I'm feeling like the rehab is going in the right direction, in the right way

Lukasz Fabianski
"I'm all good," he said. "I'm feeling like the rehab is going in the right direction, in the right way. I think I'm getting better and I'm doing more things, so hopefully it will continue like that and it will be successful.
"I [have] started to move around a little bit more. When you do surgery on that kind of muscle, you have to be very careful, according to the specialist, for the first six weeks, and this was my fifth week. You have to feel like everything is in the proper way and not go crazy when you feel like you are able to do a little bit more.
"This week will be steady but then hopefully I will be able to kick on a bit more after that six weeks are up."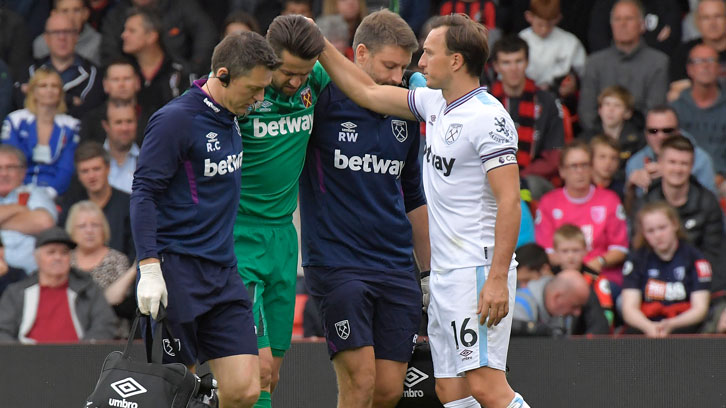 Fabianski's current injury is the first major setback he has faced in more than half-a-decade.
The Poland star has missed just three Premier League matches in the previous five seasons, impressing with his outstanding consistency, first for Swansea City and, since summer 2018, West Ham United.
The 34-year-old admitted it took some time for him to come to terms with his current injury, but he is now fully concentrated – mentally and physically – on getting himself in the best-possible shape to return to action.
"The first period was hard for me," he confirmed. "It was tricky for me to understand and accept, but then I think you just have to switch your focus to the actual process and rehab and focus on that and forget about playing football.
"You just have to make sure you're fully focused on just getting back to full fitness as quickly as you can, and that's what I've tried to do.
"The first period was difficult but after that I've taken a little step back away from football and all this crazy stuff and just focused on pure rehab."
While his work is going to plan, Fabianski is mature and experienced enough to know his own mind and body, and he will not put himself at risk of further injury by returning to the pitch before he is 100 per cent ready.
"The biggest mistake in my case would be to try to rush thing because there would be a big chance of it happening again so, with injuries like that, you have to be really careful about it," he explained. "I don't want to rush; I just want to take my time and make sure I come back in the right way, not only physically but from the goalkeeping point of view, which is important.
"Being away from playing games for such a long time always has a little effect so not only being fit but feeling the game is so important to be back. Once I feel like all those things are working in the right way, I'll be ready to be back out there."