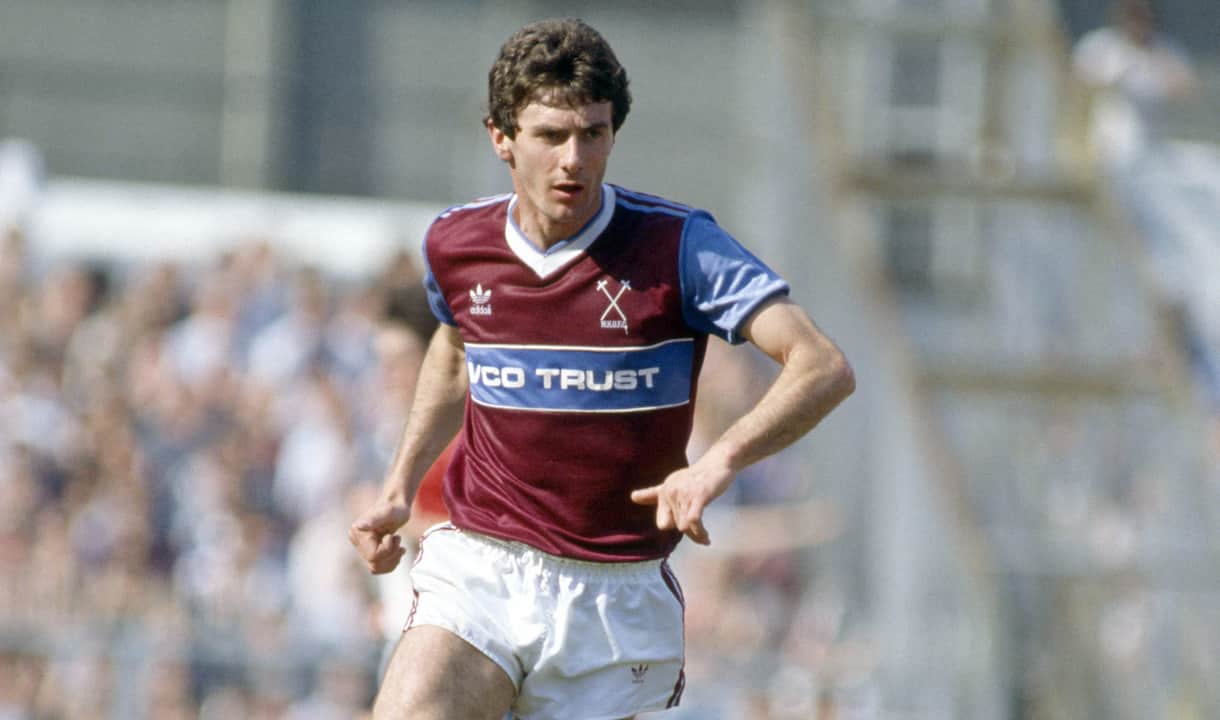 Ray Stewart became the most expensive teenager in British football when he joined West Ham United from Dundee United for a fee of £430,000 in August 1979.  The tough-tackling, dependable right-back became a Hammers hero almost instantly, playing a key role in the 1980 FA Cup-winning team under John Lyall. 
Considered by many to be the club's greatest-ever penalty taker, Ray was given the nickname 'Tonka' for his ferocious striking of the ball.  Ray clocked up a total of 432 appearances and won 10 caps for Scotland over the course of 11 years in the Claret and Blue, before departing in the summer of 1991. 
Now 60 and living back in his home city of Perth, the Hammers legend was recently at London Stadium as one of our Club London Matchday Ambassadors sharing anecdotes and memories with our Club London members… 
It's always a great feeling to come back down to West Ham
It's harder now that I am back living up in Scotland, but I try and get to at least a few games a season. I've said it many times before, I'll never ever forget how I was welcomed into this club by everyone when I moved down from Scotland as a 19-year-old – that will stay with me forever. I feel it as soon as I walk back into the area and bump into a fan who says 'Hello Tonka, how are you mate?' It's a special feeling and it means a lot to me.
Being a Matchday Ambassador now allows me to see how much the club has grown
Spending time in the Club London lounges gives you the opportunity to talk to people of all ages, from all backgrounds, to hear their stories and find out about their love for West Ham or football in general. It's scary sometimes, I'm talking to lads and lasses who don't remember seeing me play, but their mums and dads do, and we always have a good laugh about that. I really enjoyed the day and felt the atmosphere around the place was far more positive in general. Obviously when the team lose or play badly no one is happy, but I think there is more familiarity and comfort with the stadium now, and people can see that everyone at the club is trying their hardest to do their best and move things in the right direction.
I love the couple of hours in the build-up to kick-off
The one thing that will never change in football is the excitement you feel before a match – whether you are a player or a supporter. No matter how the team are doing or if results haven't been great recently, there is still a natural optimism before a match, because you always have hope that it will be your day. Walking around the lounges in the lead up to kick-off is a great feeling, chatting to people, discussing the line-ups, sharing memories or stories from years ago – there is just a great sense of togetherness, and it's brilliant to see people enjoying a meal or a drink together, smiling and looking forward to the game – that's what football is all about.
My connection to the club will never fade
My playing career here has ensured that hopefully I will be remembered, and that means a lot. If I bring my kids with me, it's nice that they can see that their dad played a good few games for the club and earned a bit of praise and respect for being a loyal, committed player. I was really touched recently to learn that the club had honoured me with a commemorative stone in the Champions Place area outside the stadium. Those kind of things always make you feel special, it's human nature to feel happy that people remember you and say nice things about you.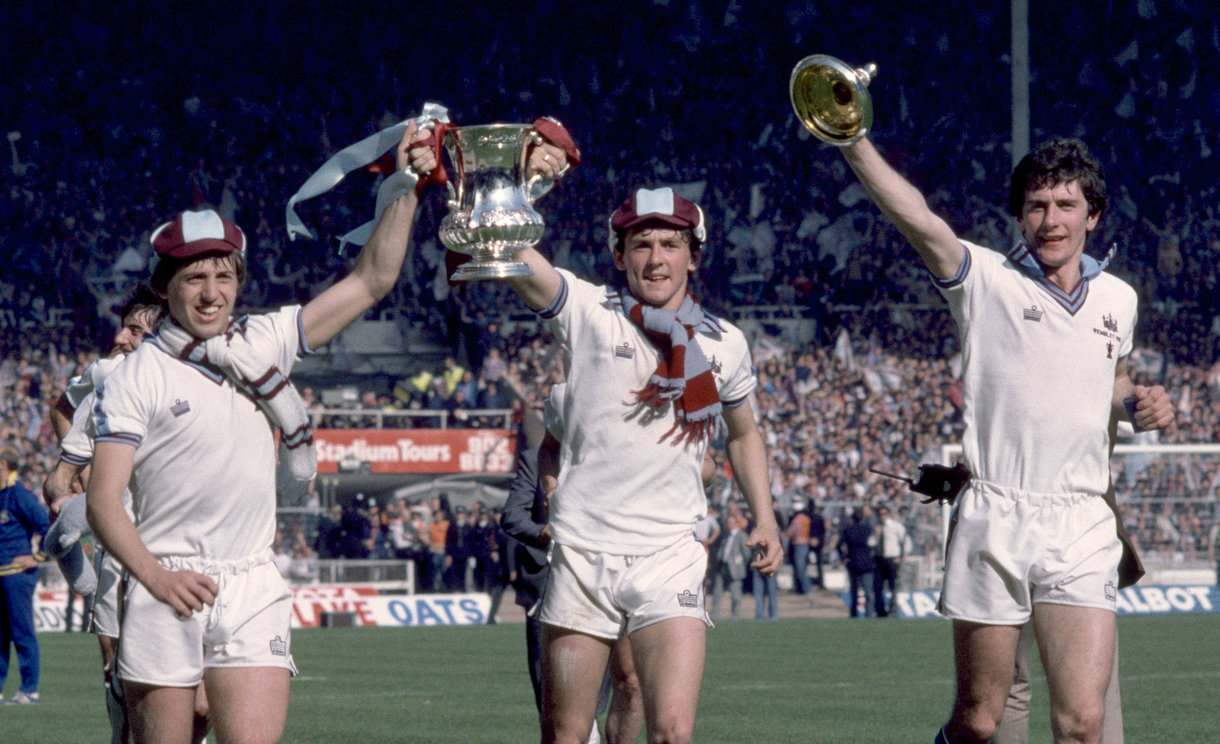 Nothing would give me greater pleasure than seeing West Ham win the FA Cup this season
It's 40 years since the club last won the trophy, which is far too long. Obviously it is nice that people talk about the 1980 team with such fondness - I still get emotional talking about it now, remembering the day and the feelings I had. But every record is there to be broken and I genuinely hope it happens soon. The game is about glory, and unfortunately for the majority of teams nowadays, winning the League is out of reach, so the domestic cups become your only realistic chance of success. I honestly think it's the one thing that would help West Ham more than anything in this period. For our supporters to experience a day at Wembley, hopefully win some silverware and then enjoy everything that follows. Because it creates a feel-good factor around a club that lasts for a long time and - if you capitalise in the right way – can lead to further success, as it did for us in the early 80s.
Whenever I'm asked what the most special thing is about West Ham my answer is the same
The people. I always say the Cockneys of east London took me into their hearts when I joined the club and made me one of them – or a 'Jockney' as some people called it! I made lifelong friends and still have a special relationship with the supporters. The fans are the one constant at any football club and especially at West Ham, where they are fiercely loyal. We have 60,000 people at every home game, which proves how big a club we are, but that brings pressure. The team have been going through a tough spell recently, but when that happens you have to stick together. People come up to me and say: 'Ray, it was never like this in your day…' but I have to correct them and say: 'Actually, it was'. We had our fair share of bad times, relegation, fans being unhappy – but our biggest strength was always our ability to show character and togetherness to get through tough periods. We need to find those qualities again now, because there is so much potential for this club to be successful.
Upgrade your matchday in Club London
You, too, can meet a Hammers legend every match in Club London at London Stadium and hear how they helped create our Club's proud history. For the ultimate matchday experience – including fine dining options, free half-time drink and VIP padded seat - book hospitality for our upcoming matches by calling Club London on 0333 242 9626