Growing up in the Essex town of Basildon, Steve Jones always dreamed of becoming a professional footballer.
However, by his early twenties, it appeared that dream would never come true, as he combined his time playing non-league football with his job milling soap for Yardley of London.
Jones kicked off his career with local Isthmian League club Basildon United before joining Billericay Town in the summer of 1991.
The striker's goals helped the Blues gain promotion and earned him a trial with West Ham United – albeit an initially unsuccessful one.
When the Hammers sent an eleven to take on Billericay in August 1992, Jones was in the home team and determined to take his second chance to impress. He did that, and some, scoring all five goals as the Essex side ran out 5-3 winners.
Manager Billy Bonds and assistant Harry Redknapp, who had reportedly tried to sign Jones for AFC Bournemouth, kept tabs on the then-22-year-old, and eventually signed him for a £22,500 fee in November 1992.
Jones' first spell in east London was a moderate success, returning five goals in 20 appearances, promotion to the Premier League… and a goal in a 4-1 thrashing of Tottenham Hotspur at White Hart Lane in April 1994.
I had one touch and then just turned and hit it, and it flew in off the bottom right-hand post, past Ian Walker. A great moment!

Steve Jones
"It was one of my better days!" he smiled. "It was an Easter Monday and funnily enough I was a sub that day! Peter Butler got injured and I came on in about the 20th minute.
"To be honest with you, on the day, we should have probably won by eight or nine, we absolutely tore them to shreds. It was an unbelievable performance. Bish (Ian Bishop) was pulling strings all over the shop, Trevor [Morley] was on fire up front as well, and Mike Marsh was playing in there. It was a really, really good performance and a great day."
Jones' big moment came on 38 minutes, when he collected a pass from Bishop and slammed it into the net, before celebrating with a knee-slide in front of the Claret and Blue Army.
"I think Bish broke from a corner and ran with it and kept going, and I tried to go in behind down the side," he recalled. "He's slipped me in, I had one touch and then just turned and hit it, and it flew in off the bottom right-hand post, past Ian Walker. A great moment!
"And it was at the West Ham end with the fans, so it was quality – a great day."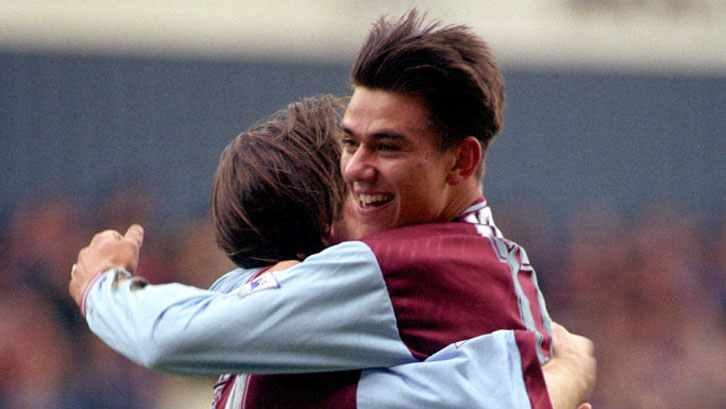 Twenty-five years on, Jones is still reminded of his goal against Tottenham every time he bumps into Hammers supporters.
"It's quite funny really, I think social media has made players from that day more famous than they were when they were playing!" he smiled. "Obviously there's Twitter, there's Instagram, there's Facebook – social media's flying and you do become more famous as you get older because of that!"
Jones will undoubtedly share his story again this Saturday, when he fills his role as a matchday ambassador at London Stadium.
Two-and-a-half decades after silencing Spurs, the 47-year-old is hoping to see his modern-day counterparts – none of whom have worked in a soap factory – do likewise.
"It seems West Ham against Spurs is always a big game," he confirmed. "It's always a big thing and to go there and beat them so convincingly on their own pitch… I remember the game and with 60 minutes gone, I think all their crowd were leaving and West Ham fans were doing the conga around the ground! The atmosphere was unbelievable.
"It's a special game for West Ham fans, definitely."