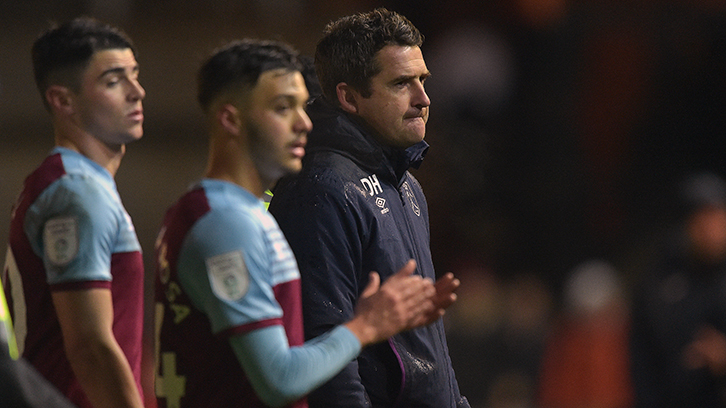 Speaking after West Ham United U21s bowed out of the Leasing.com Trophy on Wednesday night, Lead Coach Dmitri Halajko reflected on the lessons learned from his side's experiences in the competition this season. 
The young Hammers went into their final group stage fixture against Exeter City knowing a draw after 90 minutes would be sufficient to see them join their hosts in the knockout stages.
They got off to a slow start at St James Park, however, and were made to pay when Joel Randall latched onto a long ball to fire the home side in front inside ten minutes.
While the Hammers would claw themselves back into the contest nine minutes later, Harrison Ashby winning a penalty which was coolly converted by captain Joe Powell, they struggled to match their more-experienced opponents for much of the game, and ultimately went down to two late goals from Jordan Tillson and Randall.
"It was a really tough one for us, a really tough game," Halajko said. "We struggled to get going, while they dominated the game in most areas and deserved the win. 
"Result-wise and performance-wise it wasn't great for us, but we did have, hopefully, some great learning opportunities. We had around five players play at this level for the first time, players who have never featured in this competition before, so we should get a lot of development from it, and a lot of lessons to go and improve with."
 
It's been a great competition for us, it's fantastic. We learn more in one game like that than we do sometimes in four league games. 

Dmitri Halajko

The Hammers struggled to find their usual rhythm for large portions of the game, a rare occurrence in a campaign which has thus far seen them go unbeaten in topping Premier League 2 Division 2.
"I think we've got to improve on a couple of things," Halajko reflected. "Their intensity was better than ours today, and that doesn't normally happen – normally we're the team who have the better intensity and the better press, so that was one thing we were down on today. 
"Our passing wasn't as crisp today as it normally is, and when we did get our openings, which were few and far between, our quality let us down. Those were areas which, in previous weeks this season, have been strong for us, but they weren't there today, while Exeter performed well in them."
As for the Leasing.com Trophy as a whole, Halajko believes his players, in the long-term, will feel the benefits of their trips to League Two sides Newport, Cheltenham and Exeter.
"It's been a great competition for us - it's fantastic," he explained. "We learn more in one game like that than we do sometimes in four league games. 
"You can get more out of one or two games like that because there's a crowd there, you're playing against professional players, and it's got more of an edge to it, so the experience you get from those games is so valuable for our development."
West Ham United U23s return to league action at 7pm on Friday 22 November when they host Aston Villa at the Chigwell Construction Stadium.