Having scored the winning goal for West Ham United women's team against Reading FC on Sunday, Alisha Lehmann knew that West Ham TV would be looking for a quote after the game.
What she perhaps didn't expect was that the interviewer would be none other than teammate and close friend Julia Simic!
Having travelled to watch Hammers win at the Madejski Stadium this weekend, Simic posed the difficult questions to Lehmann in the tunnel following the FA Women's Continental League Cup clash. 
I think we played well and we had some good chances as well. I'm happy with the game.

Alisha Lehmann
"It was nice to score against Reading today," Lehmann told her German teammate. "I've had a long injury and it's hard to come back, so it's a good feeling to score for myself and the team as well. I think we played well, and we had some good chances as well. I'm happy with the game."
Simic then asked Lehmann if Reading were her favourite team to play against. It was a fair question. The Swiss international has scored four times in three matches against the Royals, with three of those goals coming at the Madejski Stadium and the other in the FA Cup semi-final in April. 
"I don't know, you know!" Lehmann laughed. "But I like to play at this stadium. It's a big stadium and the pitch is really good, so I like to play against Reading, yeah."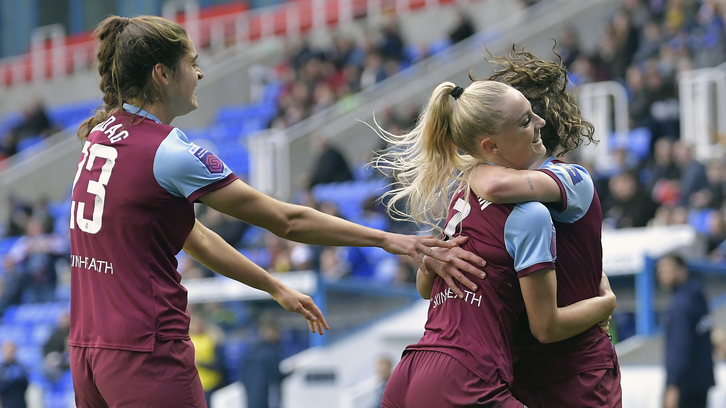 The last question from Simic was on the team performance, with Lehmann praising Kate Longhurst for her efforts in the side. 
The usual midfielder slotted into a three-woman back-line on Sunday, and Lehmann was impressed with how the stand-in captain performed. 
She added: "I'm very happy with the team performance. We showed that we can play football and we played good stuff on the pitch. 
"Kate Longhurst, our captain today, was excellent. She can be our new centre-back! El Capitano for West Ham United women! I would say she was excellent you know. For me, she was the best player on the pitch."