When opportunity knocks, be ready.
That is a mantra exemplified by West Ham United's highly experienced goalkeeper Roberto Jimenez Gago, the Irons' summer signing who can boast six titles and more than 300 senior matches in Spain, Portugal and Greece on his CV.
While the 33-year-old Spaniard did not feature in the Hammers' first six Premier League games of the season, he did make his first appearances in Claret and Blue in two Carabao Cup ties, before an injury to Lukasz Fabianski at Bournemouth thrust Roberto into the spotlight.
"The most important thing is always to be ready," he smiles. "Even more so for us goalkeepers!
"You never know what's going to happen and you have to react very fast, so I tried, before Lukasz's injury, to keep myself ready. It was good to be playing Carabao Cup games a couple of weeks before my first appearance in the Premier League.
"Then, in this last month, I think I've adapted myself very well to the competition. It's something that's easier to when you play games in a row. I'm enjoying it a lot, in truth."
The most important thing is always to be ready. Even more so for us goalkeepers!

Roberto
The Hammers' No13 has proven an impressive presence between the posts, making several crucial reaction saves to help the Hammers pick up points against Bournemouth and Sheffield United.
As the Irons' league form has tailed off in recent weeks, however, now seems the ideal moment to apply every ounce of the experience within the Hammers' squad – and Roberto's winning mentality perfectly reflects this.
"These are the moments you need to keep calm," the goalkeeper said. "Our manager is a calm person, and that's something that transmits to the squad.
"Of course, it's also the time to turn games into wins, but if you panic about the situation, you will only play worse. I think it is a moment in which we need to change our form, but we're also in a calm moment right now.
"The league season is very long – 38 games. Every team goes through good moments, victories in a row, losses… you don't know why these changes happen, but the truth is it happens to everyone, so it's important to keep calm and work as you normally do during the good times.
"We have played with tough teams so far - difficult games both home and away. We've made our mistakes of course, where otherwise we could've won, but I think we just need another win to bring back a good feeling here."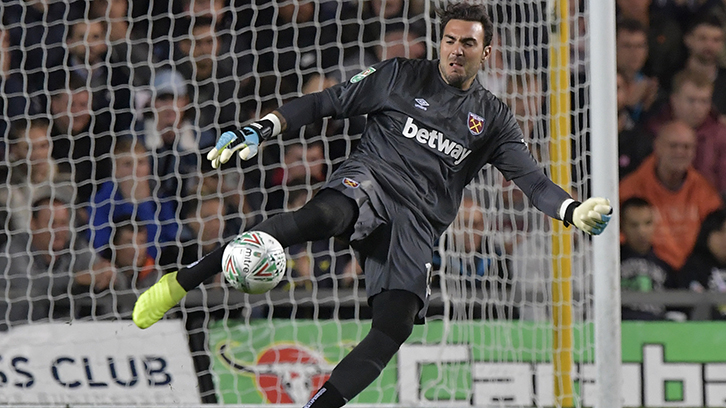 Roberto's acclimatisation to the Premier League might have been a sudden one, but the experienced goalkeeper is relishing the opportunity to play in the prestigious competition, and play a part in the fast-paced football the competition is renowned for.
"It's my fourth league and my fourth country, and of course the Premier League is the best league I've played in," he said.
"The challenge is bigger in the Premier League because teams don't stop attacking – ever! In Spain, modern football is moving more towards having a lot of possession and choosing when to attack the box. 
"Here, for goalkeepers, you have more chances to make saves and the pace of the games is higher. Goalkeepers enjoy being involved in the game – sometimes it can be very difficult to concentrate when you don't touch the ball in 90 minutes. That's why I'm enjoying it a lot in the Premier League."
The goalkeeper's illustrious career began with Roberto's graduation through the Atletico Madrid youth academy, and has also incorporated spells across Europe at Gimnastic, Recreativo, Zaragoza, Benfica, Olympiakos, Malaga and Espanyol.
Despite his considerable experience, however, the current level of competition within his newly-adopted domestic league is unlike anything the shot-stopper has encountered before.
He said: "I think this is maybe the difference with other leagues. The Premier League is very tight, and this doesn't happen very often in other countries. 
"It shows the level of the league. That's why it's the best league in the world: every team has a very complete squad. Regardless of whoever plays, everyone can give a very good performance. I think it keeps the emotion in each game until the very end, and that's why everyone enjoys football here in England so much."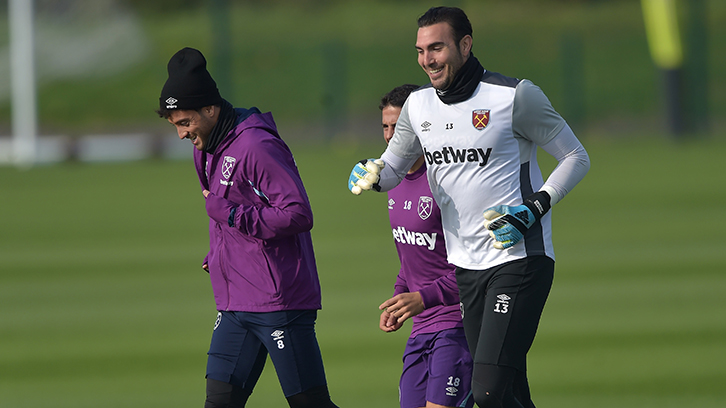 As for his current manager, Roberto has little to say but words of praise for Manuel Pellegrini – who in turn has reiterated in recent weeks his delight at having a custodian with such a fine career behind him available in his squad.
"That's something that helps you a lot," the goalkeeper says of his manager's words. "We all know that mentally things are really important in football, even more so as a goalkeeper.
"To feel the confidence of the people who are around you, like the manager, is very important for me and all the players. It's very important for our performance. I'm grateful of this and it's something that helps me to play well.
"We all know him [Pellegrini], and he has had a great career at every team he has been at. We haven't worked together in the past, but I know he knows me very well. Working with him now is something that I will remember fondly in my career."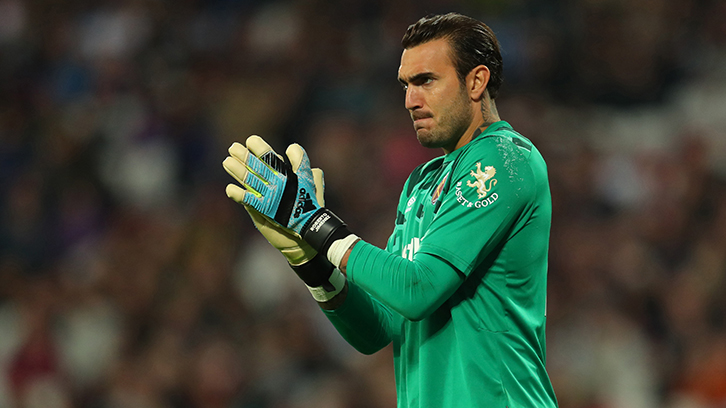 Roberto is in line to make his fifth competitive appearance of the season on Saturday afternoon, when Newcastle United will be the visitors to London Stadium.
West Ham will be looking to get back to winning ways against the Magpies, having struggled for form in recent Premier League matches ever since a 2-0 victory over Manchester United.
Roberto is anticipating another tough test against Steve Bruce's side on Saturday afternoon, but is in jovial mood when he discovers that manager Manuel Pellegrini has yet to lose a Premier League match against Newcastle in his managerial career.
"That puts a lot of pressure on us!" he joked. "But we'll try to keep this statistic the same!"
Composure personified, the goalkeeper expresses his belief that if the Hammers can just focus on raising their own performance levels this weekend, they'll be in a good position to record three valuable points.
"We expect to face a very tough team,' he observed. "Newcastle are strong, very good defensively, and very powerful when they go to attack. 
"The main thing for us, though, is to prepare our team well, and to try to play at our best level. That is the most important thing for the arrival of Newcastle in this moment, and if we do, it could be a good chance for us."
When opportunity knocks, Roberto knows to be ready.