Andy Carroll has bid an emotional farewell to West Ham United as his seven-year spell in Claret and Blue draws to a close.
The No9, who will depart when his contract expires on 30 June, has experienced every emotion in Claret and Blue on the pitch, from the highs of scoring hat-tricks, vital goals and the sensational final season at the Boleyn Ground to the lows of devastating injuries and disappointing defeats.
Off the pitch, Carroll's time in east London has seen him make friends for life and even meet his fiancée and the mother of his sons Arlo and Wolf Nine, lifelong West Ham fan Billi.
Through everything, Carroll has remained committed, positive and determined to do his very best for the Club and its supporters. Typical of the man, the forward sat down to share his feelings with West Ham TV as he prepares to call time on his Hammers career.
I just want to say thanks to everyone, to the club, to the fans, all the managers we've had here. The lads especially, it's been great, and it is actually like a family

Andy Carroll
"It's been up and down, but there have been a lot of positives," he reflected. "I've grown as a person. I came as a young kid and two things that have come out of it really, both relationships, first with the team and players, and secondly with my partner. I met her down here and we have two unbelievable kids.
"Obviously the West Ham fans have been great and it's very similar to a family relationship. Some days they like you and some days they loathe you, but deep down you know they love you, so it's kind of the same!
"I'm just disappointed at the way it has ended. It's been tough, a roller-coaster for the last seven years, up and down, a lot of injuries which couldn't be helped for one reason or another, but I've enjoyed my time at West Ham.
"It's just been tough with the injuries, not only for me, but for the players I've played with, the managers and the fans."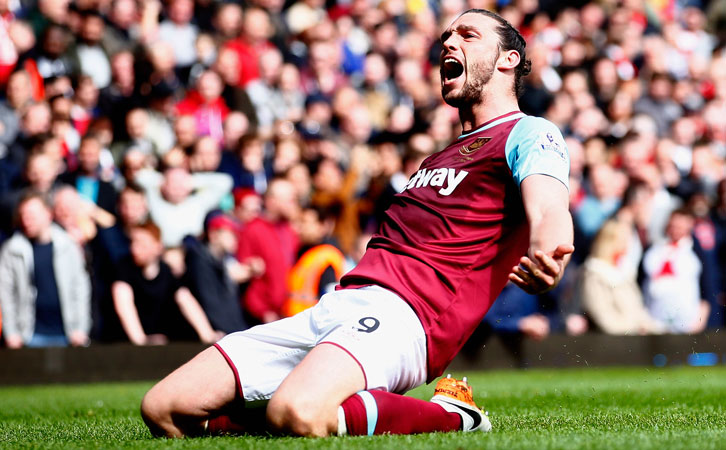 Carroll arrived from Liverpool in 2012 as one of English football's most-feared forwards and his outstanding form during his initial loan spell led to chants of 'We want you to stay' during the final-day 4-2 Premier League win over Reading at the Boleyn Ground in May 2013.
A permanent £15 million move was completed two days later, only for injuries to restrict the 'Big Man' to just 32 appearances over the next two seasons.
Carroll worked hard to return to fitness, though, and was an important member of Slaven Bilic's record-breaking squad during the Farewell Boleyn campaign, scoring nine times, including an unforgettable hat-trick against Arsenal and memorable winners against Chelsea, Southampton and Liverpool.
On moving to London Stadium, Carroll scored twice in the official opening fixture against Italian giants Juventus, before netting a sensational bicycle kick in a Premier League win over Crystal Palace in January 2017.
Since then, the 30-year-old has endured a succession of frustrating injury setbacks, but the engaging smile and entertaining banter that have made him such a popular figure at Rush Green have never left him.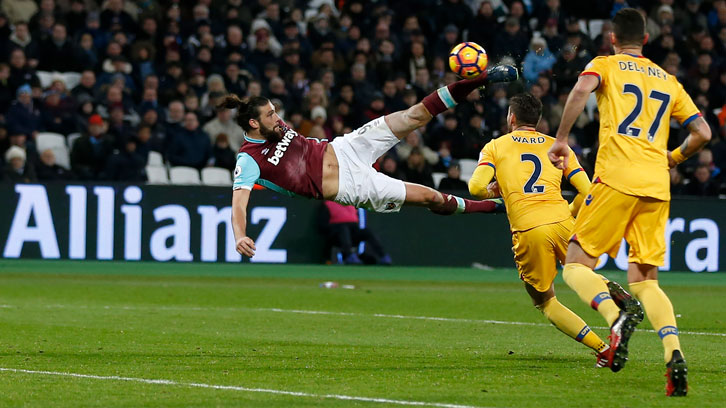 "I've had some great moments, goals… and Christmas parties!" he grinned. "There have been lots of highlights, on and off the pitch!
"My first season [on loan] was fantastic. The last game of the season [against Reading], when we won, and the fans were chanting my name to stay. Unbelievable.
"The night against Manchester United, last game at the stadium. Those nights you can't forget; unbelievable feeling; great to be a part of.
"Even Nobes' testimonial was a massive event. There were so many moments; my goal against Crystal Palace; the opening day at the new stadium; overall it's been great and I've really enjoyed it. I've scored goals – I wish I'd scored more goals, I wish I'd played more games, but that's how it goes."
Carroll has always enjoyed great support from his teammates and coaching staff, who understand the nature of football and how injuries can happen to anyone at any time.
The same can be said of the vast majority of supporters but some, particularly on social media, have chosen to kick the striker while he has been down, but they will never break him.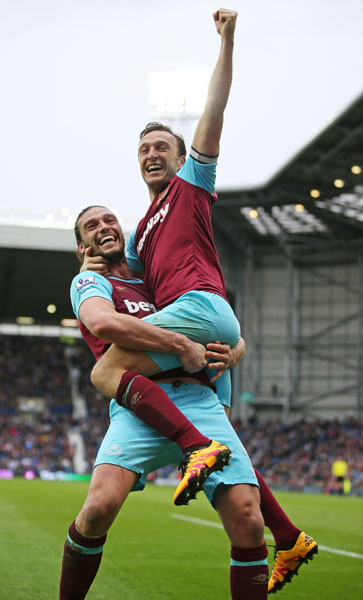 "The lads have been a massive help," he confirmed. "I've been here seven years with Nobes, and Winston [Reid], the three of us have been here the longest, and it does become like a family.
"The lads who come in fit straight into that. We have got a tight-knit team, and a good glue to the squad. Any lads coming in can feel that, and I've been a part of it for seven years, which has been great.
"[Being injured] is tough, physically and mentally, and when people say what they say it's even harder. To try and get it out there that this isn't what I want. I don't want to be injured. I've had a strong character. It doesn't get easier, you just get used to it.
"When I'm on the pitch, I think you see a completely different side to me. I love being on the pitch, running around, giving it my all, 100 per cent, but sometimes it might be a little bit too much and I get myself in positions where it causes these injuries, but that's just how I play and I can't really help that.
"I've been like the pantomime villain sometimes, with the home fans and the away fans. They'll chant your name, then give you stick for being injured – it's mixed all over the place! – but, as I said, deep down I know that the majority of them do like me and enjoyed watching me play."
Carroll will start a new adventure now, but he will always retain links to West Ham, most notably through his family, with son Arlo following in the footsteps of his Hammers-supporting mother Billi.
"He bangs on all the time about West Ham, which players he likes…" Carroll smiles. "He understands now, even though he is only three, that I won't be here next season, and he wants me to sign for [Manchester] City so I've got some work to do!
"Billi has had the West Ham connections all her life, and I've played down here for seven years, so the kids growing up as Hammers fans is great.
"I just want to say thanks to everyone, to the club, to the fans, all the managers we've had here. The lads especially, it's been great, and it is actually like a family."