Quickly Kevin… podcaster and West Ham TV presenter Chris Scull pays tribute to the Hammers' dancing king Michail Antonio…
Alan Shearer had the one armed run. Fabrizio Ravenelli would pull his shirt over his head while gesticulating wildly. Both Paolo Di Canio and Carlton Cole favoured the classic, nonchalant finger-wag. And what does Michail Antonio have? He has the most impressive collection of dances this side of Anton DuBeke, that's what. 
It's often said that the current Premier League era has fostered Ivan Drago-esque sporting personalities; devoid of emotion, null of banter and with all the charisma of a stern rock. 
Yet here is the evidence to the contrary; our free-wheeling, laughing, Spurs-defeating, mercurial striker, winger and emergency right-back Michail Antonio.
Of course, it was inevitable that we would win last week and claim the first-away-team-to-win-at-New-White-Hart-Lane trophy; just nipping Ajax to the post by a matter of days. All the signs were there; with a mid-table finish secured, our away form looking iffy, a London derby, the chance for a place in the history books – all guaranteed signs of an against-the-odds West Ham victory. 
Almost immediately after the dust settled on that magnificent away performance, attention rightly turned to Michail's latest incredible dance moves.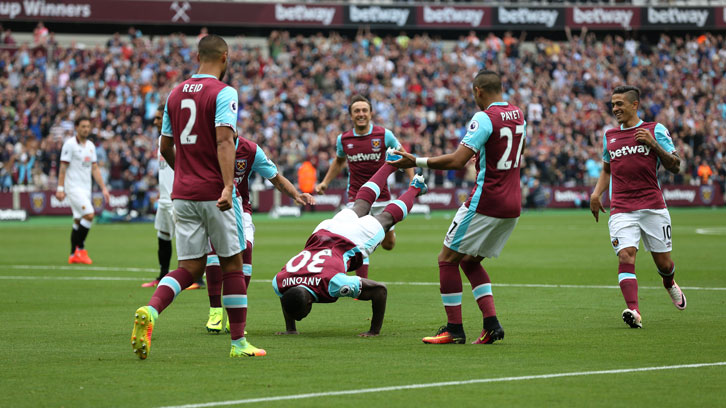 'The Spurs Dance' (as it'll surely become known), was inspired by an Instagram dancer by the name of Dan Rue.
But let's have a look at some of the other marvellous celebrations we've seen. Kicking it all off was the, on reflection, relatively route-one 'Running Man' he pulled out after scoring at Anfield against Liverpool.
There was the 'Homer Simpson' in the home game against Sunderland and the 'Will Smith' dance against Manchester United in the final season at Upton Park, then the 'Macarena' against Watford in our first campaign here at the London Stadium.
Against Fulham, we saw Michail recreate a scene from 'Ali G In Da House'; in which our protagonist (Surrey's last remaining junglist MC) evades a series of lasers with a few choice robotic manoeuvres.
We've seen some WWE inspired moves, too, with Michail busting out 'The Worm'; as popularised by former tag team champion 'Scotty Too Hotty'.
In the FA Cup against Liverpool, we saw Michail deploy the 'Carlton Banks' from The Fresh Prince of Bel-Air; a scene made famous on account of the comedy character's frenetic hip-swaying to Tom Jones big tune 'It's Not Unusual'.
More recently against Leicester we had a double cause for celebration: first the unveiling of our wonderful claret carpet.
And secondly, that same carpet being celebrated by Michail after he opened the scoring; with our No30 dropping down to surface level to adoringly stroke our newly-installed pitchside textiles.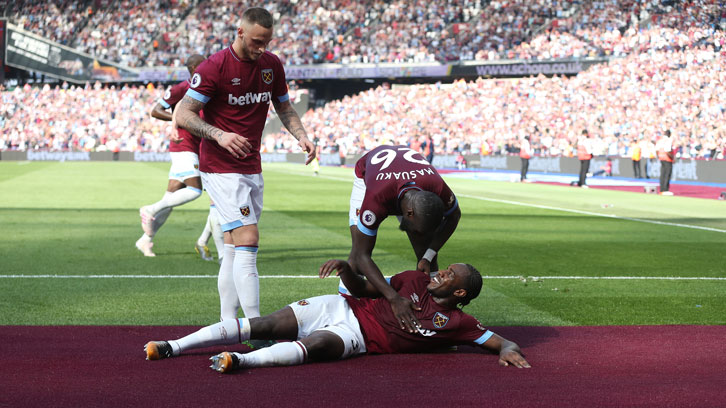 So, what now for Antonio? He's got a whole summer ahead of him to delve into popular culture and unlock some new inspiration.
He's surely got a difficult second album of bits ahead of him. If I were to predict the unpredictable; the only road now surely is more collaboration and more elaboration.
I want to see the corner flag used as a limbo pole by the whole team. I want to see the players line up for an impromptu team photo, as has become popular in the NFL after scoring a touchdown.
Perhaps he could go back to WWE-led inspiration and have Antonio drop the people's elbow on Declan Rice? Or perhaps not, as we don't want Dec getting injured, do we…