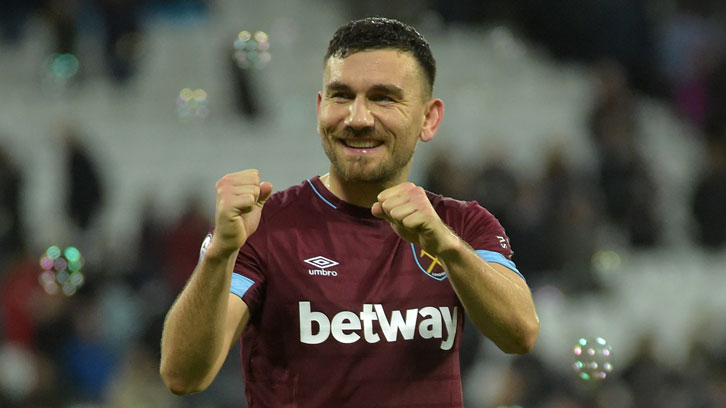 Scotland midfielder Robert Snodgrass enjoyed a strong comeback season with West Ham United after returning from a successful season-long loan spell with Championship club Aston Villa, playing regularly and winning The Players' Project Award for his outstanding work in the local community.
2018/19 Statistics
Appearances: 38
Minutes played: 2,565
Goals: 4
Assists: 9
Did you know?
Robert Snodgrass registered more assists than any other West Ham United player in 2018/19, with five in the Premier League and four in the EFL Cup.
​
2018/19 in his own words…
Sum up the 2018/19 season in three words!
A lot better!
What was your favourite memory of the campaign?
I would say the game where we beat Spurs. I know a lot of people will say that because it was Tottenham and it was the first time a team had won at their new stadium, but collectively, as a team, it showed the level we can reach. We finished the season off really strongly and the fans needed it and we needed it as a squad. That game and performance gives us a reference point for the start of next season and showed us what we need to do to get results against the big boys.
What was your best personal moment?
Scoring against Crystal Palace at London Stadium was a good moment for me personally and collectively as we went on to win the game too.
Who was your Hammer of the Year?
Mine was Lukasz Fabianski. I think he was probably one of the best signings the club has made for years. The way he has come in, he's the only 'keeper I think I've ever known or seen who doesn't have a crazy streak to him! He is so calm, yet he produces amazing saves.
Declan Rice was really close behind him and also had a really exceptional season, but I just think, for his consistency and making big saves at big times, I've got to give it to Lukasz.
Who scored our Goal of the Season?
Ryan Fredericks' goal against Macclesfield. I know it was in the EFL Cup against lower opposition, but that was an unbelievable finish. There were a few good ones, but that was my personal favourite.
Who was the best player in the Premier League this season?
(Thinks long and hard) For me, Virgil van Dijk. I don't like giving it to defensive players, as I prefer attackers, but I've got to give it to him!