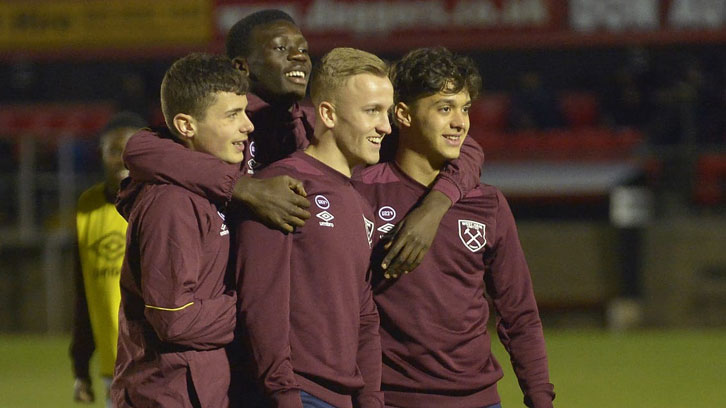 Football is all about emotions, ups and downs, experiences – and Reece Hannam has had plenty of all three throughout the 2018/19 season.
From making his first appearance against a senior outfit in the Checkatrade Trophy to sitting out large chunks of the season through injury, the left-back has certainly had his fair share of highs and lows this campaign.
"When you look back at the season from a personal point of view, it puts it in perspective; how much can change in football so quickly," he says, casting his mind back over the last ten months.
Hannam did not, perhaps, make as many appearances as he would have hoped this season, given his injury problems, however he feels there was plenty he gained when he was on the pitch in a Claret and Blue shirt.
"The games that I played for the U23s this season have been a great learning curve for me," he explains. "I played in the Checkatrade Trophy [away at Exeter City] and that was a great experience for me.
"I came on as a sub but I was playing against senior players who wanted to progress in the tournament. It was a tough night as we lost 2-0 but I took a lot from that game.
"The other U23 matches too, they have been playing some of the best teams and young players in the country at that level.
"Obviously it's been tough because the season ultimately ended in relegation, but hopefully next season we can push for promotion again and I want to be a part of that as regularly as I can be.
"That's got to be the aim for me during the summer and the start of next year; to return fit and healthy and fired up and ready to go again."
Hopefully next season we can push for promotion again and I want to be a part of that as regularly as I can be

Reece Hannam
Off the pitch, things have been tough for the 18-year-old but he thinks the game is in the best possible place at the moment in terms of helping players – young and old – deal with the stress and frustration of injury.
"[Mental health] is more of a topic in football now which is a really good thing," he says. "People want to talk about it rather than shut themselves out. Players need to speak more about it still, though.
"It gets you down when you're injured, definitely, and it's a side of the game that people don't think too much about if you're healthy and fit.
"Having someone at the Club and within the Academy like Lori [Hedman-Nice, Player Care & Elite Performance Psychology Coach] really helps and she helps us, and me this season, through those tough periods.
"The best motivation possible is just to try and as hard as you can keep a positive frame of mind and work hard in the gym and areas the injury isn't affecting you and be in the best shape for when you return."
Wise words, indeed, which the full-back will hope prove prophetic.