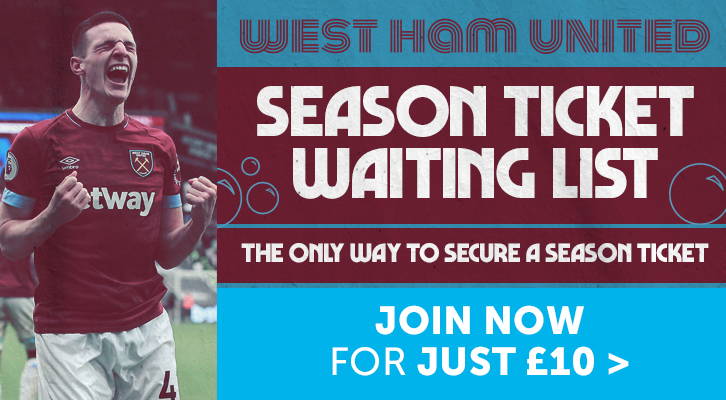 Don't miss out on huge West Ham moments. Put yourself in the best position to watch the Hammers live every week by joining the Season Ticket Waiting List.
It costs just £10 to join, which will be redeemable against your future Season Ticket purchase.
Join today by clicking here or call us on 0333 030 1966!
With 31 home points to their name, Manuel Pellegrini's men have enjoyed their best London Stadium season to date - including the memorable home victories over Manchester United and Arsenal - and they will be looking to make sure there is more to come next year.
Joining the Waiting List is the only way to secure a Season Ticket – Season Tickets have sold out for last three seasons, including the additional allocation which became available as part of the stadium capacity increase to 60,000 in January, which were immediately snapped up by supporters on the Waiting List.
2019/20 renewals are at a record level to date, with existing Season Ticket Holders having until Friday 31 May to renew. After this date, supporters on the Waiting List will have the opportunity to secure a Season Ticket, in order of when they joined.
With Season Tickets starting at just £320 adults and £99 kids, there are a whole host of benefits to owning yours. With a Season Ticket you make huge savings compared to purchasing match-by-match - adults can save over £400 and kids over £500.
You'll also have exclusive discounts on official merchandise and priority on home cup and away fixtures.
Join the Waiting List now for just £10, and the sooner you join, the better your priority!