Ronnie Boyce could hardly contain his pride and emotion after being made the recipient of West Ham United's Lifetime Achievement Award, sponsored by BARS Ltd.
The Hammers legend, who scored the winning goal in the 1964 FA Cup final, was part of the European Cup Winners' Cup-winning team the following year, and later became a key member of John Lyall's coaching staff, was honoured at Wednesday's Player Awards at The Intercontinental London – The O2.
After receiving a glowing tribute from his long-time friend and former teammate Sir Geoff Hurst, Boyce himself took to the stage, thanking the Claret and Blue Army for their unwavering support, before sharing his cherished memories with West Ham TV.
I spent quite a few years at West Ham and loved every minute of it

Ronnie Boyce
"I spent quite a few years at West Ham and loved every minute of it, through the good and bad times, and when you get older the good times stay with you a lot more," he told hundreds of fellow Hammers.
"In that period of time, the most constant thing about it was your support, which stood out. In my time, and ever since, it's been great.
"I didn't see a lot of games this season but, honestly, I think the way the Club is going is on the up and I personally feel a cup win might come along in the next two or three years.
"And finally, I was born in West Ham, lived most of my young life before getting married in East Ham, and once it gets in your blood that's it, you're a Hammer for life! Thank you very much!"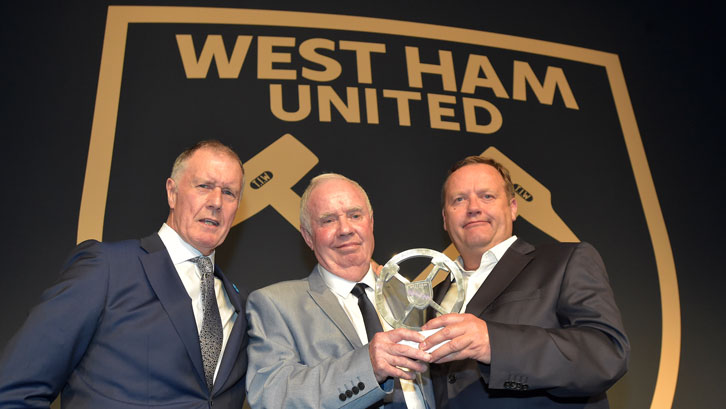 Speaking to West Ham TV afterwards, Boyce was clearly moved by the experience.
"I am not the best speaker, but I'd like to say the response from the supporters was marvellous, as I was dreading it to be honest!" he smiled.
"It's been great, tonight, and it's brought back some lovely memories, I can assure you. I've seen Geoff, Brian Dear, Ken Brown and the wives of those who have passed on, like John Bond and Peter Brabrook.
"As I tried to say on stage, I am a local boy who was born in West Ham, got married at 21 and in the meantime lived in East Ham.
"My Dad had a little provision shop in Haldane Road in East Ham and I used to walk to the ground to play with the people he was serving, as it was only about three-quarters of a mile from the stadium!
"I'm living out in Norfolk now, so it's nice to come back here and meet a lot of old faces I remember!"