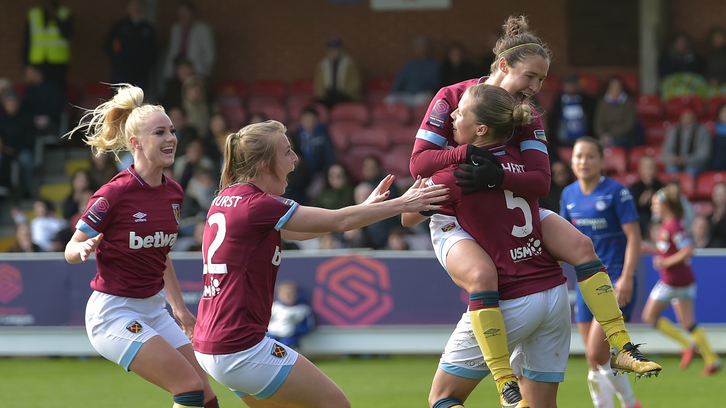 Gilly Flaherty's first goal for West Ham United was enough for the Irons to secure a 1-1 draw against her old side, Chelsea. 
A disappointing opening period for the Hammers ended with the Blues a goal ahead, as Beth England netted on 42 minutes with a close-range header. 
If not for the heroics of goalkeeper Anna Moorhouse, the deficit may have been greater, with the No13 making a series of excellent stops. 
With the Irons just one goal behind, there was always a chance of a come-back, and the second half proved much better for Matt Beard's side, as captain Flaherty headed into the bottom corner to earn West Ham a point.
West Ham found chances limited in the first period, although Leanne Kiernan's pace did cause Chelsea's back-line problems in the early exchanges of Sunday's game. 
In truth, however, the Irons could have found themselves behind on at least two occasions, with Moorhouse denying the Blues with a string of good saves.
The No13 kept out Maren Mjelde's free-kick on 22 minutes, before stopping Beth England from close-range, tipping the effort onto the post. 
It seemed Moorhouse would be unbeatable, with the goalkeeper also making a stunning stop with her feet on 39 minutes, but Chelsea were not to be denied, with England heading home just three minutes before the interval, giving the Blues the half-time advantage.
The second half saw Kate Longhurst and Claire Rafferty introduced for the Hammers, and the away side was clearly up for the battle, immediately looking to get back into the match. 
Kiernan's pace continued to cause trouble for the Blues, and Jane Ross saw a powerful effort palmed away on 64 minutes.
It was the start of West Ham's best period of the game, and just moments later the Irons were level. The industrious Kiernan collected the ball on the left-flank, after a corner was cleared, and dinked it back into the box. 
Perhaps it was written in the stars, on her first return to Chelsea, and on a day where she was honoured by the Blues' supporters before the game, that Flaherty would be the player to meet the cross, heading in her first goal for the Claret and Blue to level the match. 
With the score equal once again, both sides pressed for the winner. Chelsea's England saw a lobbed effort go over the bar.
Anna Moorhouse made another decent save to deny Erin Curthbert, while there were suggestions of a foul on Rosie Kmita in the penalty area, but the game ended level with the points shared.
Chelsea Women: Telford; Bright, Carter (Blundell 70), Ji (Engman 62), Riley, England, Eriksson, Mjelde, Curhbert, Bachmann, Spence (Carney 70)
Subs not used: Berger, Andersson, Cooper
Goals: England 42,
West Ham United: Moorhouse; Percival, Flaherty, Hendrix, Simon (Rafferty 46); Reichardt (Longhurst 46), Visalli, So-hyun; Lehmann, Ross, Kiernan (Kmita 76)
Subs not used: Spencer, Sampson, 
Goals: Flaherty 66