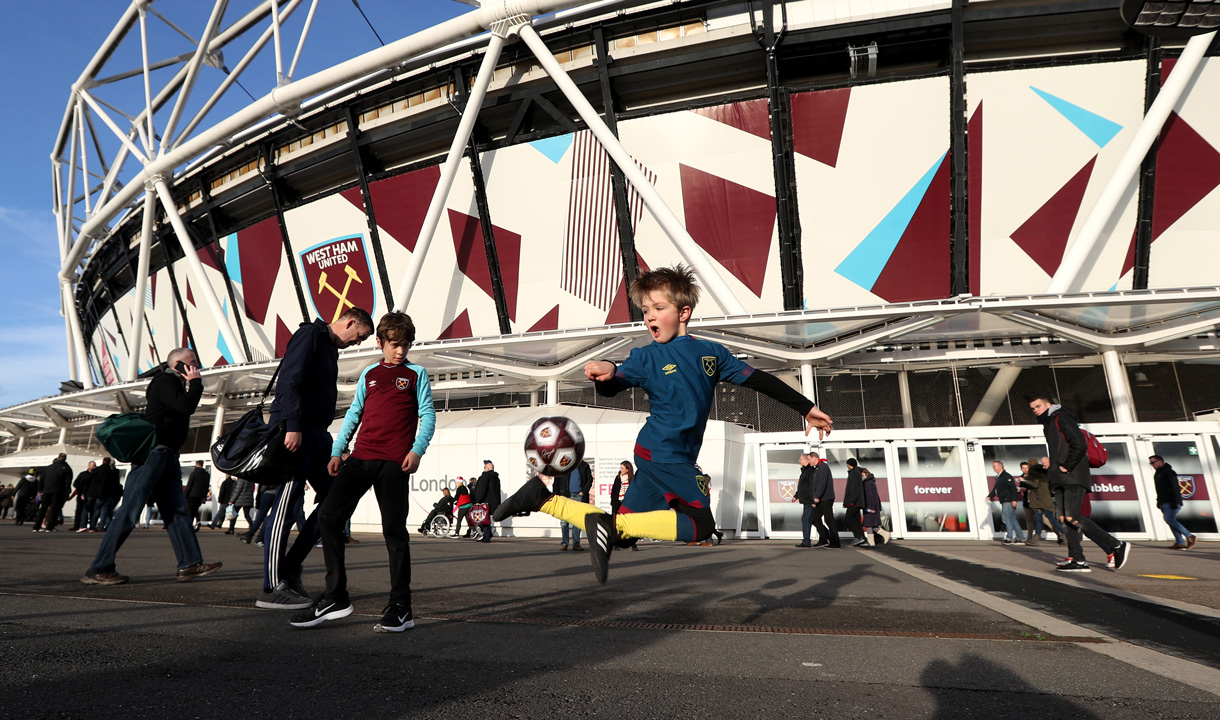 West Ham United return to London Stadium on Saturday when Everton head to east London in the Premier League, and there's plenty to look forward to on the matchday.
On the pitch, Manuel Pellegrini's team will be aiming to continue their unbeaten start to 2019 – and complete a double over the Toffees, having won 3-1 at Goodison Park earlier this season
And supporters attending the match should get to London Stadium early, as a DJ will be entertaining the crowd both pre and post-match, from the Heineken Bar outside the East Stand
At the Stadium Store, another DJ will be playing some pre-match favourites, and when you get inside the stadium, we'll have a pre-match quiz pitchside on the big screens, along with the Beat the Batak challenge, in association with Experience Kissimmee, at half-time.
West Ham are backing both No Room for Racism and Kick It Out as part of the Club's wider commitment to equality, inclusion and diversity in everything we do at Saturday's game.
The campaigns' anti-racism messaging will be evident across the Club's digital and social media channels, while you can read more about West Ham. United in Saturday's Official Programme for the Premier League fixture with Everton.
London Stadium will be branded for the game, too, with No Room for Racism handshake boards and flags, while the match balls will also be adorned by the campaign logo.
Here's how you can make the most of your matchday…
FOOD AND DRINKS OFFERS
Early Bird offers on food and drinks are available from ALL Kiosks until one hour before kick-off
Early Bird offers are available on a selection of Draught Beers being served from Kiosks on the inner concourses, including Real Ales, until one hour before kick-off
Post-Match offers on a selection of Draught Beers will be available until an hour after the game too.
|   | Standard price | Early bird / Post-match offer price |
| --- | --- | --- |
| Draught beer (pint) | £5.15 | £4.40 |
| Draught beer (half-pint) | £2.60 | £2.20 |
| Premium beer (pint) | £5.80 | £4.80 |
| Premium beer (half-pint) | £2.90 | £2.40 |
| Real ale (pint) | £5.30 | £5.30 |
| Pie and Pint | £8.45 | £7.50 |
| Burger | £5.20 | £4 |
| Hot Dog | £5.20 | £4 |
| Hot Drinks | £2.50 | £2 |
| Water | £2.50 | £2 |
TWO PINT CUPS
Two pint cups will be available to supporters at the selected bars listed here: Kiosk 13 (Block 145), 19 (Block 137), 20 (Block 135), 26 (Block 127) , NSB (Block 140) and Container bars (External 142, 138, 136)
Early Bird and Post match offers
Amstel & Strongbow Cloudy - £8.50, Heineken & Maltsmiths - £9.50 (selected areas)
Standard prices 
Amstel & Strongbow cloudy - £10.00, Heineken and Maltsmiths - £10.50 (Select areas)
A WIDE VARIETY OF OPTIONS
Two Outside Areas will be open before kick-off, at half-time and post-match opposite the East Stand between Blocks 131-137 and Blocks 143-147
Real Ale Bars are located at Blocks 133, 137, 140 and 156
Gin and Tonic/Spirit Bars are located at Blocks 132 and 134
Family Kiosks selling sweet treats, soft drinks, popcorn and more are located at Blocks 102 and 129
LIVE ENTERTAINMENT
The Heineken Container Bar located opposite East Stand Block 136 (between turnstiles H and G) will feature live music performed by DJs before kick-off
CASHLESS KIOSKS
Cashless Kiosks speed up food and drinks transactions, benefitting supporters
Cashless Kiosks are located at Blocks 102, 105, 115, 129, 134, 138, 139, 146, 147, 148
The next phase of Cashless Kiosks will be opening soon at Blocks 120, 142, 145 and 152