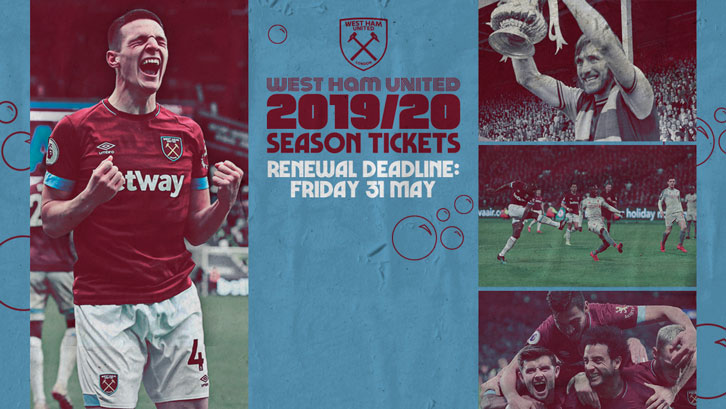 To help give Season Ticket Holders renewing for the 2019/20 Premier League season more options to choose where you sit at London Stadium, West Ham United have two exciting seat move processes in place.
New for the 2019/20 renewals period, an allocation of seats is available across all price bands which Season Ticket Holders can request to move to when renewing To find out more about availability please call the Ticket Office on 0333 030 1966.
In addition, following the same process as last season, seat relocations for remaining available seats will take place from Monday 3 June, following the Season Ticket renewal deadline. These relocations will be prioritised by how early you renewed your Season Ticket, with priority window slots to be communicated to supporters nearer the date.
ADDITIONAL SEATS
As an extra benefit, Season Ticket Holders who renew for 2019/20 can apply for a limited number of additional single seats, giving you the opportunity to secure an additional Season Ticket in your Block or the adjacent one. These seats are subject to availability and can be purchased over the phone by calling the Ticket Office on 0333 030 1966.
IMPORTANT SEASON TICKET RENEWAL DATES
17 May - Deadline to apply for a ten-month Payment Plan 
20 May - Club Cash can be used when you renew online – to use Cub Cash before this please call the Ticket Office
31 May - Renewal Deadline
3 June - Seat relocation window opens
6 June - Seat relocation window closes
10 June - Season Tickets on sale to the Waiting List