Club
'We should appreciate Mark Noble now and forever'

Quickly Kevin… podcaster and West Ham TV presenter Chris Scull casts his mind back into cult Claret and Blue history…
It was once said of the poet and playright Oscar Wilde by Stephen Fry that to be in his presence, in his lifetime, was akin to being at the foot of the Empire State Building; from there, you can't tell how tall or magnificent it is. It's only when you walk a few blocks away, that you get a sense of how much it towers above the buildings around it. 
Only after many miles of walking can you see the Empire State Building for what it is: one of the world's most magnificent structures.
With all the celebrations for Billy Bonds recently, it is sometimes easy to assume that all West Ham legends exclusively belong to some bygone era; they exist only in black and white footage, in grainy 4:3 ratio clips and in the memories of those who witnessed those long since passed moments. 
But we know this is not the case. As we have seen recently, we're living through history right now as every moment passes. And as time slips quietly away, it's vital, on occasion, to stop and smell the roses. To pause and appreciate the world as it is now.
And so I'd like to take this opportunity to pay tribute to a man who is already a club legend, and whose legendary story continues to be written: Mr West Ham, Mark Noble.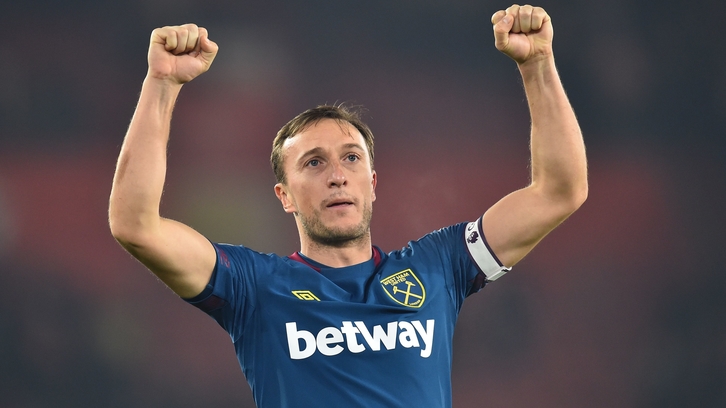 Making his debut at 17 against Southend United in the League Cup in August 2004, Mark would go on to be voted Young Hammer of the Year and Hammer of the Year runner-up in his first season. Almost instantly, he was a hit with the West Ham faithful; one of us, a Canning Town boy, playing in Claret and Blue, to an already exceptional standard.
Mark had a couple of spells on-loan early in his career, first with Hull in February 2006, then later with Ipswich in August 2006; and it was during that latter spell that I personally saw Mark Noble wandering aimlessly around the Liberty Shopping Centre in Romford in FULL IPSWICH TRACKSUIT. (Notice how this column so effortlessly glides between genuine footballing insight and celebrity gossip).
Anyway, even in those early days, you could see the passion Noble had for wearing the Claret and Blue. The tears after our last-minute defeat against Spurs in March 2007 and his expression of unbridled joy after opening the scoring against Middlesbrough later that season.
Mark became established under Alan Curbishley but grew in stature under Gianfranco Zola. By 2009 he had racked up 100 appearances for West Ham, still at a mere 22-years-old. By this age too, Noble had established himself in an area of the game he still masters today; penalty taking.
It's hard to say exactly why Mr West Ham is so easily among the Hammers spot-kick greats. Unlike Julian Dicks and Ray Stewart, Mark's penalty taking style can't be defined by raw power. It can only really be defined by one consistent feature – they go in.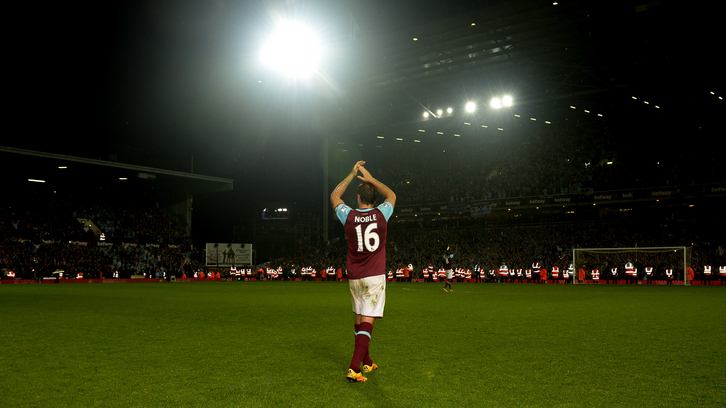 The 2010/11 season was, of course, one of pain as Avram Grant's only season as West Ham manager ended in disaster and relegation. But as Billy Ocean once so profoundly sang, 'When the going gets tough, the tough get going'. And having stayed to see West Ham return to the top division at the first attempt, Mark was rewarded that season for playing 45 of West Ham's 46 league games with promotion at Wembley and his first Hammer of the Year award, as voted for by supporters.
Mark's form in the 2013/14 season was sensational; he was the best English midfielder in the Premier League when it came to pass-completion, for one. A second Hammer of the Year award was secured, but bizarrely, over the ensuing couple of years, Roy Hodgson elected to leave Mark out of his England squads and endured torrid performances at the 2014 World Cup and Euro 2016.
Mark's reward instead was a Testimonial in March 2016 (although in truth Mark's special day was completely upstaged by Dean Ashton's thunderous overhead kick and Adrian's outrageous goal, having dribbled the length of the entire pitch).
The final game at Upton Park began with Mark leading a West Ham team out of the tunnel, for a final time, at their famous old ground. A magical night that couldn't have been more memorable if it tried. Almost as memorable as Mark picking up Anders Herrera and dumping him on the touchline in the FA Cup against the same opposition, Manchester United, a few games previously.
Mark will contunue to lead the team out of the tunnel as captain, as he has done from the start at London Stadium, and into this new era for West Ham. I'm going to continue to savour that sight. A true Hammers legend in the making; a little nostalgia for the present.
Welcome to my cult collection, Mark Noble.