A 5-0 win over Czech Republic, and an ovation upon his introduction onto the iconic Wembley Stadium pitch on 62 minutes.
 
Declan Rice certainly will not be forgetting his England debut any time soon.
 
The West Ham United 20-year-old followed in the footsteps of fellow Academy graduates and 1966 World Cup winners Bobby Moore, Sir Geoff Hurst and Martin Peters, as well as more recent stars Michael Carrick, Rio Ferdinand and Frank Lampard when he replaced Tottenham's Dele Alli and earned his first cap for the Three Lions on Friday evening.
"I'm really happy, as you can see!" A beaming Rice told West Ham TV. "To make my debut here tonight in front of 80,000 fans, and to have my family here; my girlfriend, my brothers, it's special and to get the victory as well; I can't really put it into words, but it's a special night."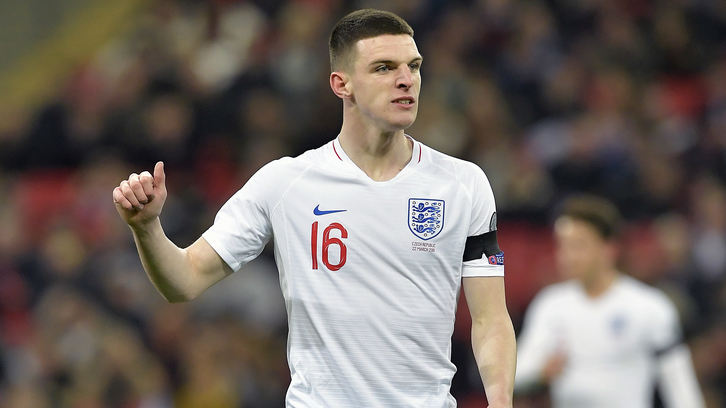 England saw off the Czech Republic thanks to a hat-trick from Manchester City's Raheem Sterling, captain Harry Kane's penalty kick, and an own-goal in the closing moments of the 2020 European Championship Qualifier. 
Rice admits earning his first England cap has not quite set in yet, even though the midfielder was composed, assured, and looked right at home among the more experienced heads in the team.
He continued: "I probably won't think about it for a couple of days and then it will hit me. The manager just pulled me over and said: 'look, go out there and do what you've been doing for your club. You deserve this and go out there and do what you've been doing.' 
"Obviously, Raheem [Sterling] scored and then he said: 'You know what, go and enjoy it even more.' That's what I tried to do and to win 5-0 was special. 
"It was a really good introduction. I just wanted to go on and steady the score. I was lucky enough to have [Jordan] Henderson and [Ross] Barkley next to me. It was really good."
The manager just pulled me over and said: 'look, you deserve this. Go out there and do what you've been doing for West Ham.' 

Declan Rice
England manager Gareth Southgate put his arm around Rice's shoulder and offered a few words of encouragement prior to sending the Hammers' No41 into the fray.
Just over 30 minutes later, Southgate was embracing the latest addition to international set-up, congratulating Rice on a job well done.
That support has been evident to Rice since first linking up with the England camp earlier this week. 
"You hear a lot of stuff about how good he is at man-management and how he is with the players, and I have to say he has been top drawer with me," Rice said. "He gives you the confidence to go out and play, and he wants you to express yourself. 
"You see tonight he gave Callum Hudson-Odoi his debut as well. He is not afraid, and I think that is really good for the young English players coming through."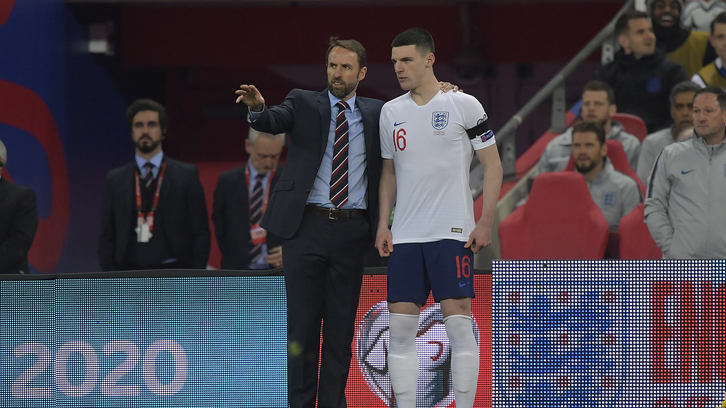 With another qualifier just around the corner, away to Montenegro on Monday, Rice is thrilled with how his first week as an England player has played out. 
Now Rice is ready to kick on and go even further.
He added: "This week has been crazy. It's been really surreal to be honest. I knew I'd be coming in to a great camp, with a great manager and great players. 
"Training has been good; the standards are very, very high. Coming to the game tonight, my first time with England at Wembley, it's a special moment. 
"To get out on the field for half an hour has just put the icing on the cake."