Samir Nasri hailed 'poacher' supreme Chicharito after the Mexican's two goals helped West Ham United roar back to beat Huddersfield Town 4-3 in a thrilling game.
The Hammers came from two goals down to win in the Premier League for just the third time thanks in large part to the performances of the two substitutes, who combined for their team's equalising third goal and played a huge role in turning the game around in the final 15 minutes.
Speaking to whufc.com after a rollercoaster afternoon at London Stadium, the French midfielder said there are few strikers better at converting chances than West Ham's No17.
"I think he's a poacher," Nasri observed. "You have to play him in the box. It would be more difficult for him to exist against big centre-backs but he is sneaky and he is like a South American type of striker.
"He is really good in the box and if you play him in the box he's going to score goals. He did it with Manchester United, he did it with every club so if you play him in the box he will score, that's for sure."
Chicharito is really good in the box and if you play him in the box he's going to score goals

Samir Nasri
With Nasri watching from the bench, West Ham went ahead before falling behind by half-time. The hosts fell further behind after the midfielder's introduction before staging a dramatic comeback, scoring three goals inside the final 15 minutes to extend their unbeaten run at home to six Premier League matches.
"I think it was a crazy game but the most important thing was to get the three points," the 31-year-old confirmed. "Our target from the manager was to win every game at home and then try and nick a result away from home because we are going to have some tough games to reach the top eight.
"It was difficult and it was nerve-racking but, for the fans, it was a happy ending.
"We conceded one goal, two goals and then it's difficult to react if there are not changes, but that's what the manager did and Chicha scored two goals and I helped the team as well, so it was good."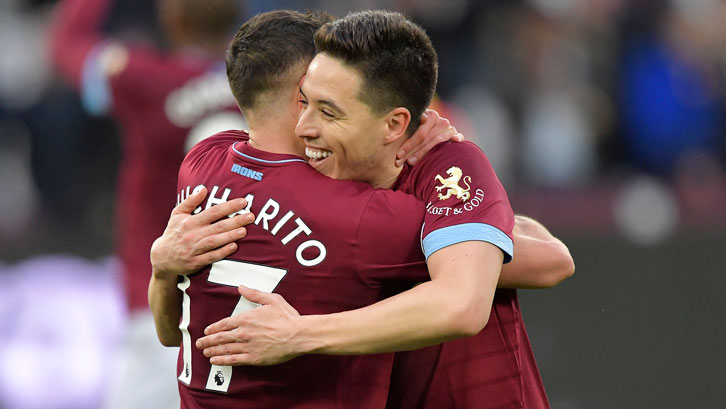 Nasri himself was instrumental in West Ham's revival, showing composure in the midst of a breathless game, completing all 39 of the passes he attempted, including an outstanding cross for the first of Chicharito's two goals.
"The manager told me to play in Nobes' position and get as many balls as I could and try to switch sides and play with the striker and dominate with them and that's what I tried to do," he explained. "At the end, it was a happy ending with an assist and a reaction from the whole team."
West Ham's win means they are now just two points outside the top seven with seven games still to play, the first of which will be at home to Everton in a fortnight's time.
While the euphoria of Saturday's comeback will have rubbed off by then, particularly with so many players departing to represent their countries, Nasri hopes the Hammers will maintain their momentum on home turf with victory over the Toffees, provided they do not give Marco Silva's men a two-goal start!
"Our comeback says we believe in ourselves," he concluded. "We know at home we're really strong and we get results. The only problem is it's the international break and a lot of players are going to go and be focused with their national teams.
"We have a tough game at home against Everton so we have to capitalise on this and learn from our mistakes because maybe against Everton we will not be as lucky to come back like that."