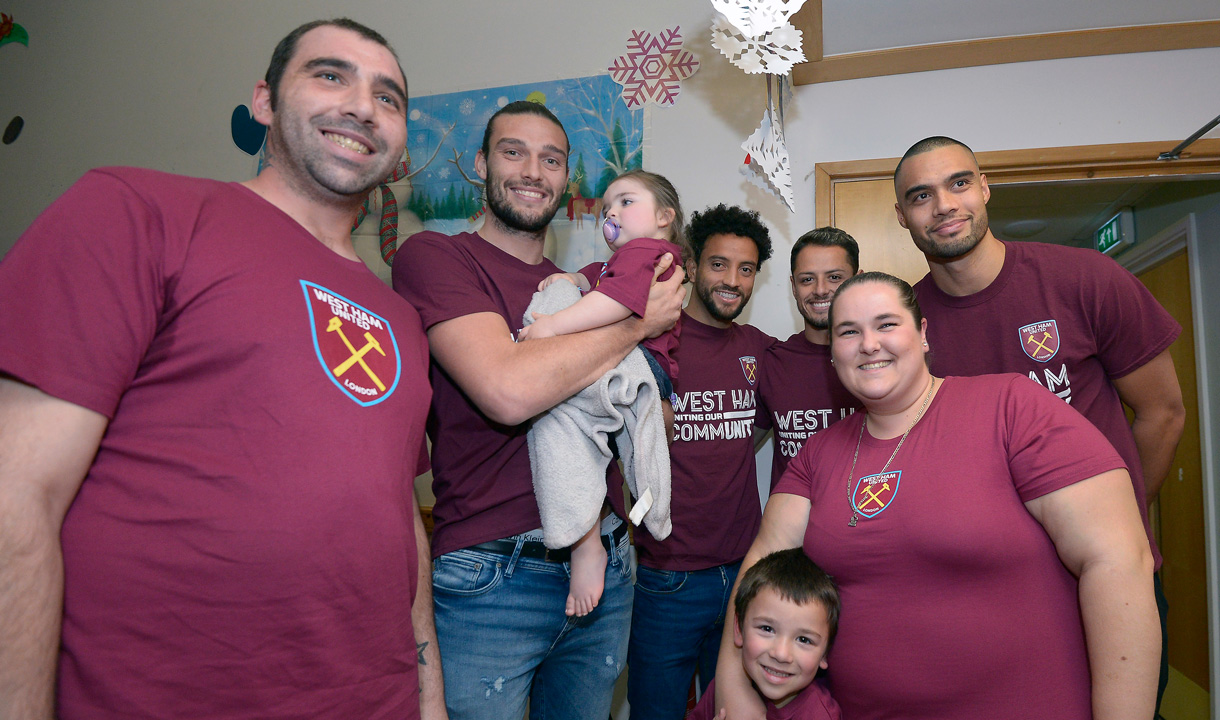 West Ham United and Richard House Children's Hospice are both committed to supporting our local communities
Richard House is London's first children's hospice, founded in 2000 by Anthea Hare, who saw that local life-limited children and their families were not getting the care and support they needed.
Today, Richard House is needed more than ever, children and their families remain at the centre of our work.
We provide care for over 300 life-limited children across east London and provide a range of therapies and activities to support the whole family. 
The Hill family are avid Hammers fans and met Chicharito, Felipe Anderson, Andy Carroll and Winston Reid when they visited Richard House in December.
Grace is a smiley, bouncy two-year-old and regularly visits Richard House with her mum Jade, dad Metin and brother Archie. Grace has the only known case of an extremely rare chromosomal condition and needs 24-hour care and supervision, which had fallen solely to Jade and Metin, until they came to Richard House.  
Jade said: "The best thing about Richard House is that the staff make you feel safe and comfortable, you feel like you're not on your own and that you are part of the Richard House family. This means a lot, as one of the most challenging things about looking after a child with additional needs is the loneliness and isolation that you can feel.
"Since coming to Richard House, Grace is a lot happier and feeling less isolated and more supported is making a huge difference to all of us." 

One of today's mascots is Calvin, who has been visiting Richard House since he was a baby. He also met the West Ham players in December and his mum Maureen says he has not stopped talking about them since.
"When Calvin was born I had nobody to help me until Richard House," said Maureen. "Their support was life-changing for Calvin and my family."
Now 12, he has complex health needs, a life-limiting illness and is dependent on numerous medications and equipment. Maureen has always desperately wanted Calvin to gain his independence and live his life to the full like other children. 
"I can really see the difference Richard House has made. Despite having two major operations in the past two years, meaning he needs medical attention every few hours, Richard House has helped him develop a greater sense of independence, and he has the opportunity to live a full life". 
*Richard House ensures that children receive the care and families receive the support they need, when and where they need it. But we receive limited statutory funding, meaning that £3 out of every £4 we need to spend, must come from donations. 
There are many ways you can support us and local seriously ill children like Grace and Calvin. Simply go to richardhouse.org.uk/get-involved. Thank you.