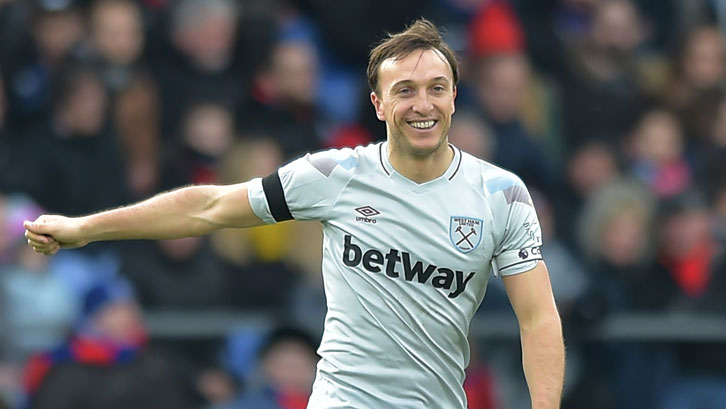 Mark Noble says West Ham United are determined to extend their unbeaten home record in 2019 until the end of the season.
The Hammers have not lost in four Premier League games at London Stadium this calendar year, while also knocking Championship side Birmingham City out of the Emirates FA Cup.
Next up on the fixture list are Huddersfield Town, who arrive in east London fighting for their top-flight future having won just one of their 14 away league matches this season and not won on the road since 25 November.
Captain Noble knows the Terriers will not make things easy for the home side, but he believes the Irons have the character and the ability to beat them, burst through the 40-point barrier and finish the Premier League season strongly.
"We are unbeaten at home since before Christmas and are all determined to keep that run going as long as we can," said the skipper, writing in his column for Saturday's Official Programme. "We've got four home games left to play and we want to win them all.
"We were good here against Newcastle last time out, getting a deserved win on a day when we all enjoyed honouring the great Billy Bonds. It was a day of which we can all be very proud.
"Last weekend at Cardiff, though, was not so memorable. We faced a team who were fighting for their lives, in conditions which suited them better than us, and sometimes results like that happen, even if you say or do all the right things in the build-up to the game. We couldn't cope with their approach, really. We had a lot of the ball, but we didn't create enough chances and we lost.
We are unbeaten at home since before Christmas and are all determined to keep that run going as long as we can

Mark Noble
"I've been on the other side a lot, when we'd welcome mid-table teams and we were battling, and we'd turn them over. Southampton beat Spurs last weekend, and Newcastle beat Everton, but that's the Premier League – you simply cannot guarantee you will win games.
"We've lost games we hoped to win, like we did at Cardiff, but we've also won games we weren't expected to, like Manchester United and Arsenal here.
"Our away form is a concern, obviously, but we are still in ninth place and we want to finish as high up the table as possible.
"We have an opportunity to get back to winning ways and our recent home record has been really good, but it's the same situation as Cardiff last week. Huddersfield will come to us and give it everything, so it's going to be another tough game.
"If we win on Saturday, we go to 42 points with seven games to go, which is good going considering where we were after four matches.
"We all want to find that greater level of consistency, but that only comes with spending hundreds of millions of pounds and, even then, you're not guaranteed a place in the top six or top four.
"We are five points off seventh and we want to get up there, but the only thing we can control is try to finish the season as strongly as possible."