Interviews
West Ham great Pop Robson uncorks his Claret and Blue memories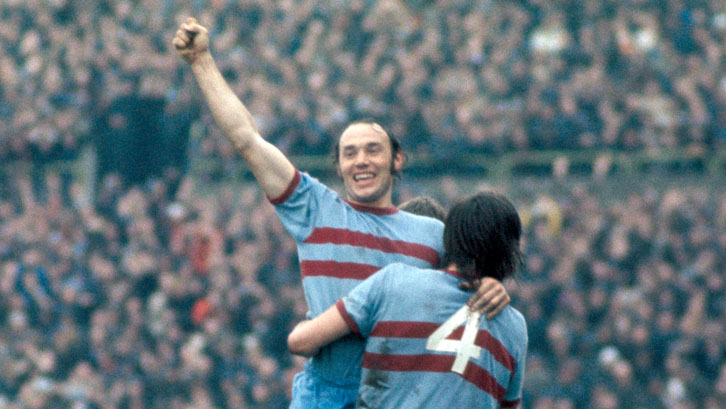 Former West Ham Unitedcentre forward Bryan 'Pop' Robson uncorks his memories of two prolific spells in Claret and Blue, the great Billy Bonds and more in discussion with Steve Blowers...
It is one of those Bonds that's endured for nearly half-a-century.
And Bryan 'Pop' Robson was a proud onlooker at London Stadium on Saturday 2 March, when the Club honoured his long-standing friend and former team-mate with the unveiling of the Billy Bonds Stand.
"The man epitomises West Ham United," enthuses the popular, prolific ex-Hammers and Magpies goal-ace, who enjoyed two spells playing alongside Bonzo during the 1970s. "Right-back, centre-half, midfield, he was a fantastic success in every position and a very under-rated footballer. 
"There was no side to Billy Bonds, he was just a fantastic athlete. He'd lead running sessions from the front, in the gym he'd lift the heaviest weights and, on matchday, he'd do all the hard stuff for us. Trevor Brooking had the skills and I could score goals but we weren't very good at tackling so we left that bit to him! 
"A brilliant captain, who took responsibility and never moaned at us, Bill was so down to earth. At the final whistle, he'd run down the tunnel, shower and be on his way with no song or dance. He preferred going to the dogs than playing golf," laughs Pop, who was voted No19 in the #50GreatestHammers poll held last year. "Forever getting booked in December, I'd joke: 'Getting banned for Christmas again, Bill?' 
"Seriously, we've remained great friends but it upsets me that he never played for England because he was talented enough and, when you finish your career, you realise that some players never got the recognition they deserved. Why didn't Billy Bonds win an England cap?"
Billy Bonds epitomises West Ham United. Right-back, centre-half, midfield, he was a fantastic success in every position and a very under-rated footballer

Pop Robson
Indeed, that same question also applies to Pop, who set the East End alight after joining the Hammers in a record £120,000 move from Newcastle United in February 1971.
"Things had been going well up there," contends the Sunderland-born, 73-year-old, who scored 97 goals in 244 outings in black and white. "We'd won the Inter-Cities Fairs Cup and had some decent seasons but despite being there for eight years, Newcastle wouldn't guarantee me a testimonial in my next contract.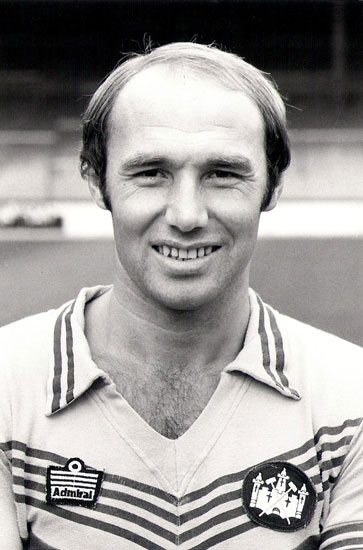 "After getting the winner against Tottenham Hotspur, I was told that someone wanted to talk to me in the Manager's Office," he reveals. "I'd expected to see Spurs' manager, Bill Nicholson, but Ron Greenwood was sitting there. Bill had let Ron travel up on their team coach!
"I'd scored twice at the Boleyn Ground earlier that season and always enjoyed the atmosphere because the punters were so close and West Ham had a great squad, too – Booby Moore, Geoff Hurst and my boyhood hero Jimmy Greaves, while Billy, Trevor and Frank Lampard were establishing themselves. There was an attraction about coming to the Hammers. 
"Geoff really helped me settle into London," says the grateful grandfather of six, who made 254 overall appearances in the Claret and Blue, netting 104 goals, the first of which came in a debut victory over Nottingham Forest. "My father-in-law suggested: 'First game? Put yourself about, tackle hard and play at high tempo.' Aware of that record fee, I ran around like a lunatic. After half-hour, a big Cockney voice boomed from the Chicken Run: 'C'mon liven it up son, you're at West Ham now!'
"After Geoff scored, I'd got our second and Greavesie waited for the celebrations to die down before jogging over and saying: 'I'm so pleased for you, well done!' He'd spent his life scoring for fun and that meant so much to me."
And the goals just kept coming as Pop went on to bag 53 times in his first 139 outings, including 28 stunning strikes during the 1972/73 campaign that saw him top the Football League scoring charts to win the Golden Boot award but, curiously, no England call-up.
"Under the London spotlight, I got good press but no international recognition, which is tough when you look at some players who've played for their country," he sighs. "Managers have favourites and, as Billy discovered, that England cap just never came."
I'd expected to see Spurs' manager, Bill Nicholson, but Ron Greenwood was sitting there. Bill had let Ron Greenwood travel up on their team coach!

Pop Robson
In July 1974, though, Pop returned to his native North-East in a £145,000 move to Sunderland.
"A late-autumn virus had left me fatigued and I couldn't get back to fitness," he explains. "I'd been having a difficult time in London and with my local club – Sunderland – showing interest, I decided to return home but I'll always regret that decision."
In October 1976, however, the Hammers came knocking again. 
"It was fantastic to be back," smiles Pop, who netted 51 goals in 115 matches during his second, three-season spell. "John Lyall had kept the likes of Trevor, Billy and Frank, while Alan Devonshire came in and he made massive signings in Phil Parkes and David Cross."
Yet again, though, the call of home proved too much for Robson, who having departed prior to the club's 1975 FA Cup triumph, then missed out on the 1980 trip down Wembley Way, too. 
"Living in Woodford Green, we felt that London was too big to bring up our kids and decided to head back to Sunderland in 1979. I really should've stayed but, then again, West Ham were always delighted to see me leave because it meant they'd win the FA Cup!" jests Pop, who subsequently enjoyed stints with Chelsea and Carlisle United – where he also had a spell managing the Cumbrians – ahead of taking up scouting roles with Manchester United and Sunderland before retiring to the Tyne Valley.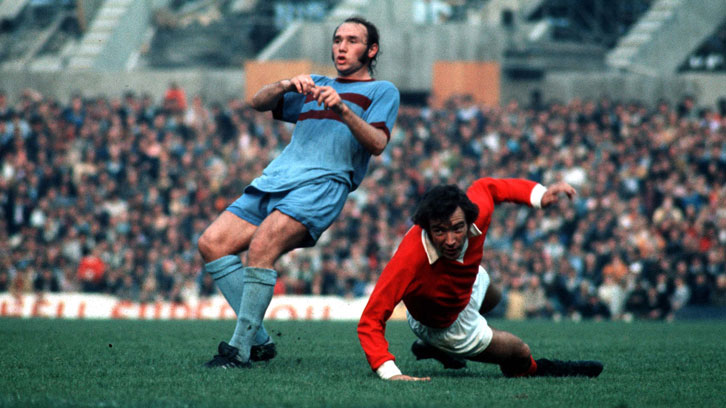 Reflecting on the day West Ham honoured his old friend, teammate and captain, the master marksman cannot resist one final Bonzo memory.
"West Ham had won the FA Cup on the Saturday and were in high spirits two days later at Roker Park," concludes Pop, recalling the final match of the 1979/80 campaign, which saw Sunderland needing victory to secure promotion to the top-flight. "Bill said: 'I won't be tackling you tonight, Pop.'
"Then he spent the next 90 minutes breathing down my neck and there's nothing worse than Billy Bonds man-marking you!
"We won 2-0, got promoted and, typically, John Lyall came into our dressing room to give me a bottle of champagne, which was the only thing that I got off West Ham that Monday evening because Billy hadn't given me a kick all night."