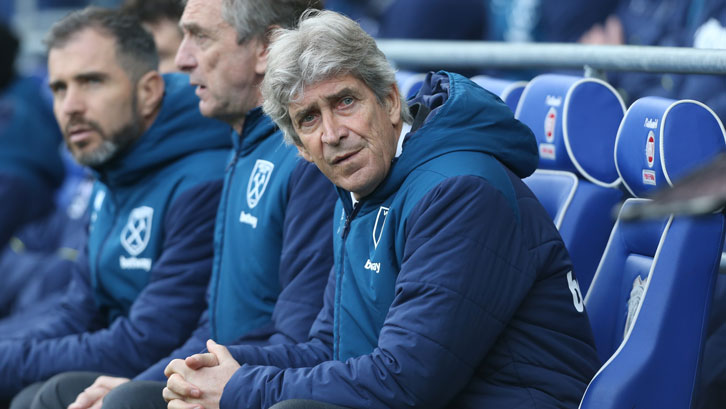 Manuel Pellegrini has vowed to sit down with his West Ham United squad and work out why their away form came down with the Christmas decorations.
After winning at Newcastle United and Fulham in December, the Hammers have not won any of their last seven games on the road, including six in the Premier League.
While the Irons' results at London Stadium have been good in 2019, a run of six defeats and one draw elsewhere has affected their chances of achieving a top-seven finish and saw them knocked out of the Emirates FA Cup.
With trips to Manchester United, Chelsea, Tottenham Hotspur and Watford still to come, Pellegrini knows he needs to find a remedy for his team's travel sickness.
That's a lot of away games we cannot score in and we try to play in exactly the same way that we do at home

Manuel Pellegrini
"Maybe [it is getting into the players' heads] and that's why we need to talk to them during the week," he told the media following Saturday's 2-0 defeat at lowly Cardiff City.
"It's not normal that in four of the last five away games, we lost and didn't score against Wolverhampton, Bournemouth, Manchester City and again on Saturday.
"That's a lot of games we cannot score in and we try to play in exactly the same way that we do at home."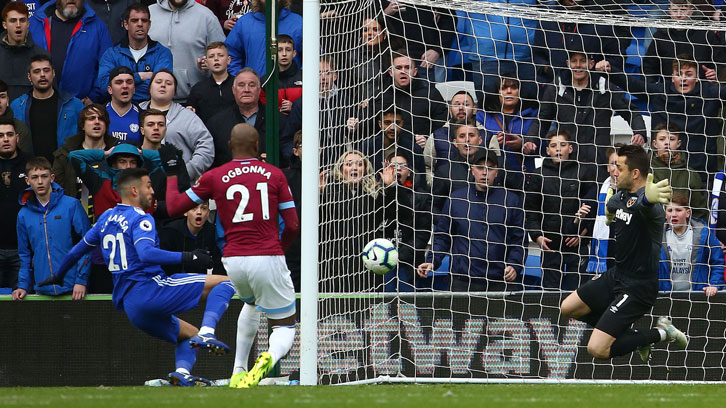 Concentrating on Saturday's reverse, Pellegrini admitted he was at a loss to explain how the same team which had comfortably defeated Newcastle United at London Stadium failed to reach the same levels against a Cardiff side which had lost its previous three Premier League matches.
"I was surprised with the way we played because we kept the same starting XI as we used and who played so well against Newcastle and also because we talked so much during the week about the fact we would find a team which is fighting against relegation and had lost their last three games, and especially that they'd lost at home 1-5 and 0-3 in the last two games they'd played there," he continued.
"But we couldn't deal with what they did. They started the game very fast and they scored the first goal too early – an easy goal – and after that they started the second half fast and scored their second goal early.
"It's difficult to find the exact reason but, first of all, we knew that this was a difficult game because nobody wants to continue losing points at home, particularly those teams who are fighting relegation.
"A lot of things can determine a result in football and whether you win or you lose."
Finally, Pellegrini explained his decision to replace Felipe Anderson with Marko Arnautovic at half-time, dismissing any suggestion the Brazilian winger had picked up an injury.
"It was a tactical change because we didn't create chances in the first half and at least in the second half Marko had a shot which was blocked by the goalkeeper and we had another shot from Declan Rice off the post," he confirmed.
"We didn't have many chances in the first half and that's why we tried to make tactical changes, first with Marko Arnautovic and after that with Samir Nasri and Michail Antonio.
"We improved a little bit but we didn't create the amount of chances you need if you want to win away. Cardiff didn't create too many chances also, but they scored their two goals."