West Ham United is proud to announce that the brand new learning and education centre within the £4million redevelopment project at the club's Chadwell Heath Academy base has been named in honour of Dylan Tombides.
On what would have been his 25th birthday, the Dylan Tombides Learning Centre was officially unveiled today by Dylan's mother Tracy and younger brother Taylor, in memory of a young man whose personality, talent and bravery embodied the Academy of Football, and whose legacy continues to shine to this day.
The former Australian youth striker, who tragically passed away on 18 April 2014 following a three-year battle against testicular cancer, was a much-loved figure to everyone who crossed his path at West Ham United, and now his courageous and inspiring story will be highlighted for every young player who follows in his footsteps at the Academy.  
The Dylan Tombides Learning Centre will form an integral part of the new Chadwell Heath redevelopment, which is set for final completion next month. Consisting of two fully functional classrooms, with interactive facilities and educational programmes specifically designed for young players of all ages, from entry level at Under-9s right up to professionals in the Under-23 squad, the centre will play a key role in the development of the Academy scholars off the field.
Tracy and Taylor were joined by Dylan's grandparents Lorraine and Colin Robertson and cousin Maddison Troon at the unveiling ceremony, along with his former representative Joe Sealey and ambassadors of the DT38 Foundation – the charity founded in Dylan's memory to raise awareness of testicular cancer in young men.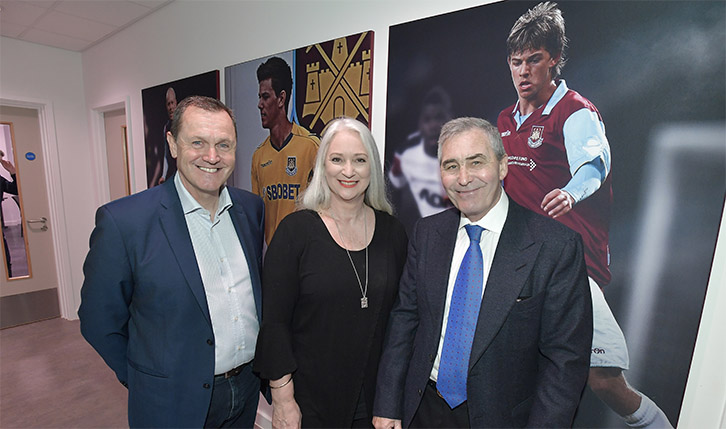 Also present to witness the unveiling were Dylan's former Academy Manager Tony Carr and coaches Steve Potts and Mark Phillips, along with a number of the Academy scholars currently following in Dylan's footsteps.
Tracy Tombides said: "It means the world to have Dylan's legacy remembered here at West Ham United. What more could you want, it's a wonderful Birthday present for him, and for us.
"It is a real honour for Dylan's name to be associated with this aspect of the development of young players in the Academy. I hear nothing but how respectful he was and how highly regarded he was and, as a mum, that makes me really proud – that he took out into the world all those lessons that you try to instill in youngsters.
"I know it is every kid's dream – they all hope and expect to make it to the Premier League – but it was always drilled into both Dylan and Taylor from a very early age that they needed an education. To have this purpose-built facility for the benefit of all of the youngsters coming through the West Ham United Academy – I am so proud for it to be named in Dylan's memory."
West Ham United Academy Director Terry Westley said: "This will remind everyone here of Dylan and his legacy. Every time the young players walk through into the Learning Centre, his image is there to inspire, and it's a great honour for his family, ensuring his legacy will live on.
"For our Academy scholars, it's not just about the game, or playing on the grass. It's that holistic approach, which is very important to us. We provide educational support for our young players from the age of nine, whether it be with homework, extra-curricular activities, or learning behaviours on and off the pitch. Creating good people is, for me, as big as creating good players."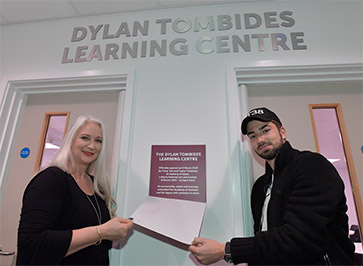 Tony Carr added: "It is a fantastic tribute to Dylan. I can't speak highly enough of his character. You've only got to look at the last image of him on the wall next to the classrooms – he'd had chemotherapy, lost his hair, going through a traumatic time…yet was still working hard, training, playing and believing he would beat this terrible illness. That showed me his character and how strong he was, as a player and a person.
"The first thing we used to stress with young players was: for however long you are here, enjoy it and work hard, because you don't know where the journey is going to take you. And you hope that when the day comes that they have to leave – because a lot obviously do -  that they are a better and more rounded person. We can certainly use those sentiments for Dylan."
Since Dylan's passing, the DT38 Foundation – now one of West Ham United's official charity partners – continues to do magnificent work in raising awareness among young males about the importance of early detection and providing educational programmes and opportunities to help shape a generation of children who are self-aware about their health and well-being.
For more information about The DT38 Foundation and the fight against testicular cancer, click here