Hammers boss Manuel Pellegrini is targeting a first away win of 2019 when West Ham United head to relegation-threatened Cardiff City on Saturday.
The east Londoners have lost just once in their previous five Premier League matches, but are without a victory on their travels since defeating Southampton at St Mary's Stadium on 27 December.
The manager also spoke positively about the form of Mexico striker Chicharito and backed the introduction of the Video Assistant Referee (VAR) in the Premier League from next season…
Chicharito is in a good moment
I am very pleased with the way Javier Hernandez is playing.
Javier is in a good moment, he is committed to the team, he is making good movements in attacking areas. Maybe, as is the case for all strikers, they want to score more goals but he is always involved in ways that allow us to score. 
We also have Marko Arnautovic coming back so we have options for the starting XI and also for the bench.
I always say that for a manager it is more difficult when you don't have players. Maybe one of them for different reasons must wait, or they can play both together, but having good options is a solution for me, not a problem.
We must be sharp and aggressive against Cardiff
It is my duty to convince the players that the position in the table of Cardiff will mean it is a more difficult game, not an easy one. They will play at home, fighting against relegation and are not many points behind the teams above them, so we need to play with a high pace from the beginning, be a sharp team, be an aggressive team and try to attack and win the game. 
If you are playing against a team in a good moment, it will be more difficult, but their position means they will be an aggressive team. We need to be a sharp team, equalise their pace and after that we must try to demonstrate that we are in a better moment than them. 
But if we don't fight for every ball from the beginning, we are going to have a bad time. 
Cardiff are quite aggressive in their style and that is why, I repeat, we must equalise their pace and fight for every ball. They have a team also that is fighting for the three points and after that, when we match them, we must make good quality plays.
We need to beat Cardiff on Saturday first, playing well. When we finish that game, we will be thinking about the next rival and it doesn't matter if it is Huddersfield or Chelsea. It is the way we play these games which is most important.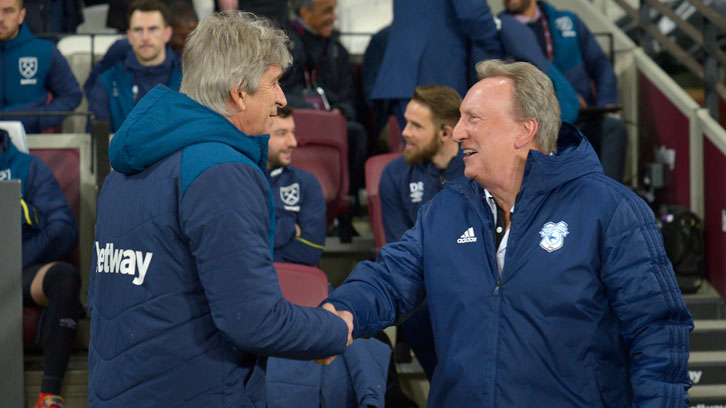 We need to be consistent both home and away
We have improved our home form in recent matches. Remember, we lost our first two at home so with the last games we have won there, we have improved and we have four more home games so the target is to try not to lose any more points there.
After that, we will see what we can do when we play away, starting on Saturday, when it will be a difficult game against Cardiff City.
In one moment of the season we did not have good results at home – from the first four games we lost two, won one and drew one – but we did well away from home. We beat Everton, for example. After that, in the second half of the season it all changed as we have struggled to win away but we started winning our home games.
VAR will be a good thing 
I think that VAR will a good thing when it is introduced in the Premier League. It is something that will help the referees and the games will be fairer.
We need to work out where we can use it and when we are going to use it, though. If you have one goal offside by three metres, or a player plays the ball with the hand, or if the foul is out of the box and the referee whistles for a penalty, to be able to review and change those things will be very useful. 
However, if we are going to see 50 metres from our goal that the ball was out of play by one centimetre, and review for three minutes to see where the ball was exactly, I don't think those are huge mistakes to review.
If you want to review every corner then you will have three or four penalties with players grabbing each other but I think that, for decisive mistakes, it will be good.